In the heart of downtown Tulsa sits a wonderful park called Guthrie Green. This park is a vibrant spectacle that attracts many visitors for numerous reasons, from picnics to fitness, and more.
Visitors of Guthrie Green get to experience a little slice of nature and beauty in the middle of the Tulsa Arts District. Here's a guide to getting the best out of your experience at Guthrie Green.
When to Go
As with most outdoor attractions, the weather and temperature affect when is the best time to go to Guthrie Green. According to Google's hour-by-hour traffic statistics, Guthrie Green is busiest on the weekends and Wednesday evening. This makes sense because a lot of people work throughout the week and take their families to places on the weekend.
In my opinion, weekday evenings are great times to go and experience all that the Green has to offer.
What to Do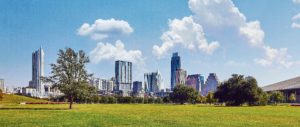 There are a bunch of things happening at Guthrie Green during the week that bring the park to life even more than it already is. From fitness on the Green to concerts, there is something for everyone.
Fitness on the Green
Guthrie green hosts a series of fitness classes called Fitness on the Green. These classes are free and open to the public. Just show up and join in to feel the burn. The classes offered include Zumba, yoga, and boot camp.
Since these classes are open to the public there is no prerequisite before joining up, and they encourage new visitors to start at their own pace. I recommend the Zumba class for anyone just starting out on their fitness journey.
Sunday Concert Series
Tulsa has a rich cultural history in Music that has continued into modern times. Guthrie Green has started the Sunday Concert Series to celebrate the music in Tulsa by hosting concerts featuring local blues, folk, and rockabilly bands.
These concerts are child-friendly and fun for the whole family so you don't have to worry about any negative or vulgar themes in the music. Usually, there are a few food trucks serving some unique, tasty treats as well.
Food Truck Wednesday
Every Wednesday from 11 am to 2 pm at Guthrie Green, food trucks from all over the area gather to serve their unique, one-of-a-kind takes on classic, recognizable favorites. From gourmet grilled cheese to beignets, fruit parfaits to street tacos, there's something for everyone and even some new things to try.
There are some fun things to experience while you're getting your fixings at any one of the food trucks. The live music from local bands and school choirs and bands keep the fresh air full of great sound.
If you go to Guthrie Green at a time that isn't during Food Truck Wednesday, don't worry because there are a bunch of places right around the park within walking distance to satisfy those cravings.
What to Eat
The best part of the experience of Guthrie Green is the fact that it's right in the heart of downtown with a ton of restaurants in the surrounding area. With all the options, it can be difficult to pick the place that suits you. I've done the research to find a few of the best places in the area.
Caz's Chowhouse – ★★★★★
Located within walking distance of Guthrie Green is Caz's Chowhouse. If you are on the hunt for some familiar American food done right, you will be right at home here.
The menu is very expansive and all but four items are under $10. From Mom's Meatloaf to Chicken and Waffles, there's something on the menu to satisfy everyone's cravings.
Recommended – Grilled Salmon Filet. The seasoning they add to the Salmon is mouth-watering, and they serve it with red potatoes and steamed broccoli.
Amelia's – ★★★★☆
If you hang a right on Boston Avenue, you can walk right to Amelia's. They cook their food with wood-fired grills to give it a deep, smoky flavor. The gourmet food is perfectly coupled with their upscale fine dining experience.
The menu is just as expansive as Caz's but the prices are a lot more expensive. A specialty of theirs is the pizza cooked in their wood-fired kitchen.
Recommended – Sweet Onion and House Cured Bacon Pizza. The bacon is crispy and crumbly and the onions are caramelized to perfection.
Gypsy Coffee House – ★★★★☆
On the northeast corner of Guthrie Green is a quaint coffee shop and bistro called Gypsy Coffee House. If you are looking for a lighter, healthy meal, or just a quick pick-me-up espresso drink, you won't be disappointed by the menu at Gypsy.
Their food and drinks are not very expensive. The priciest item on the menu is $9. They specialize in coffee and tea, but their sandwiches and salads are good options for lunch with your friends or family.
Recommended – Butterscotch Hazelnut Cappuccino. The nutty and toffee flavors blend perfectly together to make a one-of-a-kind favorite.
Lone Wolf Bahn Mi – ★★★★★
Just a short walk to the south of Guthrie Green is a place called Lone Wolf Bahn Mi. The name is a bit odd at first until you learn what they offer there. The food is a fusion of Vietnamese and American food, hence the name being a combination of English and Vietnamese words.
The menu here is very creative. They have done well at combining the aspects of American cuisine and Vietnamese dishes to create completely new and original food options. Things like Kimchi Fries and Fried Chicken Brioche definitely sell this place as a fusion restaurant.
Recommended – Cilantro Pesto Chicken. The nutty grilled chicken is phenomenal with the herb garnish.
Annual Events
Every year there are a few great events at Guthrie Green. Every Christmas season, they light up the Green with Christmas lights to bring cheer to the hearts of visitors during this busy time of year.
There is also a comedy show called Blue Whale Comedy Festival to tickle your funny bone. Local comics come and show off their hilarious antics and tell their funny stories.
Entertainment options
Guthrie Green has a few entertainment offerings to make sure there is something to do while you are visiting. There are also some things to do just down the street from the Green if you can't find something to do while you're there.
Movies on the Green
Throughout the summer on Thursdays, Guthrie Green hosts free Movie nights where they show fun, family-friendly movies that have recently been released. They set up a big projector screen to show the movie as soon as the sun goes down.
First Friday Art Crawl
The Brady Arts District is home to many small art galleries, studios, and museums of modern art. These galleries are situated right around Guthrie Green and open their doors free to the public from 6 pm to 9 pm on the first Friday of every month.
Shuffles
Just down the street from Guthrie Green is a little cafe called Shuffles. The name is fitting because it's a board game cafe where you pay for a game pass and pick from their extensive selection of games. The price is reasonable, and they even have a bistro if you are feeling peckish.
Scooter Rental
As you have probably noticed, there are quite a few scooters scattered around the downtown area. These rental scooters can be a source of fun for hours if you and a few friends are out walking around Guthrie Green and feel like straying further away to see other things.
These scooters are supplied by Lyft, Lime, and Bird and cost $1 to rent and 15 cents per minute while you ride.
Are Pets Allowed?
Because Guthrie Green is an outdoor, public park, pets are allowed as long as they are on a leash. The only other rule about pets is that you pick up their droppings when they use the bathroom on the lawn or walkways.
Where to Park?
When going downtown, finding a place to park can be a daunting task. Fortunately, there is a large parking lot to the west of Guthrie Green that costs $5 for an evening of parking. Alternatively, there are a bunch of parking garages that range from $2 to $10 for the evening.
There are also parking spaces along the road all the way around the block.
How Long Should I Spend at Guthrie Green?
This question is a bit loaded because you can spend as much or as little time at Guthrie green as you want. However, the curfew for public parks in Tulsa is 11 pm so you must leave by then.
Should I Bring Anything to Guthrie Green?
If there is an event going on, a lawn chair or blanket to sit on can be a great item to bring to the Green.
Another good thing to bring is a picnic lunch or dinner. If there are no food trucks to get food from, having a nice picnic lunch could be a fun change of pace.
Guthrie Green is a great place for fun and entertainment for the whole family. I recommend visiting at a time when an event is happening to get a taste of Tulsa culture through music and art.
If you liked this article, click here to read more.