Not many families will be able to gather this year around the kitchen table for Thanksgiving dinner. Or some people don't want to cook, but they still want to experience a Thanksgiving dinner. So, why not go out for a holiday meal? But, who's open and serving a Thanksgiving dinner? This is a list of the top 10 Tulsa restaurants serving Thanksgiving dinner!
Luckily there are a variety of options available in the Tulsa area. Some of these restaurants are serving traditional Thanksgiving dinners, while others will have their regular menus in addition to Thanksgiving dinner. Some will have buffets while others offer carryout options, so depending on your needs, you can celebrate Thanksgiving with those close to you.
Enjoy Thanksgiving Dinner at These Tulsa Restaurants
The holidays can be overwhelming and sometimes hard to plan or coordinate. That's why the holidays often have a lot of unnecessary stress involved with them. This year, you don't have to endure needless anxiety and overwhelming feelings regarding holiday food. Enjoy a tasty meal from one of these local restaurants before heading out to enjoy one of our many fun cold-weather activities!
Delta Café
Delta Café is a family-style restaurant providing good, home-style southern cooking. They've posted their Thanksgiving menu to their Facebook page. They're open from 10 a.m. to 4 p.m. by reservation only. Delta Café is located at 4515 E 51st St., Tulsa, OK 74135. With Thanksgiving classics from their main course to desserts, you'll be able to satisfy your holiday cravings! Call them at 918-932-8840 to place your reservation today.
French Hen
French Hen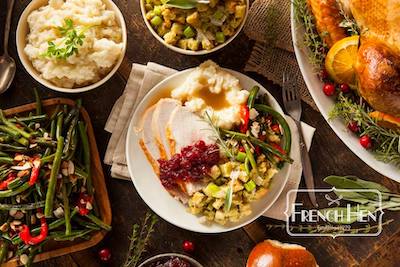 is offering a fine dining Thanksgiving dinner to go! You can order today and pick it up Wednesday, November 25th, before 3 p.m. You must place your order before 5 p.m. on November 20th. French Hen has been preparing fine dining food from their scratch kitchen for over 40 years. They're eager to serve you a high-quality holiday meal! Call them at 918-492-2596 to order today.
The Chalkboard
The Chalkboard is located at 1324 S. Main St., Tulsa, OK 74119, and invite you to join them for Thanksgiving dinner. Since available seating is limited, it's encouraged to make reservations beforehand! Call them at 918-582-1964 to make a reservation or to pre-order your pickup. They'll offer Thanksgiving breakfast from 7 a.m. to 10:30 a.m. and Thanksgiving dinner from 11 a.m. to 7 p.m. The Chalkboard will also be offering online pre-ordering for curbside pickup. Your online order must be completed no later than Monday, November 23rd, by 3 p.m.
Ti Amo
Ti Amo is offering Thanksgiving "Eve" pickup so you can bring Ti Amo to your home for the holidays! You can place your order any time between November 16th and November 24th at 4 p.m. Pickup for orders will start Monday the 23rd through Wednesday the 25th. You can email orders to banquets@tiamotulsa.com or call 918-499-1919 to place your order.  Pick your order up from their location at 6024 S. Sheridan Rd or 219 S. Cheyenne Ave in downtown Tulsa.
Cracker Barrel
Cracker Barrel offers a Thanksgiving "Heat n' Serve Feast," Family Dinner, Fresh Baked Holiday Pies, and a Homestyle Turkey n' Dressing Meal. Their feast option serves from eight to ten people and goes from oven to table in just two hours. The family dinner option serves from four to six people and has the same cooking time as the feast. The pickup for these meals is from November 23rd to the 24th.
Cracker Barrel also offers a variety of holiday pies to add to your Thanksgiving meal plans. On Thanksgiving Day, they'll serve a traditional Thanksgiving meal starting at 11 a.m that can be enjoyed for dine-in or carryout––available for curbside, pickup, or delivery.
Apple Barrel Café
Apple Barrel Café announced on their Facebook page that they're offering a free Thanksgiving meal for everyone from 11 a.m. to 3 p.m. on Thanksgiving Day! This offer is only available for dining in only. This year is the cafe's 19th year offering a free holiday meal for Thanksgiving.
Their free Thanksgiving meal includes turkey and dressing with mashed potatoes and gravy, your choice of corn or green beans, dinner roll, pie, and a drink. During this time, they won't be selling or serving any of their regular menu items. Visit them for a free meal at 15225 S. Memorial Drive, Bixby, OK 74008.
Antoinette Baking Co.
Antoinette Baking Co. is offering orders from November 11th through the 25th. Located at 207 N. Main St., Tulsa, OK 74103, they offer an assortment of appetizers and snacks, tack n' bakes, pies and sweet things, and bread and butter options for Thanksgiving! Enjoy the beautiful desserts and appetizers that go with every holiday meal by ordering a Thanksgiving item to-go from Antoinette Baking Co. Call 918-764-8404 to place an order or if you have any questions!
Palace Café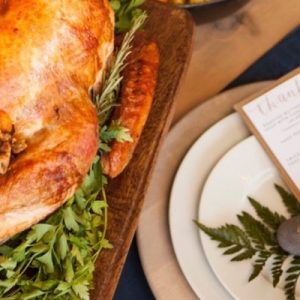 Palace Café is offering Thanksgiving dinner available for pickup Wednesday, November 25th, from 12 p.m. to 4 p.m. Pre-order your Thanksgiving dinner by giving them a call at 918-582-4321, filling out their online form, or emailing them at palacecafecatering@sbcglobal.net. Their Thanksgiving menu includes traditional Thanksgiving dishes as well as two dinner packages. They offer one package that serves four to six people and another that serves ten to twelve. You can view their Thanksgiving options on their online holiday menu! Visit them at their location at 1301 E. 15th St., Tulsa, OK 74120.
Boston Deli
The Boston Deli is offering gourmet Thanksgiving dinner this year! They encourage you to order early for availability. The order deadline is Friday, November 20th, by 5 p.m. Their Thanksgiving items will be available Wednesday, November 25th, from 10 a.m. to 3 p.m. Some items, but not all, will be available for walk-ins. Visit them at their location at 6231 E. 61st St., Tulsa, OK 74136. You can easily access their holiday menu through their website and call 918-492-4745 to order ahead.
Freddie's BBQ & Steakhouse
Freddie's BBQ & Steakhouse wants you to save on cooking this Thanksgiving and let them do the heavy lifting. They recently announced their Thanksgiving special on their Facebook Page. You can call them to order and pick up your Thanksgiving special on November 25th. Their special includes a 14-16 lb. roasted turkey, 2 lb. smoked ham, one qt. dressing, one qt. mashed potatoes, one qt. gravy, one qt. green bean casserole, and one qt. candied sweet potatoes for a total of $119.95. Pick up yours at their location at 9999 State Highway 66, Sapulpa, OK 74066. You can call them at 918-224-4301 to order or for more information!
Order Your Thanksgiving Meal Today!
Whether you are looking for an additional side dish or dessert or you're looking for the entire Thanksgiving meal to be taken care of by someone else, these top 10 restaurants serving Thanksgiving dinner have your back! There is no question that 2020 has been a challenging year for us all, take some time to reflect on the many blessings we have experienced in the midst of trying times over a delicious dinner.
After your Thanksgiving meal, take some time to enjoy one of the many Tulsa Christmas Light Displays beginning on Thanksgiving Day or plot out your holiday shopping at our local Tulsa boutiques!