Best Places to Eat Thanksgiving Dinner in Tulsa
Tulsa, Oklahoma has several places to go for Thanksgiving Dinner. Everyone wants to enjoy a delicious turkey dinner for Thanksgiving, but not everyone wants to put in the extreme time it takes. Luckily, there are a few top-notch Tulsa restaurants that are open on Thanksgiving and prepared to serve their customers a delicious Thanksgiving meal.
Shiloh's
Shiloh's is one of Tulsa's gems. They have such a cozy and friendly environment. All of their sweets are so delicious and homemade. If you are wanting a family-style Thanksgiving meal without having to cook, this is the place you want to be on Thanksgiving.
They serve a Thanksgiving dinner with your choice of turkey or ham. This dinner includes sides and desserts that will blow you away. The meals are 16 for adults and 9 for kids under 11. Shilohs is the perfect in-between going out to eat and eating in. Shilohs always makes its customers feel at home.
Boston Deli Grill and Market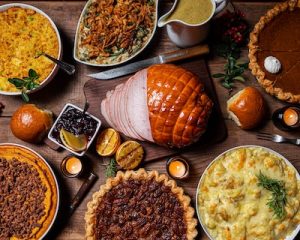 Boston Deli Grill and Market is an amazing option for catering on Thanksgiving. When you are a host, there is often much more to do than just cook. Boston Deli Grill and Market has an extensive holiday catering menu.
They have highly rated food that is always prepared to perfection. If you are having a large family over this holiday season, contact Boston Deli Grill and Market.
Ensure that you contact them as soon as possible because things fill up, and they need plenty of time to prepare. They do offer in-house seating during Thanksgiving as well.
Tallys Good Food and Cafe
Tally's is a local favorite. They are locally owned and have a long-term staff that is friendly and ready to serve! Tally's opens up on Thanksgiving and loves to serve the community by offering a free Thanksgiving meal. This is a huge blessing to those who are less fortunate. Holidays are an expense many cannot afford. So, if that is you don't stress, follow Tallys website to find out what they have in store for this year's Thanksgiving. Their food is always delicious and fresh.
Apple Barrel Café
Apple Barrel Café also offers a free Thanksgiving meal. This meal is complete with turkey, mashed potatoes, dressing, and your choice of veggie. In addition, they have deserts and rolls. They are only open to serve the community and do not serve their traditional menu. This is a great option for those who can't afford a Thanksgiving meal.
If you are looking for a place to join others in the community and have a meal, Apple Barrel Cafe' is a great option. Look out on their Facebook page in the upcoming month for more details.
Braums Ice Cream and Dairy Store
Sometimes simple is good. You can't go wrong with a Braums burger and shake. Sometimes, the biggest crowd-pleaser is the simplest option. Tulsan's know-how tasty Braums is.  Many times fighting with picking kids is just not worth it anyways. Save yourself the headache and go to your local Braums this Thanksgiving.
This is also a good option for those of you who have to endure cooking that is well, less than desirable. We all have that family member who wants to host, but can't cook to save their life. Braum's drive-thru is always there to take away your hunger pains and keep you friendly toward your well-meaning family.
Flemings Prime Steakhouse and Wine Bar
Flemings open early on Thanksgiving to serve their customers! They open at 11 am to the public. Flemings is heavily reliant on reservations so opening early allows them to serve the most amount of customers. So, be sure to make your reservation as soon as possible.
In addition, for covid friendly safety, Flemings is serving orders to go. This means if you put in your food order ahead of time, they can make it ready for you to take home and share it with your family in the comfort of your own home. Their food is on the elegant side of things. You can have a delicious, high-quality meal without having to slave over a stove. This is a great option for many people.
Golden Corral
All you can eat buffet is definitely what this holiday season ordered! Golden Corral is an oldie but goodie when it comes to holiday festivities. Golden Corral has been a go-to for events. I think I have been to at least 3 anniversary events, and the food was always amazing!
The best part about them, is they have a type of food for everyone. Having to cook for everyone's preferences on Thanksgiving can be exhausting and unnecessary. Golden Corral is a great alternative to killing yourself in the kitchen. They will be open normal hours 10:30 am- 8:00 pm.  Golden Corral will also be providing complete Thanksgiving meals to go, so you can eat at home. This is especially beneficial for those with anxieties about being in a group in a public place.
IHOP
IHOP has a reputation for being open 24 hours a day 365 days a year. IHOP is the place you can rely on when no one else comes through. In true IHOP fashion, they are opened 24 hours for your dining convenience. Also, most locations serve a thanksgiving dinner of carved turkey with gravy. However, if you are feeling breakfast for dinner, IHOP has you covered. Even if you are just trying to get your family out of the house so you can cook, IHOP is a great option to add to your Thanksgiving traditions this year.
Texas De Brazil
Texas De Brazil is a delicious restaurant with an amazing menu! On Thanksgiving, they add to this amazing menu by offering traditional holiday food such as turkey and stuffing. Most locations open up at 11:00 am. This allows those early risers to have their Thanksgiving Dinner right when they want it.
Texas De Brazil has a lot of healthy options on its menu for those who don't want to blow their diet just because it is a holiday. Texas De Brazil is a great restaurant option to try this holiday season.
Cracker Barrel Old Country Store
When I think of comfort food, I think Cracker Barrel. They always have a menu smothered in gravy, and fried to perfection. Thanksgiving is no different. They are open from 11:00 am to 9:00 pm on Thanksgiving day.
They have a Thanksgiving menu that will bring you back to your Grandmas's house. Also, if you wanted to take the food to your Grandmas's house, you can order a Thanksgiving meal to go. make sure to call in plenty of time because it takes 2 hours to prepare.
Finding the Best Thanksgiving Feast in Tulsa
Thanksgiving can be shared in many ways, with many different traditions. Whether you love extravagance or just want something hassle-free, Tulsa has restaurants that can accommodate your needs! I personally would take hamburgers over turkey any day. So check out these 10 places and find your perfect 2021 Thanksgiving food spot!
There are also budget-friendly options, so if you know someone in need this Thanksgiving, let them know about local food places that are serving the community with free Thanksgiving meals. Your Tulsa Thanksgiving dinner doesn't have to look like everyone else's. The day is about being thankful. So celebrate it your way, and be thankful for the blessings we have received.
Are you looking for more fun in Tulsa? Find great things to do in Tulsa here!