The Top 8 Places to Go on Spring Break In Tulsa
Spring break is an excellent opportunity to make memories with family and friends and get away from your everyday grind. It's also a great way to explore new places, whether they're in your hometown or across the world.
If you find yourself in Tulsa, Oklahoma, this spring break, check out a few of these local spring break activities and destinations. You and your family will have a great time exploring the city and surrounding area whether you've lived here for years or are first-time visitors.
Here are eight places to go during your spring break in Tulsa:
Philbrook Museum of Art
The Gathering Place
Tulsa Zoo
Tulsa Air and Space Museum and Planetarium
Bales Park Trails
Turkey Mountain Urban Wilderness Area
The Outsiders House Museum
Admiral Twin Drive-In
Each of these options has something unique to offer, so read on to find out more and decide which ones you want to visit this spring break.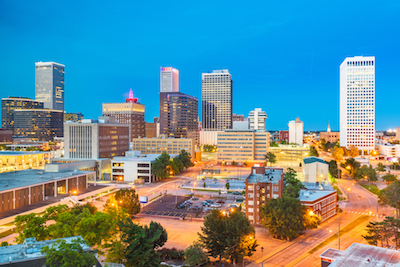 1. Philbrook Museum of Art
Whether you're more interested in admiring Philbrook's extensive art collection and magnificent Italian-styled architecture or in exploring its extensive grounds, there's something for everyone at the Philbrook Museum of Art.
This historic Italian-style villa is surrounded by stunning gardens to enjoy on sunny spring break days, and it is full of activities for parents and kids to participate in if the weather is less cooperative. Keep an eye on the Philbrook website to see what they have coming up that you may be interested in — the museum hosts a wide variety of festivals and events throughout the year.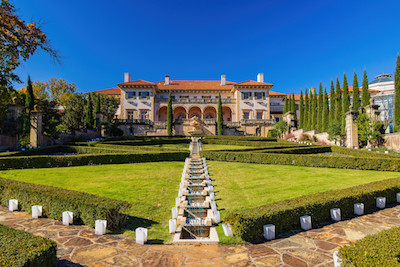 2. The Gathering Place
The Gathering Place is Tulsa's world-famous riverside park, and it has something for everyone. This sprawling 66-acre park is situated on the Arkansas River and includes a wide range of activities from sports fields to playgrounds to bike trails. There are even kayaks (available seasonally), a skate park, basketball courts, and a splash pad.
Spend the day wandering through the trails and testing out the playgrounds, or, if the weather isn't cooperating, you can enjoy the cozy hangout spaces and tasty food available inside the Boathouse or the Lodge.
3. Tulsa Zoo
The Tulsa Zoo is an exciting place for both kids and adults alike. The zoo has a plethora of animals from all over the world, including kangaroos, penguins, and sea lions. There are also plenty of opportunities to interact with the animals, such as at the ever-popular Elephant Encounter featuring the zoo's resident Asian elephants, or weekly story times featuring a surprise animal ambassador.
A day at the zoo is a great way for groups of all ages to enjoy the sunshine, spend quality time together, and learn more about the animal kingdom. Plus, kids under two years old get free admission, so it's the perfect place for families with little ones.
4. Tulsa Air and Space Museum and Planetarium
The Tulsa Air and Space Museum and Planetarium is a great destination for anyone even slightly interested in aviation, space exploration, or science — or anyone who thinks fighter jets and robots is cool. When you visit the Tulsa Air and Space Museum and Planetarium, you can explore the museum's exhibits showcasing historic aircraft, artifacts, and aerospace technology.
The museum offers plenty of interactive activities, including simulators that let you fly planes and operate robotic equipment in space. And don't forget the planetarium where you can explore the night sky with a 3-D show guiding you through the wonders of space.
5. Bales Park Trails
If you're looking for an outdoor Tulsa adventure this spring break, why not go hiking at Bales Park Trails? This scenic trail system is located near the Arkansas River and offers several trails with breathtaking views of Tulsa's skyline that are perfect for both running and walking.
Bales Park Trails even offer dedicated mountain bike trails that offer a variety of terrain fit for a variety of skill levels. Be sure to bring your sports equipment and picnic supplies as well — once you're done walking or riding, you can enjoy the open green space and baseball diamonds Bales Park also offers.
6. Turkey Mountain Urban Wilderness Area
For an outdoor adventure just a short drive away from the heart of the city, head over to Turkey Mountain Urban Wilderness Area. This 300-acre park is filled with trails for biking, hiking, and horseback riding, and it also has several picnic areas for a snack break along the way.
Explore the ponds, streams, and hills of Turkey Mountain for a memorable afternoon excursion — it's a great way to let your kids burn off some of their pent-up energy in a constructive way as well.
7. The Outsiders House Museum
Are you a fan of Frances Ford Coppola's movie adaptation of S.E. Hinton's classic book The Outsiders? If so, be sure to check out the Outsiders House Museum in Tulsa. This museum is located in the house that Coppola used in the film and includes artifacts from the movie adaptation as well as an interactive exhibit that lets guests explore life in 1950s Tulsa.
You'll be able to relive some of the most iconic scenes in film history and learn more about the city and its past. It's a great way to get kids interested in learning about Tulsa's history and culture, as well as the world of cinematography.
8. Admiral Twin Drive-In
Catch your favorite movies under the stars this spring break at the Admiral Twin Drive-In. This iconic drive-in theater has been around since 1951 and is one of the few remaining outdoor theaters in Oklahoma. The dual screens allow you to watch two movies for the price of one, making it a great family outing this spring break.
The Admiral Twin is located just off historic Route 66, so you can stop by on your way to or from the other iconic destinations along this road.
Tulsa offers plenty of things to do this spring break, whether you're looking for an educational experience or just want some fun in the sun. With these eight amazing attractions, your family will be sure to have an unforgettable time, so get out there and explore all that Tulsa has to offer.
Related Questions
What is there to do in Tulsa?
Tulsa has a wide variety of museums, concert venues, parks, trails, and other attractions to explore. Some popular activities include visiting the Gathering Place or the Tulsa Air and Space Museum and Planetarium, going hiking at Bales Park Trails, exploring Turkey Mountain Urban Wilderness Area, taking a trip to the Outsiders House Museum, or catching a movie at Admiral Twin Drive-In. There are plenty of amazing places to eat as well, from barbecue to fine dining to authentic international cuisine. No matter what your interests are, Tulsa has something for everyone.
What is the best time to visit Tulsa?
The best time to visit Tulsa is during the spring and fall months when temperatures are mild and the city is bustling with festivals and events. Spring break is also a great time to take a trip to Tulsa, as there are plenty of attractions, outdoor activities, and cultural experiences for everyone in the family. However, any time of the year can be a great time to experience all that Tulsa has to offer.
What is the weather like in Tulsa?
The climate in Tulsa is generally mild and temperate, with hot summers and cool winters. Average temperatures range from 44°F (7°C) during winter months to 94°F (34°C) in July and August. In spring and fall, temperatures typically range between 60-80°F (16-27°C). The city does get quite a bit of rain, particularly during the late spring and early summer. It's best to dress in layers when visiting Tulsa and be prepared for any kind of weather.
What is the food scene in Tulsa?
Tulsa has a wide variety of restaurants and eateries to choose from, ranging from casual barbecue eateries to fine dining locales. There are also plenty of Italian, American, Mexican and Latin, Vietnamese, and other international cuisines throughout the city, a testament to its diverse population. Tulsa is also home to numerous craft breweries and wineries offering locally-made drinks. There are plenty of options for all dietary needs as well, with vegan and vegetarian restaurants and cafes popping up around town. No matter what your taste buds crave, you'll find something to satisfy them in Tulsa.
In Closing
Tulsa is a vibrant city full of culture, history, and outdoor activities. From parks and trails to museums and theaters, there's something for everyone during a spring break visit. Plus, Tulsa is just the right size — small enough that it's easy to access all of these locations on the weekend and large enough to have plenty of activities, restaurants, and hotels to choose from.
With so much to see and do, it's no wonder why people flock to Tulsa for spring break. Whether you want to explore the outdoors or take in some culture, plenty of attractions will keep your family entertained all week. So don't delay and start planning your Tulsa getaway — or staycation — today.