Top Taco Food Trucks to Visit in Tulsa
Taco trucks are a favorite amongst most people, especially foodies. A food truck can sometimes feel lackluster when compared to a sit-down restaurant, but food trucks have some of the best food in the world. When it comes to food, I'm pretty open-minded about what food is out there. I've had food from all over the Tulsa area, and I've tried just about every type of taco that exists other than fish tacos, which aren't my favorite.
So, what are the best taco food trucks in Tulsa? After much tasting and comparing, the award would have to go to El Ranchero. Located on 10822 East 41st Street, this local food truck has made a name for itself within the community. In terms of the food, their tacos are excellent and they have a wide variety to choose from.
You can get your taco in either a hard or softshell. If you're really hungry, I recommend buying two instead of one. The meat tastes fantastic and is cooked the way you want it. On top of that, the food isn't too expensive and very affordable for a food truck.
Although there seems to be a taco truck on every corner, not all of them meet our standards! The following are some of my favorite Tulsa Food Trucks that bring me back again and again when I need good quality food:
El Ranchero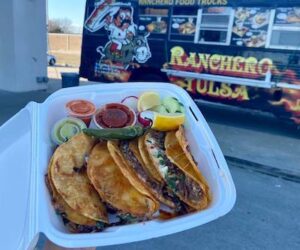 El Ranchero Food Trucks is a popular food truck serving in the Tulsa region. Not only are the food quality and taste delicious, but their prices are affordable – especially if you want to buy 2 tacos at a time!
They offer quesadillas, tacos, and more from fresh ingredients without compromising on taste or quality! Taco lovers are sure to enjoy their homemade Mexican cuisine that will leave you feeling nostalgic.
These tacos are made just like grandma used to make when your family was together around the dinner table after church on Sunday mornings. Be sure to include the family on this taco run!
Tacos Don Rafa
This food truck stands out for a couple of reasons. They have a wide variety of food mostly due to food options from their motherland, Mexico.
Tacos Don Rafa is located on Admiral and Mingo between 41st and 51st streets. The food truck is open from 9:30 am to 3:00 pm, so be sure to head over for lunch during your next workday! On the weekends, they are open from 7:00 am to 2:00 pm, which makes this food truck perfect for brunch food and breakfast tacos.
Taqueria Express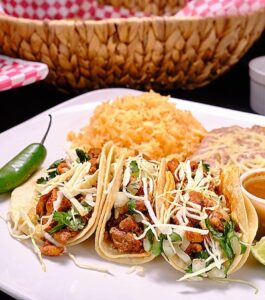 Taqueria Express is a taco food truck that serves delicious Mexican meals, steak tacos, and quesadillas. All of their dishes can be made from gluten-free or vegetarian options as well as most Halal meat – making them perfect for any diet or preference!
Their mission: provide outstanding service with an amazing experience at affordable prices; satisfying everyone who enjoys authentic Mexican fare prepared directly before you visit us on the roadside
Taquería Expres offers both classic favorites like burritos & chimichangas alongside more adventurous selections such as Encabronadas de Camarones – shrimp wrapped in tortillas filled with homestyle chorizo mashed potatoes then topped off with roasted poblano peppers!
Don Tacos
Don Tacos food truck serves food right out of your dreams. I know it sounds unrealistic, but once you taste their food for yourself, you'll understand why I'm saying this.
For tacos, they offer different breakfast tacos like bacon and egg, sausage and egg, chorizo and egg; lunch tacos like beef fajita; and night tacos like a chicken fajita.
This food truck can be located on Peoria and Harvard between 65th and 71st streets. I recommend stopping by the food truck after work and trying out some tacos.
Tacos Mi Tierra
Tacos Mi Tierra food truck has a food truck located in front of LaFortune Park on Archer Street. They offer menu items including breakfast tacos, lunch tacos, and dinner options like carne asada or barbacoa tacos. They also offer chips and queso if you get a little hungry between meals.
Tacos Mi Tierra food truck is open for breakfast, lunch, and dinner every day of the week from 7:30 am until approximately 10:00 pm, making them perfect for all three meals of the day!
De La Gloria Food Truck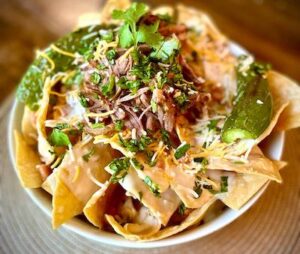 De La Gloria Food Truck food is an excellent food option for tacos. They offer breakfast tacos, lunch tacos, and dinner options like steak or barbacoa tacos.
Their food truck is located on the north side of the street of Admiral Street between Yale Avenue and Peoria Avenue.
There are two times where their food truck is open during the weekdays: once from 11 am to 2 pm, then again from 5 pm until 7 pm.  Be sure to stop by after work for some fresh food!
What Is the Best Taco Meat to Order at Food Trucks?
As food trucks gain popularity in the food industry, people are looking for quick meals that are guaranteed to satisfy their taste buds. There are many food truck options out there, but what sets them apart from each other is the food they sell. Tacos are a popular food truck food choice because of all the different meat and toppings you can choose from. But which taco filling is best?
We recommend that you try chorizo tacos at food trucks. One reason for this is because chorizo tacos are an Oklahoma food truck staple. Also, food truck operators know how to make the best taco meat because they have perfected their recipe through trial and error.
Another food truck food option to consider when visiting Tulsa food trucks is al pastor tacos. Al pastor tacos are also available at many restaurants in Tulsa, but food truck versions tend to be cheaper. Finally, there's no denying that al pastor tacos taste great! They're marinated with flavors like orange juice and pineapple which makes them sweet but savory at the same time.
So what's the best taco meat to order from a food truck? Chorizo or al pastor? The answer is both! Getting one of each will provide a food truck meal that is sure to satisfy your taste buds.
What's the Difference Between a Regular Taco & a Street Taco?
A street taco is a traditional food from Mexico that has been eaten for over 5,000 years. Street tacos typically consist of meat or fish served in either hard or soft corn tortillas. They are often less expensive than regular tacos and are seen as the food you would eat on the go with no utensils.
Street food derives its name from being food meant to be eaten outside of homes, cafés, restaurants, bars, etc., especially food that can be eaten while standing up or on the go.
If you want to try authentic Mexican cuisine then it's time to learn about all of the delicious street food available. And one food staple at these food stands is the tasty street taco. While most people enjoy both types of tacos, there's a definite difference between a street taco and a regular taco.
So, what's the difference between a regular taco and a street taco? The main difference is the ingredients! These tasty treats can be filled with beef, cheese, lettuce, tomatoes, onions, cilantro, and salsa to complete your experience.
In contrast, regular tacos may include ground beef or shredded chicken that is then put into flour tortillas and usually includes additional ingredients such as beans and rice. You won't see street food vendors selling these types of tacos.
How Much Do You Tip at a Food Truck?
When you go out with your friends to get tacos at the food truck around the corner, how much do you expect to tip? Tips are usually given when service goes above and beyond expectations. People have different opinions about how much to give at food trucks where tipping is expected, and food trucks are a relatively new business model.
Tipping food truck workers can be a bit complicated because it's not as common as regular restaurant waitstaff or handing your bartender five bucks after a cocktail. However, food truck owners will generally welcome tips from satisfied customers. In general, you should tip food trucks workers the same percentage as other foodservice professionals: between 15% and 20%.
In Conclusion
Food trucks are a great place for mealtime in a lot of cities, and Tulsa is no exception. Food trucks have been around for decades, but they have really taken off with the Millennial generation. The food truck industry has been growing by leaps and bounds since 2010, so it's safe to say that food trucks will be a staple of the foodservice industry.
I hope that this article was helpful to food truck lovers here in Tulsa. Your quest for tacos has ended here because these food trucks are among the best! If you're feeling hungry today, check out any one of these food trucks and try some amazing food. Remember that food trucks are constantly closing and moving locations, so make sure to call ahead before going anywhere.