Dope Soul is The Best Tulsa Food Truck
Driving around Tulsa, you may have noticed a food truck that appears to be changing colors, it's hard to miss. As one of the newest additions to the Tulsa food truck scene, Dope Soul Catering + Food Truck has managed to quickly gain a loyal following.
Owned and operated by brother and sister duo, Bryan and Nicole Lewis, Dope Soul is on a mission to reflect the diversity of the Tulsa community in their menus which change frequently but usually include vegan and/or gluten-free options. 
What Sets Dope Soul Apart?
With a unique menu full of delicious treats, it is no surprise that Dope Soule Catering + Food Truck is known as a favorite amongst Tulsa locals. The food on their menu ranges from fusion to classic favorites, with many items made from scratch. Currently, they are offering gourmet carnival favorites such as funnel cakes, hand-dipped corn dogs, fried candy bars, and specialty shaved ice. 
As a team, Bryan and Nicole have a knack for unique dishes that set their food truck apart. One of the most unique items on their menu currently is the Banana Caramel Funnel Cake. This decadent treat is dressed up with powdered sugar, fresh banana slices, whipped cream, and caramel sauce. Their Loaded S'mores shaved ice, topped with marshmallow cream, chocolate sauce, whipped cream, and graham cracker crumble, is a close runner-up.
Local favorites include their Garlic Fried Chicken on a stick, which Nicole spent many years perfecting. Their Pulled Pork Sandwich served with a tangy vinegar-based slaw is also quite popular. With new items added to the menu frequently, you are sure to discover new favorites. Most items on their menu range between $5-$15.
Like many local small Tulsa businesses, the COVID-19 pandemic has impacted Dope Soul. They have adapted to the new environment by booking with neighborhoods in and around Tulsa as well as with other local businesses for employee appreciation caterings. 
Dope Soul's Services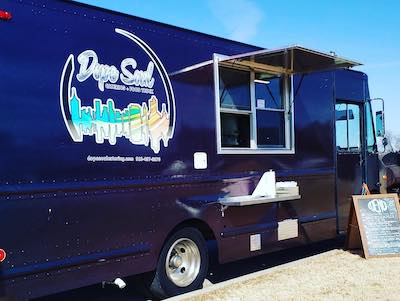 Dope Soul Catering + Food Truck offers a variety of opportunities for you to enjoy their delicious food. Here are some of the areas in which they currently specialize:
Festival Food Truck

Corporate Catering

Employee Appreciation Event Catering

Private Event Food Truck

Wedding Catering

Bridal Shower Catering

Reunion Catering

Fine Dining Catering

Food Truck Catering

Party Catering
Contact Information for Dope Soul Catering & Food Truck
You can learn more about Dope Soul Catering & Food Truck, or find information on their upcoming events, using the details listed below.
Dope Soul Catering & Food Truck
To see where Dope Soil Catering + Food Truck will be parked next, or to book them for your upcoming events, take a look at their schedule which can be found on Facebook. Dope Soul will provide you with high-quality catering for weddings, anniversaries, school functions, or other parties and events. They customize a catering menu to each event with over 300 options to suit your unique tastes and budgets.
Whether you are looking for a unique vendor to cater your party or a delicious dinner in Tulsa, Dope Soul will satisfy you with their outstanding selection of tasty treats.
'Like' Dope Soul Catering & Food Truck on Facebook and mention this article in Discover Tulsa to receive 25% off your next entrée (valid one per customer for 30 days after article publication).