9 Unique Wedding Party Entrances to Make Your Special Day Standout 
It's finally happened. The flowers, the first look, and the magical moment when you and your guy (or your couple, for the wedding planners) say I do. There's something so incredible about the end of a wedding. All the suspense and planning have been leading up to when, finally, the two are one. It's time for a night of fun. Now, we've seen many weddings, and I've been in at least seven weddings. And there have been very, very few weddings that have executed a smooth wedding party entrance. It's a moment that's forgotten about in the hustle and bustle of florists and DJs and flying in grandparents from Flordia. But if you want to make it easy on your bridal party (and you should, they've spent a lot of time and probably money to be here), you really should think about that tricky transition in between the cocktail hour and the entrance of the bride and groom. Take our word for it. 
What do we suggest, you may wonder, to have the best wedding party entrance? How do we avoid a boring or, dare we say it, awkward, few moments for the guests and party? For the best bridal party entrance at your wedding, plan out something fun and unique, and be sure to communicate it beforehand to your bridal party. 
If you are stumped on this part of the wedding, be sure to talk to your bridal party, even via text, about what their suggestions are. The bridal party isn't just people to fill the rehearsal dinner; they are your best friends and family. They probably have some great ideas to run by you. If your bridal party is just as unsure as you are when it comes to their entrance, then check out our helpful suggestions below. You'll find some out-of-the-box ideas as well as some straightforward ones. Every couple, and bridal party, is different. Go with your style, and have the best night of your life. Keep reading for tips on the 9 wedding party entrances! 
The 9 Top Entrances for Wedding Parties to Spice Up Your Wedding 
Surprise Them with a Flashmob
This is an oh-so-fun wedding party entrance idea! If you have a wedding party that is super dedicated to creating a unique entrance, let them choreograph a flashmob for their entry! This might be even more fun if some members slipped quietly into the reception/cocktail hour without being announced. This will make it even more surprising for guests! Now, a flashmob entrance will take more effort and thought, even if a trendy, well-known dance is chosen. Be sure you communicate with your bridal party and put someone in charge of the choreography to oversee everything. If the couple wants to be a part of it, even better! Let them take the starring role. Just ensure that whoever manages the entrance keeps the couple, wedding planner, and DJ in the know to avoid miscommunications. 
Add a Personal Touch 
The wedding guests probably won't know the entire bridal party. This makes it less likely to clap and make a big to-do over them as they file into the reception. Since the wedding party entrance will set the reception tone, you want to keep the guests engaged and upbeat! To do this, give a brief personal bio before each person is announced. Points if the bios are funny! Provide the guests with some backstory, so there's an emotional connection between them and the person striding into the room. Remember, one of our goals is to avoid awkward silence at all costs. Keep them clapping!
Confetti Cannons 
Incorporating confetti cannons into your wedding party entrance can be both incredibly entertaining and magical. Anything but anticlimatic, you can have the bridal party gather beside each other to shoot confetti guns when the new couple is announced.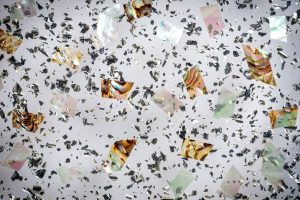 Although the guests might wonder just what the bridal party is up to, they won't have to wait long to find out. We love the idea of incorporating confetti cannons into the reception because they're so celebratory. A wedding doesn't have to be boring, after all!
Perform A Skit 
Another fun way to liven up your wedding party entrance is to plan and perform a skit. Like the flashmob idea in terms of surprising guests, a skit can be a fun choice for a couple, especially if they are passionate about theatre. What better way to weave in love for acting than a bit at your wedding? 
Hire Your Favorite Band
Now, this could be a given if you've already selected a live band for your special day. Life music can create an elegant or jazzy type atmosphere as your wedding party is announced at the reception. You could even ask your bridal party to come up with a snippet of a song to be played to make it memorable. 
Make It Rosy 
Rose-colored glasses can never hurt. Liven up the wedding party entrance even more by distributing rose petals out to the guests so that they can shower the wedding party with fragrant pieces as they parade into the reception. Distribute a different color of rose petals, like white, when the newly married couple comes in. This will look amazing for photos and be fun for the guests! Plus, roses make everything better.
Lights, Camera, Action
If your reception is indoors and you'll have someone working the lights, ask for a fun light show as the bridal party is introduced. You can even make the entrance a Hollywood theme. Roll out a red carpet, put some sunglasses on, and listen to the roar of the admirers as your wedding party sashays into the reception to some Hollywood-themed songs. 
Check With Your Venue 
If you still aren't sure how to make your wedding party entrance, check with your venue about their ideas to create an unforgettable wedding party entrance in the space. They should know more about what's possible at the venue and might have some creative ideas based on what they've seen other wedding parties do. 
Pick the Right Song
Every wedding party is different, and so each will have other songs for their grand entrance after the ceremony. When thinking of your wedding party entrance song, consider a few things: 
Your theme 
Your venue 
Your DJ 
Be sure to discuss your wedding party entrance song with your DJ if you have one! They might also have some good recommendations if you aren't sure what piece would be ideal. 
Have Fun!
Weddings are enchanting, no matter what the ceremony or reception includes. The best part for wedding-goers is to see the couple say their I-dos. However, receptions can also be a fun way to make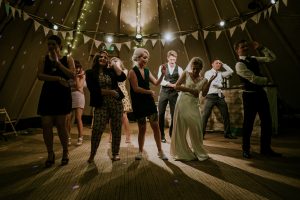 your wedding memorable. Who doesn't want to dance the night away with their friends and family after such an important day? Why spend so much money on a band or DJ who will more than likely play some of the same songs at your wedding as they do at every other wedding? Why not have your guests participate by creating some unique first dances? These are just some of the questions to ask yourself before you choose your reception activities.
Whatever you decide to do, it is important that you choose activities that your guests will enjoy. If they are not having fun, then what's the point of even having a reception? Here are some ideas for your wedding reception entrance.