Just west of the Arkansas River in the up and coming city of Jenks is the Oklahoma Aquarium. This aquarium is home to sea creatures from all over the world. Every exhibit is full of vibrant and exotic creatures to bring wonder to everyone who visits.
The variety of fish and other creatures is astonishing and shows how vast the ocean really is. From the colorful coral reefs to the deep, dark trenches, you'll be amazed by the range of species that make the ocean their home.
There is so much sea to see at the Oklahoma Aquarium that it's hard to know where to start. Here is a guide for anyone visiting to help you find your way to all the greatest and best sea creature exhibits. Let's dive in.
How Much Does it Cost?
The first thing to think about when going to the aquarium is how much admission costs per person. The price for adults is $17.95 for individual admission. Admission for kids is $13.95 as well.
The Oklahoma Aquarium offers a discount to senior citizens and those that serve in the military currently, as well as veterans, for $13.95. Groups of 20 or more can get a discount if the tickets are purchased ahead of time over the phone.
Daily Hours and When to Go
The Oklahoma Aquarium is open from 10 am to 6 pm every day of the week except Tuesday. Their Tuesday hours are from 10 am to 9 pm.
The best times to go are dictated by the feeding schedule. During feeding, the fish and other creatures that are being fed may be unavailable for viewing. This schedule can be found on the Oklahoma Aquarium website.
In short, between 11 am and 1:30 pm is the best time to go any day of the week. This is the window of time with no feedings in any of the exhibits. The feeding schedule ends at 3:30 every day, so after 3:30 all the sea creatures will be swimming freely in their tanks for all the visitors to see.
Exhibits
From small tropical fish to huge 300-pound turtles, there's a wide variety of fish and sea creatures to see in the various exhibits at the Oklahoma Aquarium. Here's a breakdown of a few of the more notable exhibits.
Aquatic Oklahoma
A common misconception about aquariums is that they are full of only ocean life. There are quite a few freshwater fish and aquatic creatures that make their home in freshwater lakes and rivers.
Oklahoma is full of freshwater lakes and rivers full of interesting creatures, such as otters, catfish, salmon, and bass. It's fitting that Oklahoma's premier aquarium would have an exhibit filled with freshwater fish and other creatures from the Oklahoma lakes and rivers.
Shark Adventure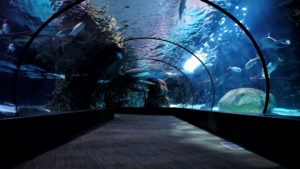 The Oklahoma Aquarium has the world's largest collection of bull sharks. The Shark Adventure is one of the coolest exhibits in the aquarium. When you see this exhibit, you will know why.
If you don't want to be spoiled, scroll past this section.
The whole pathway through the exhibit is encased in glass inside the shark tank. As the sharks swim next to and above you, it gives the feeling of swimming with them in the ocean.
There are two species of sharks in the tank, including bull sharks, and nurse sharks. There are 10 bull sharks and three nurse sharks in the Shark Adventure.
Marvels & Mystery
The Marvels and Mystery exhibit is full of some of the strangest creatures. These strange creatures are among the more exotic and captivating of all sea life.
This exhibit features beautiful seahorses, bioluminescent jellyfish, and vicious piranhas. There's even a feeding show of an electric eel shocking its prey before gulping it down.
The Marvels exhibit is full of weird and wondrous creatures. There are many more that aren't covered in this article so go check it out for yourself.
Ozark Stream
Northeast Oklahoma has a great freshwater river ecosystem in the Arkansas River. The Ozark Stream exhibit highlights all the great freshwater creatures that call the Arkansas river home.
You'll find beavers, river otters, and raccoons splashing and playing in the water. River otters are very vocal creatures, so keep your ears open in this exhibit to hear the clicking, chirping, and chuckling they use to communicate with each other. At certain times, the otters will ride down a water slide built into their habitat.
Polynesian Reef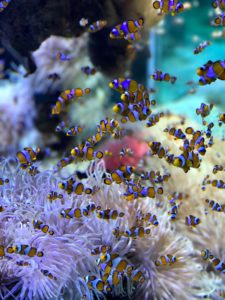 The coral reefs are home to some of the most beautiful, vibrant fish. In the Polynesian Reef exhibit, you will find many familiar tropical fish you will recognize from the hit movie Finding Nemo (2003).
These fish include clownfish, blue tang, and damselfish. One area of the exhibit has a couple of green moray eels swimming around a sunken ship. The Polynesian Reef tank is the second largest in the Oklahoma Aquarium.
Sea Turtle Island
Sea Turtle Island is a 58,000-gallon tank full of the coolest reptile swimmers in the sea. If you want to get up close and personal with a 300-pound loggerhead sea turtle, this exhibit is just for you.
The loggerhead sea turtle is a huge (literally and figuratively) part of the ocean ecosystem. The turtle is 25 years old, which is young for a sea turtle, as they can live to be 100! They are called loggerheads because their huge heads look like logs when the turtles come to the surface to breathe.
Food options nearby
If you go to the Oklahoma Aquarium for any amount of time, all the walking around can make you hungry. There are quite a few options for food within a few miles of the aquarium and one option inside the aquarium. I will attempt to highlight some options to suit everyone's varied tastes.
Coral Reef Cafe – ★★★★☆
Serving a variety of sandwiches, wraps, and fried favorites, Coral Reef Cafe provides a good option for the whole family to enjoy. They have a selection of beverages including fountain soda drinks and flavored waters.
Recommendation – Chicken strips and fries (you can't beat it!)
Waterfront Grill – ★★★★★
Located on the bank of the Arkansas River is a gourmet restaurant that offers a fine-dining experience and great food and drinks. The food is a bit pricey, but my wife and I have been here and we both feel that the food is worth the price.
Recommendation – New Orleans salmon with cheddar, bacon, jalapeño mashed potatoes
Louie's Bar & Grill – ★★★★☆
To the north of the Oklahoma Aquarium is a great American gastropub called Louie's. Since it's a bar and grill, a lot of the menu items are burgers and fried food, but there are quite a few items that are light and healthy as well.
Recommendation – Southwest rice bowl with a side of fried pickles
Los Cabos – ★★★★☆
On the south end of Riverside, you'll find a great Mexican restaurant with indoor and outdoor seating, with the good possibility of a live band on one or both of the stages set in the main seating areas. All the favorites are on the menu, and there isn't a bad item served here.
Recommendation – Chicken floutas with rice and beans
Birthday Parties and Other Events
There are quite a few places in the Oklahoma Aquarium to rent out for events such as birthday parties, office parties, wedding receptions, and school proms.
The rooms for rent vary in size and seating capacity as well as price.
From the Event Center holding 30 people to the Great Hall, which holds up to 600 people. Full facility rental cost starts at $3000, but there are smaller rental packages for birthday parties and private events.
Hosting a birthday party costs $345 with a $100 non-refundable deposit of $100 that is applied to your total bill. For all events, chairs and tables are supplied and set up by aquarium staff.
A very cool package to check out is the Fishing Pond Party package. Reserving the fully stocked fishing pond for your party costs $340 and includes fishing poles, picnic tables, and outdoor facilities.
The Oklahoma Aquarium is a great place to spend an afternoon with the whole family.  There is so much to see and so many events happening that you may need to go multiple times to get the full experience.
To read more of our articles, click here.