Top Romantic Restaurants to Visit in Tulsa
These romantic restaurants and cafes in the Tulsa area serve delectable dinners and desserts that would make for a romantic evening with your special someone. As the holidays are fast approaching, we thought we'd join in on all the festivities and give you a list of romantic spots to dine at with your honey!
The best dinner spots for a romantic evening in Tulsa include In the Raw Vu, Duet, and Mondos. To learn more about these romantic restaurants, consider these local Tulsa restaurants for a great night out on the town:
In the Raw Vu
In the Raw Vu is a new Tulsa restaurant is known for its romantic fine dining experience: sushi and a view! The restaurant is located on the 6th floor of the Vast Bank Building, where dinner goers get to gawk at the downtown Tulsa skyline! It doesn't get more romantic than a cozy modern atmosphere with decor to match.
They have an extensive wine selection and many romantic entrées including Foie Gras, Pan Seared Scallops, Maine Lobster Tail, and Filet Mignon. All items on the dinner menu are under $25.
They also offer live music Thursday through Saturday evenings from 9 pm -12 am. Or you can take in some live music at their happy hour (Monday through Friday) from 4 pm – 7 pm. We recommend ordering their chocolate martini for an after-dinner treat! It will not disappoint.
Mondo's Ristorante Italian
Mondo's Ristorante Italian is another Tulsa restaurant that offers a romantic fine dining atmosphere and delicious menu items including but not limited to Shrimp Arrabiata, Fettuccini Mondo Nero & Filet Marsala.
This restaurant is family-owned and has been serving the Tulsa community since 1969. The moment you walk into the restaurant, it is apparent that it's decorated with the family's legacy, including photos of the owners and their children!
Don't miss out on live entertainment on Friday evenings and romantic Italian drinks available for purchase at the restaurant bar until 1 am. Be sure to try their delicious tiramisu, imported from Italy!
Stonehorse Cafe
This romantic Tulsa restaurant is one of the best for vegetarians. Named as such because it's housed in a former carriage house and garage, Stonehorse Cafe serves up classic American cuisine along with some French dishes.
The cafe offers live music on Friday and Saturdays from 7 pm -10 pm, but we recommend going for dinner any time of the week! We know vegetarians tend to get left out when it comes to a wide range of food choices, so be sure to stop by and take a look at the menu.
To make it even more romantic, order their wine tasting tray which offers five different wines (4 oz.) to try- including reds and whites!
Mahogany Prime Steakhouse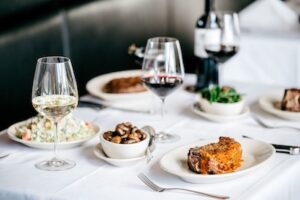 Mahogany Prine Steakhouse is known for its romantic atmosphere and delicious steak! The Tulsa-inspired menu items include items such as Avocado Brûlée, Toasted Almond & Goat Cheese Salad, Uppercrust Chicken Pot Pie, and Hickory Smoked Gouda Macaroni & Cheese.
Live music can be heard Tuesday through Friday from 6 pm – 9 pm. However, if live music isn't your thing don't worry. The restaurant also offers romantic dining experiences at all hours of the week! Be sure to enjoy a glass of wine while you wait for your meal at the full-service bar.
Doc's Wine & Food
Another romantic Tulsa restaurant favorite is Doc's Wine & Food, which is located on Brookside. They offer lunch, dinner, and a happy hour menu from 4 pm – 6 pm, daily!
The romantic atmosphere includes a romantic wine list with over 100 wines to choose from, as well as an extensive food menu. This includes items such as Seared Sesame Crusted Ahi Tuna, Seared Sea Scallops, Lobster Cargot, Shrimp Etouffee & my personal favorite, the beef tenderloin nachos.
After your meal, be sure to go out on the romantic patio where live jazz music can be heard every Sunday from 6 pm -9 pm. Pro tip: Visit the restaurant on any Tuesday evening and get gourmet $12 burgers coupled with half-off a bottle of wine!
The Tavern
This romantic downtown eatery offers a romantic atmosphere complete with floor-to-ceiling windows, intimate dining rooms & an award-winning wine list! The Tavern is known for its romantic Tulsa restaurant scene and amazing brunch menu.
For romantic dinners, be sure to check out the full menu which includes items such as Steak Diane, Seared Day Boat Scallops, Roast Rack of Lamb & my personal favorite, the Wood-Grilled Filet Mignon.
Pro tip: Be sure to visit this romantic Tulsa restaurant on Monday nights where they offer half off their already wallet-friendly wine list from 5 pm – 11 pm!
Vintage Wine Bar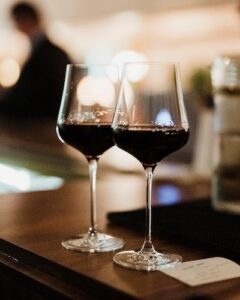 Located in Tulsa's Blue Dome District, Vintage Wine Bar offers a romantic atmosphere complete with intimate dining rooms and gorgeous vintage décor. The romantic menu includes items such as Seared Scallops, Tournedos Rossini & Grilled Filet Mignon.
They offer a full wine list and a daily happy hour from 3 pm – 6 pm. This list features different wines by the glass at discounted prices! Tulsa's premier wine bar offers a different setting for those who wish to feel as if they've been transferred to another era! You don't want to miss out.
Duet
One of Tulsa's premier romantic restaurants, Duet offers an upscale and elegant atmosphere. They offer a full wine list and food menu perfect for romantic dinners.
On the menu are items such as Jumbo Lump Crab Cakes, Filet Mignon & Seared Scallops, each coupled with delicious sauces to add to the overall flavor!
Be sure to check out their dessert options including Pecan Pie or White Chocolate Bread Pudding! They also offer live music on Sundays from 5 pm-8 pm. This includes a $25 prix-fixe meal that you're bound to fall in love with!
Amelia's Wood Fired Cuisine
A Tulsa restaurant is known for its romantic atmosphere, Amelia's Wood Fired Cuisine offers patrons just that. This Tulsa date night spot features live entertainment including live music on Wednesday through Saturday nights!
They offer a wine list and delicious food menu with items such as the tenderloin tournedos & wood-fired pizza. For those wanting to avoid main entrees, be sure to try the cheese board or s'mores flatbread.
If you're not feeling hungry yet but want an enjoyable experience, check out their patio. They have fire pits and comfy seating perfect for conversation!
Moxie's Grill & Bar
This Tulsa steakhouse is the perfect spot for a romantic date night. Offering an extensive wine list and cuisine prepared using only the freshest ingredients, Moxie's Grill & Bar is one of Tulsa's finest restaurants.
On Tuesdays, they offer half-off select bottles of wine from 5 pm – 11 pm. Be sure to bring your significant other out to enjoy that half-price bottle together! They also feature live music Tuesday through Saturday nights from 6:30 pm – 9:30 pm. This makes it even easier to relax and unwind during your date night.
The Nest
Looking for Tulsa's most romantic date spots? The Nest is the perfect restaurant that offers a bit of everything! They offer both bar and patio seating which makes it easy to enjoy their drink list featuring nearly 100 different whiskeys.
Their Tuesday night steak menu features items such as Rib-Eye or Filet Mignon, each served with delicious sides like the Truffle Mac & Cheese or Loaded Baked Potato! If you're not feeling up to steak but still want an enjoyable experience, be sure to check out their patio and order from their burger and sandwich menu!
Enjoy Your Tulsa Date Night!
The romantic restaurants in Tulsa are abundant, including steakhouses, wine bars, and even eclectic eats! This city offers a culinary experience to all, with a diverse spread of food options to be found all over.
With popular Tulsa areas like Brookside, Cherry Street, and the Blue Dome District, you will never go hungry when walking around the city. After reading about all of the different romantic Tulsa restaurants above, you will surely find a great new steakhouse to visit on the weekends.
Maybe even planning a movie date around one of the live music events at Duet restaurant is exactly what you need for their next date night! Be sure to pass along this article to fellow Tulsans so that they can also enjoy the unique atmosphere each location provides.