Unleash the Halloween Spirit in Tulsa
Halloween in Tulsa is a thrilling and enchanting time of the year. With a rich mix of history, culture, and modern festivities, the city offers something for everyone. Whether you're a thrill-seeker, a history buff, or a family looking for some Halloween fun, Tulsa has it all.
In this guide, we'll take you through a journey of what to do on Halloween in Tulsa in 2023, ensuring you have a memorable and spooky experience.
Tulsa's 2023 Halloween Events
There are a wide variety of Halloween events in Tulsa this year for Tulsans of all ages. Here are just a few of the highlights of this fall season:
Tulsa BooHaHa
Tulsa BooHaHa is a family-friendly Halloween event that brings the spirit of the season to life in the heart of Tulsa. This annual celebration is a beloved tradition for locals and visitors alike. It offers a perfect mix of spooky and fun, making it an ideal outing for families. The highlight of Tulsa BooHaHa is the costume contest, where people of all ages showcase their creative and spooky attire.
Additionally, there are pumpkin decorating stations, games, and activities for kids. The event features a safe and vibrant environment for trick-or-treating, ensuring a memorable Halloween experience for children.
With its festive atmosphere and variety of activities, Tulsa BooHaHa is the perfect way to kick off the Halloween season in Tulsa and create cherished family memories.
Boo-Tanical Bands & Blooms
Boo-Tanical Bands & Blooms in Tulsa is an enchanting Halloween event that marries the beauty of botanical gardens with the spookiness of the season.
Held at the exquisite Tulsa Botanic Garden, this annual celebration has become a beloved tradition for locals and visitors alike. The event combines live music performances with the breathtaking backdrop of the garden's illuminated autumnal beauty. As you stroll through the garden's pathways, you'll encounter live bands performing eerie melodies, creating a hauntingly beautiful atmosphere.
Amidst the vibrant blooms and stunning fall foliage, guests can savor themed treats and beverages while enjoying the sounds of talented musicians.
Boo-Tanical Bands & Blooms offer a unique and romantic way to celebrate Halloween, making it an unforgettable experience for couples and friends alike. It's a perfect blend of nature, music, and the enchantment of the season, ensuring that you'll create cherished memories under the moonlit sky.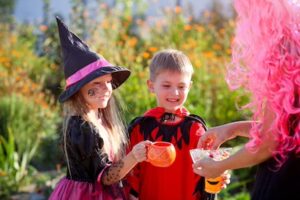 Hex House Haunted House
Hex House in Tulsa is a spine-chilling attraction that's not for the faint of heart. Located in the heart of the city, this haunted house is known for delivering an intense and immersive horror experience. It's a place where your worst nightmares come to life as you navigate through a maze of terrifying scenarios and encounters.
The attention to detail and the commitment of the actors make Hex House one of Tulsa's most famous haunted attractions. If you're a thrill-seeker looking for an adrenaline rush and a memorable Halloween experience, Hex House should be at the top of your list. Just be prepared to scream and shiver as you journey through the macabre world they've created.
HallowZOOeen at the Tulsa Zoo
HallowZOOeen at the Tulsa Zoo is a delightful Halloween event tailored for families. This annual tradition combines the enchantment of the zoo with the magic of Halloween. With a diverse range of activities, including trick-or-treating, carnival games, and even a haunted train ride, HallowZOOeen provides endless entertainment for visitors of all ages. It's the ideal setting for children to show off their costumes, explore the zoo's attractions, and enjoy a safe and memorable Halloween experience.
With the zoo's staff dressed in creative and thematic costumes, it adds an extra layer of whimsy and surprise to the occasion. Their dedication to creating a vibrant and safe environment ensures that HallowZOOeen remains a family-friendly gathering, where parents can relax and relish the joy on their children's faces as they encounter friendly costumed characters and enjoy the various attractions.
As the sun sets and the zoo is bathed in the warm glow of lanterns and festive lights, HallowZOOeen becomes a magical wonderland, captivating the hearts of all who attend.
It's a time when families come together, not only to celebrate Halloween but also to foster an appreciation for wildlife and the enchanting world of the animal kingdom. HallowZOOeen at the Tulsa Zoo is truly a wholesome and unforgettable experience for families.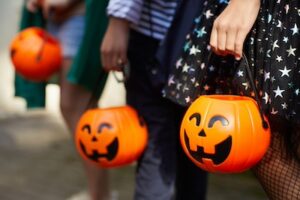 HallowMarine
HallowMarine is a one-of-a-kind Halloween event that brings a spooky twist to the underwater world. Hosted by the Oklahoma Aquarium, this annual celebration has become a much-anticipated tradition for both children and adults.
Visitors are invited to immerse themselves in the eerie and aquatic enchantment of the deep sea, with the aquarium's exhibits transformed into hauntingly beautiful scenes. The marine life becomes part of the spectacle, as you'll find yourself surrounded by ghostly jellyfish and otherworldly sea creatures.
From ghost tours through the aquarium's darkened corridors to interactive displays and themed activities for kids, HallowMarine offers a magical blend of oceanic wonder and Halloween thrills. It's a family-friendly event that's perfect for those seeking a unique and unforgettable way to celebrate the season while learning about the mysteries of the deep sea.
HallowMarine is an event that combines education, entertainment, and the magic of Halloween, making it a must-visit experience for all ages.
Halloween Festival at the Castle of Muskogee
The Halloween Festival at the Castle of Muskogee is an annual event that transforms this historic castle into a realm of enchantment and spookiness. It's a celebration that beckons visitors from near and far, offering an otherworldly experience unlike any other.
The castle's sprawling grounds come alive with a plethora of Halloween-themed activities, making it a hub for festive and eerie entertainment. From the hauntingly decorated castle itself to the vibrant costumes donned by both visitors and staff, the Halloween Festival immerses attendees in the magic of the season.
You can explore the castle's various themed attractions, including a haunted hayride, a thrilling maze, and even a unique magical midway. It's a place where visitors of all ages can embrace the spirit of Halloween, enjoying both the excitement and the enchantment of this beloved holiday.
Tulsa's Haunted Hayride
Tulsa's Haunted Hayride is an immersive and exhilarating Halloween experience that takes you on a chilling journey through the darkness. Located in a scenic setting, this annual event offers a memorable mix of eerie entertainment. Hop on a hayride and prepare to be spooked as you travel through a haunted forest filled with ghoulish surprises.
With each twist and turn, you'll encounter costumed actors and frightening scenes designed to send shivers down your spine. It's a thrilling adventure for those who love heart-pounding scares and a unique way to celebrate Halloween.
Monster Mash at Gathering Place
Monster Mash at Gathering Place is a spectacular and family-friendly Halloween event that brings the spirit of the season to life in one of the city's most iconic public spaces. This annual tradition is eagerly awaited by both locals and visitors, as it offers a blend of festive fun and spooky surprises.
Gathering Place, already known for its breathtaking beauty, becomes a magical wonderland during the Halloween season. Families can enjoy a range of activities, including pumpkin decorating, trick-or-treating, and live entertainment. The picturesque park illuminated by Halloween-themed lights, creates an atmosphere that's both enchanting and exciting.
Monster Mash is a place where children can proudly flaunt their costumes, parents can enjoy quality time with their little ones, and visitors of all ages can come together to celebrate the joy and thrill of Halloween in a safe and welcoming environment. It's a memorable and heartwarming way to experience the holiday's magic while exploring the splendid beauty of the Gathering Place.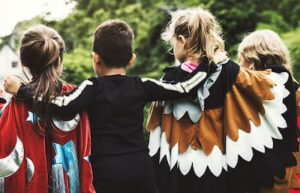 Conclusion
Tulsa offers an enchanting Halloween experience, combining history, culture, and modern festivities. From haunted houses to family-friendly events, there's something for everyone to enjoy. Make your Halloween memorable by exploring Tulsa's spooktacular offerings.
Don't miss out on the bewitching Halloween festivities in Tulsa. Plan your visit, choose your activities, and get ready for a spooktacular Halloween in 2023.
FAQs
What's the best time to visit Tulsa for Halloween?
Tulsa's Halloween festivities kick off in early October and run through Halloween night. For a full Halloween experience, plan your visit during the last two weeks of October.
What's the weather like in Tulsa during Halloween?
Tulsa experiences cooler temperatures in October. It's advisable to dress warmly, especially for evening events.
Are there any restrictions on costumes at Halloween events?
Most Halloween events have costume guidelines, so be sure to check event rules regarding costumes and props before attending.