Tulsa Wedding Venues Picked By Locals
Whether you are hoping for a bare-bones wedding venue that you can decorate to your theme or a wedding venue that requires little additional decor, Tulsa is home to plenty of options. From a rustic theme to a funky retro vibe, and everything in between, you are sure to find the perfect place in which to tie the knot! 
At Discover Tulsa, we know how hard it can be to make all the important decisions surrounding one of the biggest days of your life. We have done all the research for you, compiling a list of the best wedding venues in Tulsa chosen by locals.
Stokely Event Center
Stokely Event Center has been a Tulsa favorite for many years. If you are looking for a truly unique wedding venue, look no further! Stokely Event Center has something for everyone with over 300 vintage Tulsa signs, retro memorabilia, arcade games, and much more! 
The team at Stokely Event Center strives to make your wedding a streamlined experience by providing an in-house sound system, projector, and complimentary event cleanup. While some wedding venues require you to work with an approved list of vendors, Stokely Event Center allows their couples to serve the food and drinks that they love! 
Whether you are looking for a wedding venue in which to hold both your ceremony, reception, or both, Stokely Event Center is ready to bring your event to life.
Spain Ranch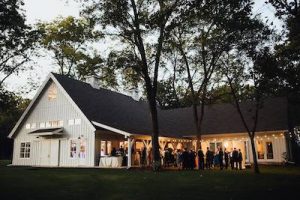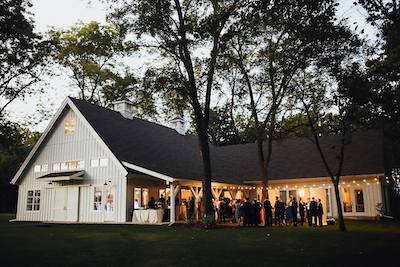 One of the most popular wedding venues in Tulsa is Spain Ranch. Their iconic Black Barn and White Barn attract couples from across the United States! In addition to their trendy, minimalistic indoor spaces, the Spain Ranch also has an expansive outdoor space available.
Spain Ranch is perfectly suited for small to midsize weddings with the capacity to accommodate up to 200 guests. The team at Spain Ranch wants to ensure that your big day lives up to your greatest expectations! They provide a list of approved vendors who have been known to provide exceptional services for couples in the past. They also include chairs and tables for your wedding to eliminate an additional expense. For trendy couples, there is no venue more perfectly suited than Spain Ranch!
Willow Creek Mansion
If you are looking for an elegant atmosphere on your wedding day, check out Willow Creek Mansion. This breathtaking historic home is located right outside Tulsa in downtown Broken Arrow. They offer both outdoor and indoor spaces with the ability to accommodate up to 200 guests.
Unlike many other event venues, Willow Creek Mansion focuses almost exclusively on weddings. However, they also host bridal showers and other events for your big day. They commit to providing their couples with the ability to curate a wedding day that is unique to them. For this reason, they do not limit vendors to a set list. 
Whether you are hoping for an elegant, intimate indoor wedding or looking to tie the knot under historic oak trees, Willow Creek Mansion is the place for you!
Restore House
If you are looking to host a more intimate wedding, it can be hard to find a venue that is small yet beautiful and unique. Restore House is another beautiful historic home in Broken Arrow that can accommodate parties for anywhere between 10 to 250 guests. 
With beautiful hardwood floors, bright white walls, and a stunning outdoor pavilion, you will have the space you need to create memories that will last a lifetime. From your bridal shower to the wedding reception, the Restore House team is ready to provide a backdrop for your biggest moments. 
The Pearl District Building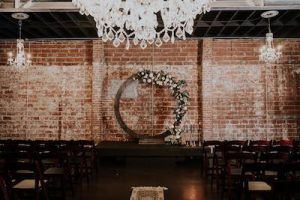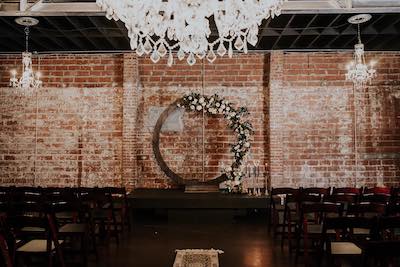 The team at The Pearl District Building is passionate about creating beautiful wedding day memories within their industrial yet formal venue. Regardless of your wedding theme or decor style, The Pearl District Building provides an excellent backdrop for your big day. From traditional wedding decor to trendy, minimalistic touches, this venue is sure to be stunning. 
Unlike other industrial wedding venues, The Pearl District Building features many rooms to which you will have exclusive access. This provides couples with the ability to create a unique experience for their wedding guests as they proceed through the festivities. This Tulsa wedding venue offers a variety of packages, catered to suit the unique needs and budget of your wedding day. 
Welltown Brewing
Located in the heart of the Tulsa Arts District, Welltown Brewing is likely not a wedding venue you would expect on this list. However, hosting your upcoming wedding at Welltown Brewing will make for a night that your guests will never forget! Depending on the size of your wedding or wedding reception, couples can rent either a portion of the brewery or the entire brewery for a more intimate experience.
Are you as in love with the Tulsa skyline as we are? Consider holding cocktail hour on the rooftop at Welltown Brewing to appreciate the beautiful lighting and stunning views of the skyline. If you are lucky, you may even catch the sun setting on your big day!
The Mayo Hotel
Once a common wedding venue, modern couples tend to dismiss the idea of hosting their big day at a hotel. But with a historic venue as beautiful as The Mayo Hotel, you may be tempted to reconsider! First opened in 1925, The Mayo Hotel has hosted many celebrities, politicians, and well-known figures. If you have a love for vintage decor, look no further! Step back in time to the Roaring Twenties in the beautiful art deco lobby.
For couples looking to create a truly luxurious wedding experience, The Mayo Hotel offers nine event spaces complete with gourmet catering and state-of-the-art audiovisual facilities. With a full-time team of wedding planners, you can easily host up to 500 wedding guests! The ability to offer your guests convenient accommodations in such a beautiful hotel will make your wedding day one that is not soon forgotten!
Historic Harwelden Mansion
As one of Tulsa's distinguished historic landmarks, the Historic Harwelden Mansion offers an elegant atmosphere for your upcoming wedding. The stunning decor throughout the mansion means you won't need to worry about wedding decor. This saves you both time and money! 
When you visit the Historic Harwelden Mansion, you will truly feel as if you have taken a step back in time. Bask in the luxurious atmosphere and stunning landscaping as you plan your wedding day. Whether you are looking for an indoor wedding or outdoor celebration, the Historic Harwelden Mansion has the amenities you need to make your big day a memorable one.
Finding a Tulsa Wedding Venue
We are so proud to call Tulsa home. With such an immense variety of wedding venues, each couple is able to quickly find an ideal location. At Discover Tulsa, we are passionate about partnering with locals and visitors alike. In doing so, we can help you appreciate the many things that make Tulsa unique. 
Once you have booked your Tulsa wedding venue, consider renting one of the many delicious Tulsa food trucks for your big day! Or maybe the next item on your wedding agenda is choosing a cake? Look no further than Tulsa's top bakeries. We know that planning a wedding can be a stressful experience. Our hope is that we have alleviated some of the stress you are experiencing. In doing so, we can plan a small part in helping you enjoy the most memorable moments of your life! 
Are you looking for a way to destress after a long day of wedding planning? Check out our list of upcoming Tulsa events!