Top 10 Food Trucks In Tulsa
With their rapid growth over the past few years, food trucks have become a staple right here in Tulsa, OK. They're dishing out delicious meals that rival some of our favorite restaurants.
There's a Tulsa food truck for everything nowadays- barbeque, Italian, and the best tacos you've ever had. Dairy-free, gluten-free, vegan? There's a food truck for that too! I hope you're hungry because after a couple of Facebook polls and a few stops at some local nom machines we've landed on the top 10 food trucks right here in Tulsa that you should have tried weeks ago!
Without further ado, here's our list of Tulsa's top 10 food trucks:
Dope Soul Catering & Food Truck:
According to our Facebook followers, Dope Soul is the absolute "BEST!" food truck around town.
Their menu changes every week depending on the event and season but they always have a large variety of options, from Smothered Burritos to Crispy Wings and Fluffy Funnel Cakes. They have it all! Dope Soul travels all around Tulsa, so follow them on Facebook at @DopeSoulTulsa to see where their next stop is!
Hot Mess BBQ: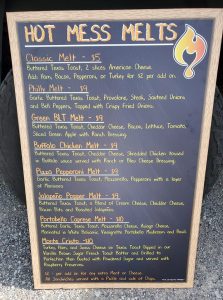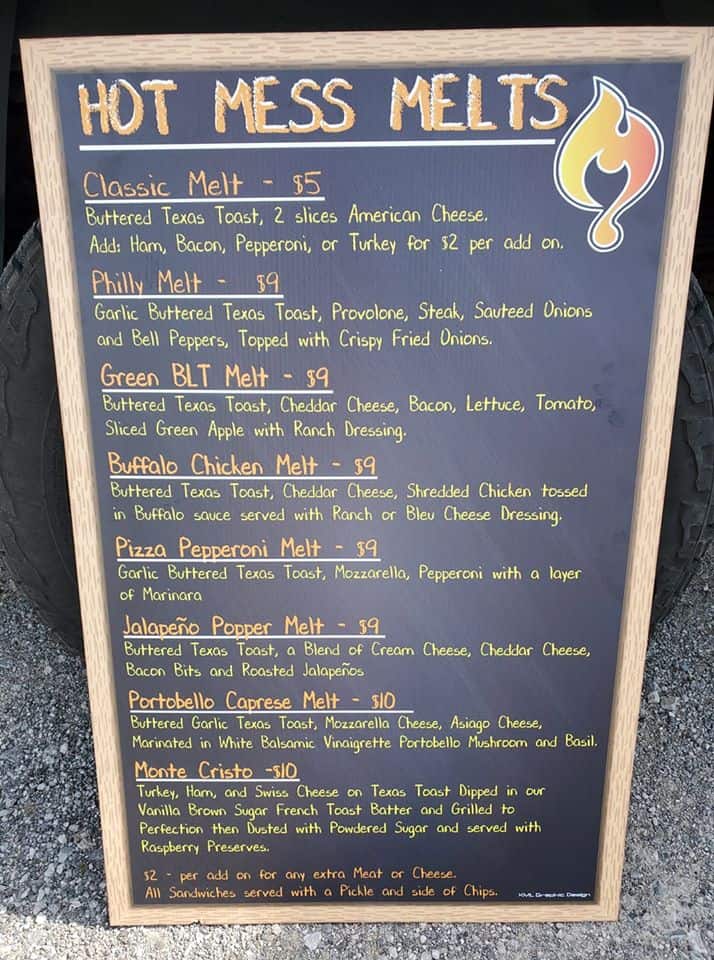 Coming in a close second, Hot Mess BBQ is the place to be this summer. You can't go wrong here! Their Hot Mess Melt menu seems to be the biggest hit- but the Cast Iron Skillet Ribeye with Garlic Herb Butter was definitely a hit with us.
Their food truck makes many stops throughout Tulsa so follow them on Facebook @scavohotmessbbq to see where this mouth-watering truck will be next!
Tacos el Trompo:
Taco fans rejoice! That bright yellow and red truck on the corner of 71st and Elm in Broken Arrow is your new favorite taco truck, you can thank us later.
Their Street-Style Tacos ($1.50-$2.50), a fan favorite, include their marinated meat, corn tortillas, and a heaping portion of onion and cilantro. Two adults can fill up for about $10- now that's a deal. Go see them in Broken Arrow for your next taco Tuesday fix!
Purple People Feeder Food Truck:
If you want BIG portions, you have to stop by the Purple People Feeder! And if you want our recommendation, try one of their burgers! Any of their burgers… they're all so good! Don't believe us? Just look at their long list of 5-star reviews!
Purple People Feeder uses grass-fed meats, organic produce, and locally sources their products. They have a food truck that makes stops around Tulsa and its surrounding areas but they've also recently opened their own restaurant in the Eastgate Mall. Congratulations to them! Follow @PurplePeopleFeeders on Facebook and please go try them out!
Pita Place- Mediterranean Grill:
The timeless debate; /YEE-roh/ or /ZHIHR-oh/, we really don't know. But what we do know is that the Pita Place food truck is the place you need for your Gyro fix.
Their food truck has been traveling through local neighborhoods during quarantine and still is! Also, check out their restaurant and market, located at 8315 E 111th St S, Bixby, OK 74008. @pitaplacebixby 
Mr. Nice Guys:
Mr. Nice Guys is very nice to your stomach and your wallet! Reasonably priced and "UNBELIEVABLY DELICIOUS" food, you just can't go wrong here.
Quesadillas, tacos, nachos, and their famous homemade chips and dip- definitely give this Tulsa food truck a try. We've also heard they have the best mac n cheese around! Follow @mrniceguystulsa on Facebook to see where you can find them this weekend! 
Dog House Tulsa:
A trip to The Dog House to try their crispy fries, loaded dogs and juicy burgers will surely get you out of the dog house!
They've been stopping at local Tulsa spots filling Tulsan's bellies during quarantine and they're still on the go. Follow them on social media at @doghousetulsa to see where they'll be next!  
1907 Barbecue: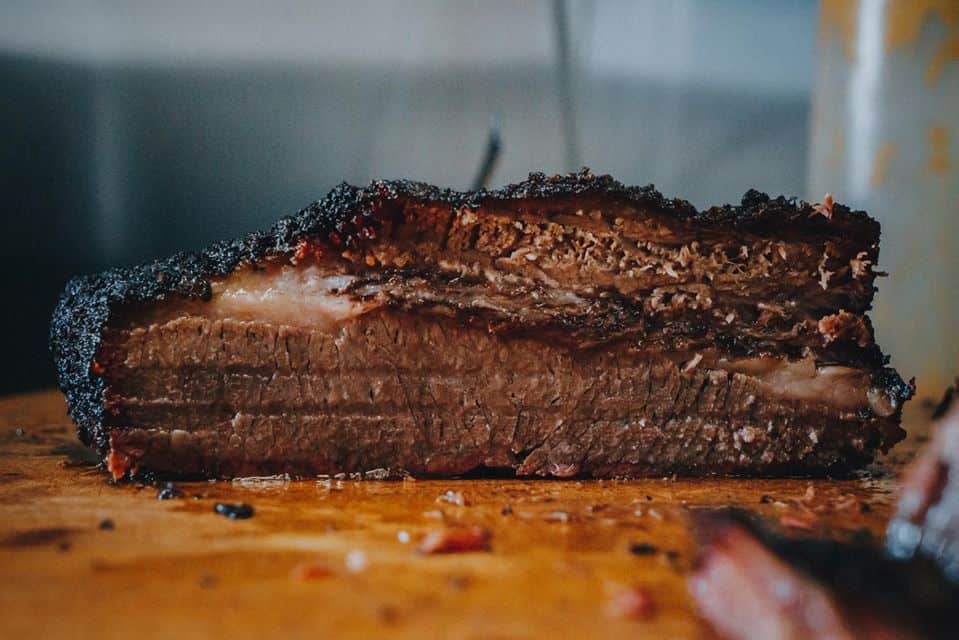 Another BBQ spot made the list! Because we love our barbecue in Oklahoma, am I right? This special Oklahoma food truck highlights local farms and ranches to serve up the freshest and most delicious menu.
Next time you and your buddies want a big rack of ribs, look no further. 1907 will hit the spot every single time. Follow @1907barbecue on Facebook to get the 411 on their location this weekend!
Mangiamo Truck:
I mean seriously… who doesn't love Italian food? Located on 3310 South Yale Avenue, Mangiamo will satisfy that carb craving. They also make stops at Tulsa events and neighborhoods, so follow them on social media @MangiamoTruck to catch them ASAP. We'd say ending your week with a meatball sandwich from Mangiamo is the way to go!
Laurannae's Baking Company: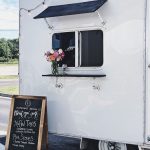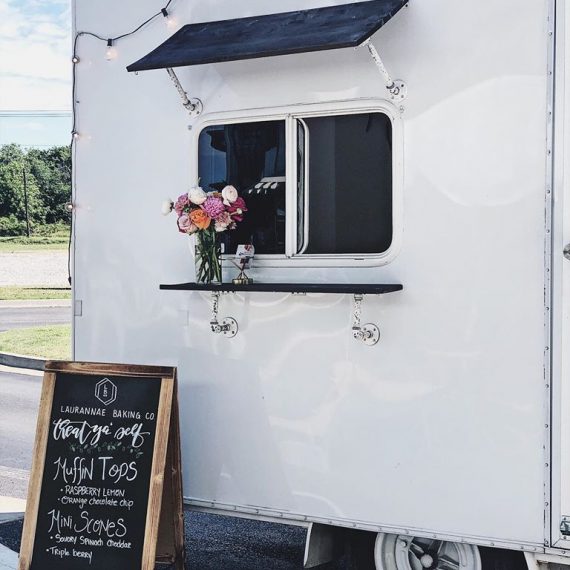 What would a food truck review be without a little something sweet at the end, right? Laurannae's is known for their adorable bakery on Commercial and Main in Broken Arrow. But did you know they also have a food truck!?
When this dessert truck makes its debut you know it's going to be a good night! Eating one of their warm chocolate chip cookies or a delicious strawberry honeycomb cupcake (our personal favorite) is the best way to subside that sweet tooth and support a local family-owned business. What more could you ask for? @LaurannaeBakingCo
There are so many amazing Tulsa stops we just can't name them all! Support local businesses and give these food trucks a try. Don't forget to come back here and share your experiences or tag us at #DiscoverTulsa on your posts! Happy eating!
Thanks for reading Discover Tulsa, we appreciate you!