The Best Family-Friendly Events This Christmas Season In Tulsa
This event guide provides you with a comprehensive list of fun activities to do in Tulsa, Oklahoma that is perfect for families. Whether you're looking for city life or small-town charm, this guide has something for everyone. Whether you are looking for small or larger children. The best thing to do is free and that is driving around the city looking at Christmas lights. So, what are the best family-friendly events this Christmas Season in Tulsa? The best family friendly events this Christmas Season in Tulsa include:
Living Nativity
Arvest Winterfest
The Philbrook Museum Festival
The Nutcracker at the Tulsa Performing Arts Center
The Gathering Place – The Wintery Wonderland
The Tulsa Christmas Parade
Tulsa Zoo & Breakfast With Santa
The Botanical Garden of Lights Display
Glacier Chocolate
There is so much to see and do in every corner of our state, so get out there and explore with your family. So, this year, spend quality time with your nearest and dearest by participating in Tulsa's original winter customs. From tasty eats to family-friendly activities, there's something for everyone here. To get started on filling your home with holiday cheer, take a look at our list of some of the best things to do in Tulsa this season. We are sure that you will find something that your family will love. If you are not careful you will have family fun memories for years to come.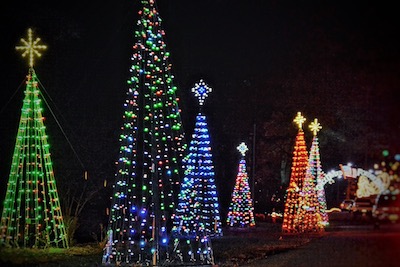 The Living Nativity is returning this year live this December in Broken Arrow at Life Demonstration Church. This drive-thru event at Life Demonstration is where you'll be able to see all of the key figures from the classic Nativity scene. This amazing event will include Jesus, Mary, Joseph, all of the shepherds, the three wise men, and the angels! In last year's Living Nativity, there were hundreds of people packed into their cars and they came through to see this great event! Also, they were able to park, grab a snack, walk around, and do all of the great activities. This year's Living Nativity – Live This December In Broken Arrow will include activities including:
Christmas Music
Live Animals – Come Pet Them!
Kettle corn from @sweetandsaltykettlecorn
Pictures with the Angels, Wise Men, and the Shepherds
Wave Flags with the Angels
So, with all of these great things at Life Demonstration Church this December 9th and 10th, you won't want to miss out!
For more information about this popular Tulsa spot, visit their website or give them a call!:
Location: 1200 South Olive Avenue, Broken Arrow, OK 74012
Phone: (918) 344- 8999
Website: www.lifedemonstration.com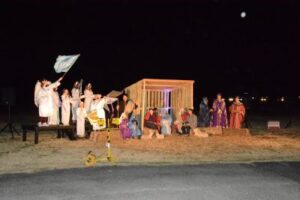 2. You Cannot Miss Arvest Winterfest
Arvest Winterfest returns this year with an outdoor ice-skating rink in Tulsa, Oklahoma. If you're looking for a magical and festive experience that the whole family will enjoy, look no further than Arvest Winterfest!
This beloved annual event features horse-drawn carriages, hot chocolate, and festive music outside of the BOK Center in the downtown Arena District.
Arvest Winterfest presented with CommunityCare will be open from Friday November 18th to Monday January 2nd.
Do not forget to skate with Santa.
Get into the holiday spirit by lacing up your ice skates and hitting the Arvest Winterfest rink! On select days, you can skate with Santa Claus himself. Check the event website for a complete list of dates and times. Do not miss out on this special family experience.
Price: $12 for adults, $10 for children 12 and under, and free for children 2 and under
Location: 200 S Denver Ave, Tulsa, OK 74103
Phone: (918) 245-3685
Website: https://www.arvestbank.com/personal/checking/free- checking/winter
3. The Philbrook Museum of Art Festival
A great thing to do this Christmas season is to enjoy a lovely walk through the illuminated grounds of Philbrook Museum. This holiday season, the Philbrook Museum of Art is going all out with an expanded Philbrook Festival. It will be open from Friday, Nov. 26 until Saturday, Nov. 27.
During the day, enjoy a variety of exciting holiday-themed activities like special exhibitions and a community-sourced Lego Villa.
When the sun goes down, the real fun begins.
That's when Philbrook will be transformed into a dazzling wonderland of over one million lights.
Stroll through the illuminated grounds and take in the festive sights and sounds of the season. And don't forget to stop by Santa's Workshop for a special photo op!
4. You Have Got To See The Nutcracker At The Tulsa Performing Arts Center
This holiday season, treat your family to a Tulsa tradition and see the Nutcracker ballet. The Tulsa Ballet will be performing the beloved holiday classic at the Tulsa Performing Arts Center.
This is an event you don't want to miss for ballet fans of all ages.
Get your tickets early and enjoy a festive night out at the ballet.
With brand-new choreography by Val Caniparoli and Ma Cong, this production is sure to captivate audiences of all ages.
Sets and costumes by Tracy Grant Lord bring the Victorian era to life, making for a truly spectacular show. The live performance runs from December 9 – 11 and 16 – 23.
5. Journey Through The Wintery Wonderland of The Gathering Place
Every year, the Gathering Place turns into a glittering Winter Wonderland. Come see the dazzling lights and enjoy performances, festive food, and drink, and meet Santa himself.
This event is perfect for people of all ages and makes for a great holiday tradition.
You don't have to break the bank either–admission to the Gathering Place is always free.
To keep informed on dates and timing for this marvelous occurrence, be sure to frequently check out their website.
6. Make A Family Tradition: The Tulsa Christmas Parade
One of Tulsa's many cherished holiday traditions is the annual Christmas parade. The colorful parade has been a long-standing tradition spanning over ninety years.
The local businesses and organizations come together to display beautiful floats and balloons.
Each year, eager spectators flood the streets of Tulsa to watch the procession.
This year's event will take place on Saturday, December 10th at eleven o'clock sharp.
Grab yourself and your family a hot chocolate and get your favorite lawn chair to claim your spot along the route. Allow yourself to be that child again and share a special experience with your family and friends. You don't want to miss this spectacular event.
7. Check Out Christmas At the Tulsa Zoo and Breakfast With Santa!
Get your holiday season started by visiting Santa at the Tulsa Zoo! Breakfast with Santa is a time-honored tradition that your family will love.
At the event, you'll get to enjoy a hot breakfast, create fun arts and crafts projects, and meet jolly old Saint Nick himself.
Tickets go on sale starting November 1st – so mark your calendars! For more information and updates, follow the Tulsa Zoo on social media or visit their website.
Let your inner child out and explore the Tulsa Zoo's Christmas Wonderland!
This event is perfect for families with young children.
During the event, you can stroll through the grounds and see all the animals on their best holiday.
Don't forget to stop by Santa's Village to get your photo taken with Santa!
8. The Lights At Tulsa Botanical Garden Full Of Christmas Cheer
You will not want to miss the Botanical Garden of Lights display! Starting on Friday, Nov. 25, and running through Sunday, Dec. 30 (closed Christmas Day).
Come On out to see the garden all lit up in colors for the holidays from 5-9 pm Thursdays-Sundays (then every night Thursday, Dec. 8-Sunday, Dec. 30).
Check social media or the Tulsa Botanical Garden website closer to Thanksgiving for information about special visitors like The Snow Queen and food truck schedules during evenings when the lights are on.
Do not miss out on this holiday season, spend some quality time with your loved ones at the Tulsa Botanical Gardens. Our beautiful gardens will be illuminated with colorful lights, and you can make s'mores over fire pits while enjoying holiday music. It's the perfect way to reconnect with family and friends and get into the spirit of the season.
We have hot cider, cocoa, coffee, seasonal cocktails, wine, local beer, and s'more kits available every night.
You can also enjoy our Oklahoma-shaped snowball pit or take a photo at one of our fire pits (weather permitting).
We have a rotating schedule of food trucks serving signature dishes, and other light concessions will be available for sale.
9. Get Your Christmas Chocolatey Fix At Glacier Chocolate
This holiday season, let Glacier take care of all your sweet tooth cravings. From their gingerbread cookies to chocolate truffles, they have got you covered.
Find the perfect edible gift for friends and loved ones with their holiday-themed selection which includes Tulsa advent calendars, toffee, and much more.
Keep an eye on their social media accounts and regularly check their website for updates on fun holiday happenings this year!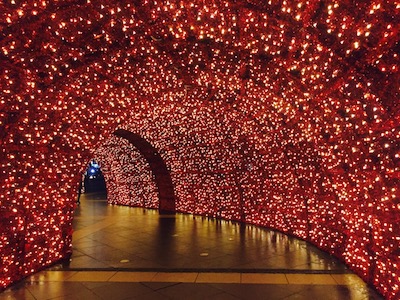 Conclusion
We have given you a list of the best events to experience with your family this Christmas season in Tulsa. Be sure to check out the Living Nativity, the Gathering Place, and The Tulsa Christmas Parade for a fantastic time. Admission to the Gathering Place is always free, so bring your family and friends along for a great time! And finally, don't forget to get your sweet fix at Glacier Chocolate.
After all of the eating has occurred do not forget to experience the walking events Not only will you tire out the well-candied children but you will give yourself a little exercise and enjoy the family. Tulsa has got all your holiday cravings covered. So what are you waiting for? Get out there and enjoy all that Tulsa has to offer this holiday season!