Best 2021 Christmas Lights In Tulsa
With the holiday season upon us, my family and I decided it's time to find where the best Christmas light displays are within the Tulsa area. After driving around countless neighborhoods and researching many online platforms, I have created the best Tulsa Christmas light tour for those who wish to see the merriest and brightest displays this Christmas season!
What are the best Tulsa Christmas light displays for 2021? The best would have to be the Christmas lights located on E. 17th between N. Harvard and N. Cincinnati Ave. These displays are so bright you can see them from the highway! They also do a fantastic job of having all their Christmas lights synchronized to music playing through their outdoor speakers!
Tulsa has no shortage of Christmas spirit this season, with plenty of Christmas light displays up for all to see. With so many displays all over the town, you won't want to miss the next few that we found!
The 2021 Christmas Light Route
The best Christmas light displays are located all over the town. The Christmas light route that I have mapped out begins at 12520 S Date Pl, Jenks, where you will find Kringle's Christmas Land!
Kringle's Christmas Land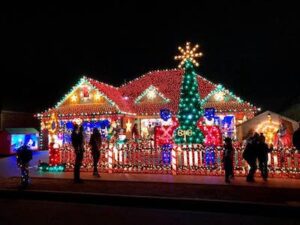 For a Christmas light experience unlike anything else, be sure to visit ABC's winner of the 2020 Great Christmas Light Fight! Located at 12520 S Date Pl, Jenks, OK 74037, a local family has put Jenks, Oklahoma on the map by showcasing their magical light display.
With the dedication that this family has invested in their lights, it's a no-brainer as to why this is quickly becoming a new family tradition! We decided this had to be added to the list.
How to Get to Kringles Christmas Land
From I-44, take the south Jenks exit. Turn left at W 1st st then turn right onto S Date Pl. Kringle's Christmas land is full of Christmas spirit around every corner. With an outdoor music light show and Christmas train, you will want to make this light display one of your first stops on the 2021 Christmas light route!
When exiting Kringles Christmas Land, turn left onto S Date Ave then take a right onto E 15th St. You'll pass through some amazing Christmas displays with thousands of lights, making it the ideal Christmas light display to spend with you're family!
Rhema Christmas Lights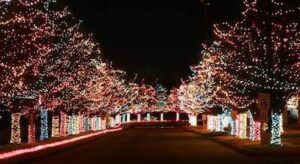 This Christmas light display is one of the best in all of Tulsa! With over 1 million Christmas lights, Rhema Lights will leave you speechless. Although this might seem like an obvious choice, we had to include this family destination in our list!
Located at 1025 W Kenosha St, Broken Arrow, thousands of people from all over come to visit the cities largest Christmas light display. You won't want to miss out on the light-covered bridge and acres of endless lights!
Tip: Try visiting on a weekday to avoid large crowds and long lines for the hot chocolate! Friday, Saturday, and Sunday are the busiest day and can make it hard to capture family group photos.
How to Get to Rhema Christmas Lights
From I-44, exit onto E Kenosha St. Take a left at W Kenosha St then another right onto N Garnett Rd. To see an amazing Christmas light show with thousands of colorful lights and music that plays through Christmas carols, be sure to make this display a priority. But remember…this Christmas light show is so bright that you'll have a hard time not stopping by!
Utica Square
Experience Christmas in style at Utica Square! With the Christmas spirit shining bright, this light display is a must-see. The Christmas lights might be what you notice first, but make sure to take some time and admire all of their other decorations!
This Christmas light show has been visited by thousands of Tulsans and we think that it deserves another round of applause. Located at 6821 S Lewis Ave Tulsa, OK 74136, Utica Square's Christmas lights are displayed perfectly for everyone to enjoy.
Be sure to plan your visit between 5:30 pm and 7:30 pm daily so you don't miss out on any of the sparkling lights or carolers!
Every year, Utica Square also has a Christmas light ceremony turn on the lights on Christmas trees throughout the square. This Christmas light ceremony is one of our favorite Christmas traditions and we can't wait to see it in person this holiday season!
How to Get to Utica Square Christmas lights
From I-44, exit onto E 15th St. and then take a right at S Lewis Ave. Take another right onto E 68th St. From here you'll see Christmas lights around every corner! With displays like this, Utica square is a Christmas lights display you don't want to miss.
Winter Wonderland at the Gathering Place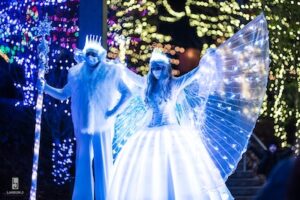 Bring the Christmas spirit home by visiting Tulsa's Christmas light displays! Winter Wonderland at the Gathering Place is known for its beautiful Christmas lights and this year is no exception.
Complete with heated lines, glowing trees, singing carolers, and more, you won't want to miss out on Tulsa's Christmas light displays at the Gathering Place.
Located at 7777 S Lewis Ave Tulsa, OK 74137, it will be hard not to smile when you see all of the exciting Christmas decorations.
With local food trucks on-site, Christmas lights, holiday music, and more this Christmas light show is something to look forward to after a long day of shopping. We hope that Tulsa locals and visitors stop in to visit their Christmas light display while they are still up!
Garden of Lights at the Tulsa Botanical Garden
Experience Christmas like never before at Tulsa's unique light display! Tulsa Botanical Gardens Christmas lights are always enchanting, but this year they have really outdone themselves. The Garden of Lights Christmas display is one of the most breathtaking areas in all of Tulsa.
You will definitely want to visit during Christmas time to see it for yourself! Located at 2150 E 15th St Tulsa, OK 74104, this Christmas light route ends with a bang. Be sure to stop by between November 23rd and January 3rd so you don't miss your chance to experience the beautiful Christmas lights these gardens have to offer!
If you want Christmas lights that will knock your socks off then visiting the Tulsa Christmas light displays mentioned above is an absolute must. With breathtaking sights like glowing trees and gifts under the mistletoe, these Christmas lights are sure not to disappoint.
Alternative Christmas Light Tours
While taking the traditional route and driving to all of these Christmas light destinations in your family car is always a great and easy option, we've compiled some alternative transportation for you and your family to try this holiday season!
Limousine-style tours are becoming more and more popular, especially because it allows you to enjoy Christmas lights in Tulsa without having to focus on the road! One of the best parts about a private tour is that you can fully enjoy every magnificent display without worrying about traffic and parking. Private tours also come equipped with party extras such as LED lights everywhere inside (even under tables!), and Christmas music playing for all to hear!
Helicopter rides are a fun and spontaneous way to view your cities Christmas lights! Not to mention, helicopter rides are extremely popular and you can find some at a very discounted rate this time of year. And if your family loves the idea but isn't quite sold on it yet – one ride is usually enough to convince them!
Good ole' fashion walking! There's something about walking through a fully decorated and bright Christmas display with your family. It is a more subversive experience, but still just as fun! Most neighborhoods that host Christmas light displays set up walking trails near their homes for this very reason. What better way to get in the Christmas spirit than with some fresh air and holiday cheer?
When Do Most Christmas Light Displays End?
Most Christmas light displays in Tulsa end around January 1st, so you still have some time if you want to visit before the New Year! Make plans now to take your family out and enjoy these one-of-a-kind Tulsa Christmas light shows. And who knows – maybe Santa will even stop by!
There's no shortage of Christmas spirit this year, as many homes throughout the city have their own Christmas lights ready to be enjoyed. If you wish to make a Christmas light route out of this, these displays will not disappoint!
I also recommend you bring warm sweaters or jackets because it can get chilly during the Christmas season. We hope that Tulsa locals and visitors take our advice on visiting Tulsa's Christmas light shows this holiday season!
Whether you're looking for some family fun or just want to treat yourself, we can guarantee that all of these Christmas light displays won't disappoint. Along with Christmas lights come hot chocolate, holiday cookies, and festive music – it is bound to be a great way to dive into the Christmas spirit!
I hope you all enjoy your Christmas light tour through Tulsa this year! If you do decide to take on this adventure, please be careful and safe.