Best Tulsa Plant Nurseries & Garden Centers
Things are growing in Tulsa! We don't just mean our great city, but our plants and gardens are blooming all around town. If you've ever thought to yourself that you want to start a garden, grow some plants, or decorate your home or lawn, now's the best time.
Whether you are just beginning to collect plants or you're adding to your existing collection, plants are an excellent way to brighten up any home, office, or yard. They bring many benefits to your life by cleaning the air, brightening up the indoors during the cooler months, and helping reduce stress and help you relax.
Plants often come with a lot of care involved and investment. They take time to grow and need love and support, just like any other living thing. The act of caring for your plants' health can help take your mind off your day-to-day life. They let you talk to them without talking back!
A plant nursery is a place where plants are propagated and grown to the desired age. Retail nurseries sell plants to everyone, while wholesale nurseries sell to businesses like other nurseries and commercial gardeners. They can provide plants for agriculture, forestry, gardens, and conservation biology. Some nurseries specialize in one phase of the growth process. Garden centers are places that sell plants and related products for private gardens. They often carry a wider variety of outdoor products and on-site plant facilities.
If you're wondering where you can go in Tulsa to find great plants, here are ten great plant nurseries and garden centers in Tulsa!
1. Southwood Landscape & Garden Center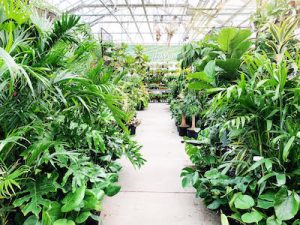 Southwood Landscape & Garden Center has served the Tulsa area for over 35 years and has been dedicated to helping Tulsan gardeners create beautiful indoor and outdoor spaces. They strive to bring you the best products available and to help make your garden and home unique. They offer annuals, perennials, house plants, groundcovers, azaleas, tropical plants, herbs, veggies, fruits, seeds, grass seeds, shrubs, trees, and so much more!
2. Stringer Nursery & Garden Center
Stringer Nursery & Garden Center is Tulsa's oldest nursery and garden center! They've been a Tulsa favorite since 1957. They strive to provide the best service through their knowledgeable and friendly staff with providing high-quality shrubs, flowers, and trees. Stringer's is open year-round and offers annuals, perennials, azaleas, shrubs, trees, and fruit plants.
3. Under the Sun Garden Center
Under the Sun Garden Center has been a part of Oklahoma since they first opened up in 1992. As a home and garden center, they're convenient and prioritize quality and customer service. They specialize in house plants, premium bedding plants, hanging baskets, unique gifts, gardens, homes, and holiday decor items. They love what they do and invite you to join them in gardening!
4. Home Depot Garden Center
Whether you're looking for gardening tools or plants or plant care, your local Home Depot Tulsa Garden Center offers a one-stop-shop for all of your gardening needs! They provide online gardening guides in addition to articles posted on their blog for gardening.
They offer pest control, greenhouse kits, gardening decor, grass, tools, perennials, annuals, seeds, trees, bushes, soil, fertilizer, mulch, and so much more! Whatever you think you'll need to plant your garden, your local home depot probably has all of the products you'll need.
5. Rancho Flores Garden Center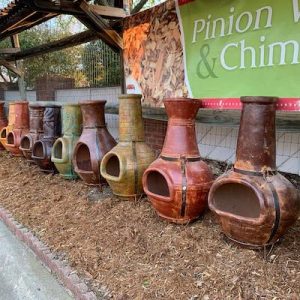 Rancho Flores Garden Center has offered some of the best selection of garden products in Tulsa for over 20 years! They pride themselves on having excellent customer service. They encourage you to stop by and let them help you with all your lawn and landscape needs. Rancho Flores Garden Center offers a wide selection of plants, containers, chimeneas, tropicals, products, and garden decor.
6. Riddle Plant Farm
Riddle Plant Farm has been family-owned and operated since its beginning in 1936. They have two retail locations, and a total of 40 greenhouses spanned across three growing locations within the Tulsa Metro Area. Riddle Plant Farm offers annuals, perennials, vegetables, seeds, trees, shrubs, and fun garden products! They also provide landscaping services.
7. Colebrook Nursery
Colebrook Nursery has five acres of plants and trees – an oasis amidst the busy city life! They offer a wide range of products for any project size. Utilizing their own greenhouses, Colebrook Nursery specializes in low-volume irrigation systems. They offer locally grown plants that tolerate Oklahoma's climate.
Services offered by the team at Colebrook Nursery range from plant installation to complete landscape design. Their products include annuals, herbs and vegetables, perennials, shrubs, trees, roses, grass, fruit, soil, mulch, and more!
8. Cohlmia's
Cohlmia's The Plant Place opened in 1972 in the heart of Tulsa. They maintain superior quality plants and deliver high-quality service to over 300 corporate and residential clients. They encourage customers to browse their retail showroom for everything from home and garden designer accessories, outdoor containers, tabletop plants, and 20' tall trees. Cohlmia's has plant-loving designers, a maintenance team, and a delivery crew who are ready to serve you.
9. Grogg's Green Barn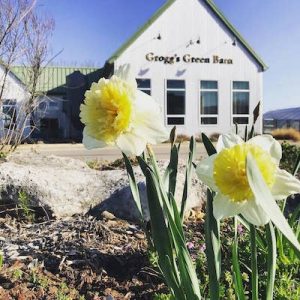 Grogg's Green Barn is a 100% organic garden center founded in 2011. They believe what is put into the earth and what is put in our bodies should be healthy and sustainable. Here you will find an extensive selection of thoughtfully curated products and learning resources to make your gardening journey fruitful and fun. They encourage you to stop by and say hello and to grow healthier together.
The products they provide include organic soil, native plants, vegetable, herbs plants and seeds, berry bushes, fruit trees. They also have a selection of beneficial insects, organic pest and disease control, fertilizers and amendments, and gifts.
10. Spring Creek Nursery
Spring Creek Nursery is a wholesale-only nursery and tree farm founded in 1999. Their staff has over 100 years of collective nursery experience. They strive to ensure that their quality is up to a top-notch standard. Spring Creek Nursery can supply your needs within your budget, on your schedule, and planting to your desire.
They offer trees, seasonal color, evergreen foundation plants, perennials, ground covers, ornamental plants, bag mulch, shrubs, and experience to help you design any landscape within your budget!
We hope that you'll visit one of these ten great plant nurseries and garden centers! If you're thinking of finding some comfortable outdoor furniture and decor, be sure to check out the Spring Home & Outdoor Living Expo happening from April 23-25, 2021 at the Tulsa Expo Square.
Thank you for reading Discover Tulsa! Learn more about upcoming Tulsa events here.