Tulsa is a city known for its friendly-family atmosphere and its endless list of things to do. Tulsa is located in the Northeastern region of Oklahoma surrounded by hills and forests. More and more young families are moving to the area to enjoy the welcoming community and affordable living. There is a plethora of family-oriented activities and attractions to do in Tulsa and the surrounding areas. People of all ages can come and enjoy the festivities that T-Town has to offer. Here is a list of Tulsa family entertainment:
Food Truck Wednesday at Guthrie Green
Food Truck Wednesday happens every Wednesday at Guthrie Green in the Brady Arts District. You can come out with the family to enjoy the numerous food trucks that roll up for the event. It's a great way to experience the vibe on the area as well as treat your kids to some yummy food.
Want to make the most of the food truck experience? At each food truck you go to, rotate the family member who picks something off of the menu. This way everyone is included in building the family meal. After you eat, your kids can play on the Guthrie Green lawn while you digest.
The Admiral Twin Drive-In Movie Theatre
What's more nostalgic then taking your kids to a drive-in movie on a beautiful summer night? Piling the pillows in the back of the pick-up, listening to crickets sing as the movie statics over the transmitter; it's a memory that will last your kids a lifetime.
The Admiral Twin Drive-In is a Route 66 attraction, bringing the ambiance of the 1950s back to life. It was built in the 1950s, ringing true to the era. Sadly, it burned down in 2010 but has since been restored. It's still a favorite for locals for a fun family outing.
Bass Pro Shop in Broken Arrow
Bass Pro Shop is located in the southern suburb of Tulsa, known as Broken Arrow. It sits by a man-made pond. Some may ask how a store could provide great family entertainment, but anyone who has ever been there can easily say it's a great place to spend a few hours.
Besides the numerous rows of hunting, camping, hiking, and outdoor gear, there are pontoon boats to tour and a giant fish tank in the middle of the store to be amazed at. Uncle Buck's restaurant is inside the shop, overlooking the pond. It's a great place to grab lunch after working up an appetite walking through the store. This outing will make your kid feel like a wilderness adventurer.
The Blue Whale of Catoosa
The Blue Whale was originally built in the '70s and was recently restored. It's considered an icon of Route 66, and it's hard to miss as you drive down the Mother Road. Located in the Northeast suburb of Catoosa, the blue whale is a giant structure replicating that of happy whale sitting in a pond right off of Route 66.
Your kids will have a blast exploring The Blue Whale! There's also a nice picnic area to enjoy lunch.  Depending on where you're coming from, you can probably also drive a section of Route 66 to get there!
Safari Joe's H20 Water Park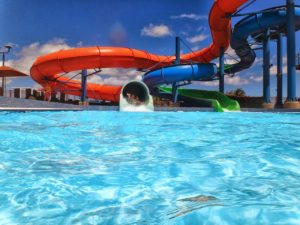 If you and your family need a way to cool off this coming summer, it may be a good idea to check out Safari Joe's H20 Water Park. This water park has action-packed water-slides, animal exhibits, and a wave
pool. For you adults, you can float through the lazy river or have a drink at the Shark Beach Bar.
Safari Joe's opens every summer from the end of May until the end of August. If you know that your kids will be bugging you to go every weekend, you can invest in a season pass for your family.
Woodland Hills Mall
Woodland Hills Mall is a two-story mall in East Tulsa. Besides the plethora of shopping and dining options, it offers many fun activities for the kids. There's a Build-a-Bear Workshop, Lolli & Pops Candy Store, and The Disney Store. Kids love malls; they see them as a giant castle ready to be explored, and Woodland Hills definitely meets this expectation.
If you need to do back-to-school shopping or get an outfit for a special event, Woodland Hills has a vast array of vendors and stores. From Macy's, Dillards, and Rue21, the mall caters to both you parents and you young folks when it comes to shopping!
The Main Event
The Main Event is so fun that young kids, teens, and even adults can enjoy all it has to offer. This indoor activity center has everything from laser tag, gravity ropes, and rock climbing to mini-golf, arcades, and bowling. Enjoy dinner with your family activity and get ready to have a blast!
The Main Event is located to the West of Tulsa across the Arkansas River. You can host birthdays or special events there or encourage your kids to invite some friends for laser tag. Either way, you're family will be able to make some great memories with this Tulsa family entertainment.
Tulsa Drillers Baseball Game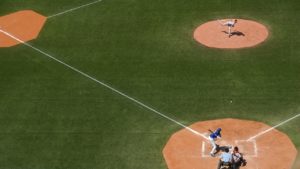 Kids like to think that going to their first baseball game is almost like a rite of passage. Maybe it's the concession stand hot dogs or standing in the stadium singing with the crowd at the 7th-inning stretch; needless to say, a baseball game makes for a great family outing. Tulsa just so happens to be home to the minor league baseball team, Tulsa Drillers.
Running throughout the Summer, You and your family can catch a Drillers game at a reasonable price. The late evening haze against the stadium lights leaves a picture that your kids will always remember. The Tulsa Drillers have offered this memory to many families.
Renting Scooters Downtown
A great activity for the family to enjoy would be to rent motorized scooters and scoot around Downtown. Motorized scooter rentals just came on the scene a few years ago, but they've made a splash when it comes to entertaining!
The two scooter companies to rent from are Bird Scooters and Lime Scooters. There's no storefront to go to; rather, you would just download the app and follow the map location. The scooters are left around town for you to pick up at your leisure. It's a great way to see the city as well as spending time with the family.
Persimmon Hollow Village
Persimmon Hollow Village is a replica of an old western town set back in the days of cowboys and outlaws. This village is considered a hidden gem, even among locals. The small village is actually a flea market just disguised by swinging saloon doors and stores on a boardwalk.
You can do your antiquing while your kids play pretend. Your children will love the ambiance that Persimmon Hollow Village has to offer. Situated on 3 acres, the village offers over twenty stores for you to browse through. This is a unique and fun family activity to do one weekend.
Center of the Universe
Since you'll be down in the Brady Arts district for Food Truck Wednesday, you may as well take the kids to see the Center of the Universe. The Center of the Universe is the location of a weird phenomenon. Marked by a concrete circle and brick pathways, you can find the square in which it's located.
If you stand on the concrete circle and talk, you will hear what you say echoed back to you. That being said, people standing outside of the circle won't be able to hear you clearly. No one knows how or why this anomaly occurs, but it gives for a mystifying experience for your kids. They'll love the testing out the phenomena and being amazed by a simple location in Downtown Tulsa.
Air & Space Museum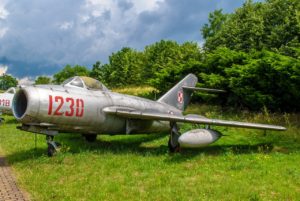 If you would like your child to learn some history of aviation and space, this is a fun museum to visit. Located by the Tulsa International Airport, the Air & Space Museum has displays, replicas, and simulations of historical space and aviation advancements.

Tulsa was integral to the development of aviation, so what better place to have a museum geared towards that industry? Your kids will have fun experiencing the simulations and learning about space exploration. There's even a planetarium where everyone can experience the things of the air and beyond our atmosphere.
The Gathering Place
WARNING: If you take your kids here, they'll never want to leave. The Gathering Place is a breathtaking park located on Riverside Drive. It has an incredible play area for your kids to enjoy from an impressive skatepark to unbelievable playground structures. The park was clearly designed to appease the young-at-heart.
The Gathering Place makes for a great family outing, offering dining options, indoor and outdoor seating areas, and activities for the whole family, young and old. There is no other park in the world like this, and Tulsa is blessed to be home to it. Every week, many families go and take advantage of all that the Gathering Place has to offer.
The Zoo & Aquarium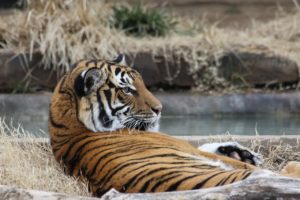 Tulsa is home to not only a zoo, but also an aquarium! Both facilities take care of their animals and are impeccably clean. These activities could easily make a day trip for your family to enjoy; just be prepared to get up close and personal with some animals! Your kids will love this adventure, allowing them to imagine that they're scuba-diving or that they're on a safari!

If your family should be considered regular animal lovers, then you can invest in a season pass at both locations. This will be a great outing for your young kids if you need to keep them entertained for a few hours. They'll have a chance to marvel at all the exotic and unique creatures they come across.
Arvest Winterfest
Are you looking for some winter fun over the holidays? Take the family out to experience the winter wonderland that comes to Tulsa every Christmas. You can ice-skate under the Tulsa skyline or ride the winter train as it puffs through the skyscrapers.
There's no better way to enjoy the holiday season than spending time with your family. While the people of Tulsa rarely ever see a White Christmas, let along a white winter, your children can enjoy the ambiance that Arvest Winterfest brings to the area.
SkyZone Tulsa
Does your family like to be active? If so, then jump on down to SkyZone Tulsa. This is a giant trampoline house that your kids will love. They have events like Toddler Time, Late Jumps, and Glow Night.
Not only is the floor completely covered by trampolines and foam pits, but it's also home to a ninja warrior course, a trapeze and swing, a zip line, a parkour box, and a free climb. Parents, dig deep, find the child-at-heart, and prepare yourself for a time of fun!
Tulsa offers many attractions for the whole family to enjoy. There are many activities out there that will not only entertain the little ones, but also the parents. Whether you're looking for a day trip or just a few hours to kill, there are many options to choose from.
Want to know more about Tulsa? Click here.