Top Dog Groomers in Tulsa: Unveiling the Best in Pet Pampering
In the vibrant city of Tulsa, pet owners understand the significance of finding the perfect groomer. Ensuring your four-legged companion receives top-notch care is a priority, and that's where esteemed establishments like Paws on Pearl, Muddy Paws, The Barking Lot, and others come into play. Let's delve into the world of these trusted groomers and why they stand out in Tulsa's pet care scene.
Paws on Pearl: Where Tail Wags Meet Expert Grooming
At Paws on Pearl, the experience is nothing short of exceptional. With a team of skilled groomers who have a genuine passion for pets, this establishment offers a range of services tailored to your furry friend's needs. From basic baths to breed-specific cuts, they do it all. The warm and inviting atmosphere ensures that your pet feels right at home, making each visit a delightful experience for both you and your beloved companion.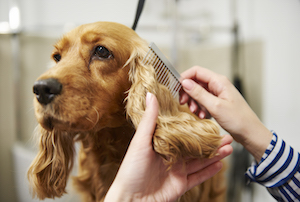 Muddy Paws: Making Every Pooch a Picture of Perfection
Muddy Paws has carved a niche for itself in Tulsa's grooming landscape. What sets them apart is their attention to detail and personalized approach. The groomers at Muddy Paws take the time to understand your pet's unique requirements, resulting in a grooming experience that exceeds expectations. With an array of services designed to cater to different breeds, your furry friend will leave Muddy Paws looking and feeling their absolute best.
The Barking Lot: Where Every Bark Resonates with Care
Stepping into The Barking Lot, you'll immediately sense the dedication and expertise that define this establishment. The groomers here go the extra mile to ensure your pet feels comfortable and relaxed throughout the grooming process. From nail trims to specialized cuts, their services cover all aspects of pet pampering. The Barking Lot truly understands that grooming isn't just a task—it's an art form that showcases the love and care they have for your pet.
Bathewell Mobile Pet Spa: Grooming at Your Doorstep
Bathewell Mobile Pet Spa brings convenience and quality together. This mobile grooming service eliminates the hassle of traveling, providing your pet with a stress-free grooming experience right at your doorstep. The skilled groomers at Bathewell are equipped with state-of-the-art facilities to ensure your pet receives the best care possible. From soothing baths to intricate styling, your furry friend will be in expert hands.
Lisa's Diva Dogs: Where Every Pooch Is a Star
At Lisa's Diva Dogs, your pet is treated like the royalty they are. The experienced groomers here are well-versed in breed-specific cuts and styles, ensuring that your pet looks and feels their absolute best. The salon exudes a glamorous yet cozy atmosphere, making it a perfect spot for pampering your beloved companion. With a keen eye for detail, Lisa's Diva Dogs is a go-to for pet owners who want nothing but the best.
Glamour Paws: Elevating Pet Grooming to a Stylish Affair
Glamour Paws lives up to its name by adding a touch of elegance to every grooming session. Their team of skilled professionals not only understands the intricacies of grooming but also appreciates the beauty of each breed. From customized cuts to luxurious spa treatments, your pet will receive the royal treatment they deserve. The chic ambiance and personalized service make Glamour Paws a standout choice for pet owners in Tulsa.
Elite Doodles Grooming: Tailored Grooming for Doodle Lovers
For those with doodles, Elite Doodles Grooming is a haven. Specializing in grooming Doodle breeds, this establishment understands the unique needs of these lovable companions. The groomers are well-versed in Doodle-specific cuts, ensuring that your pet looks absolutely fabulous. The warm and inviting environment at Elite Doodles Grooming makes it a top pick for Doodle enthusiasts.
Patty Terri's Grooming: Where Passion Meets Precision
Patty Terri's Grooming is a testament to the passion and expertise that goes into every grooming session. With a team dedicated to perfection, this establishment offers a range of services designed to cater to various breeds and their specific requirements. The attention to detail is evident in every cut and style, leaving your pet looking and feeling their best. Patty Terri's Grooming is where your pet's well-being and style converge.
Pampered Paws Dog Spa: A Retreat for Canine Royalty
For a truly indulgent experience, Pampered Paws Dog Spa is the ultimate destination. This establishment takes pet pampering to a whole new level. From luxurious spa treatments to breed-specific styling, your furry friend will be treated like royalty. The tranquil atmosphere and expert care ensure that every visit is a spa day to remember.
K-9 Designs LLC: Where Style Meets Substance
K-9 Designs LLC is synonymous with style and expertise. Their team of skilled groomers combines artistic flair with a deep understanding of breed-specific requirements. The result? Pets that not only look fabulous but also feel comfortable and confident. With a range of services tailored to different breeds, K-9 Designs LLC is a trusted choice for pet owners seeking top-notch grooming.
A Grooming Experience Beyond Compare
In Tulsa, the choice of groomer can make all the difference in your pet's well-being and appearance. The top dog groomers in the city prioritize the comfort, safety, and individuality of each furry client. With a range of specialized services and a team of dedicated professionals, these establishments set the standard for exceptional pet care.
By choosing any of these esteemed groomers, you're not just getting a haircut for your pet—you're investing in their overall well-being and happiness. The trust and expertise of these groomers make them invaluable partners in the care of your cherished companion. Experience the difference at the top dog groomers in Tulsa.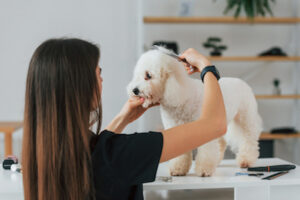 The Perfect Duo: Grooming and Boarding
When it comes to providing the best care for your furry friend, grooming and boarding services play a crucial role. Many of the top dog groomers in Tulsa offer both, and here are some of the benefits of this:
Ensuring Continuity in Care
Opting for a facility that offers both grooming and boarding services ensures a seamless experience for your pet. This continuity in care means that your pet can receive their grooming session while enjoying their stay, all in one location. It minimizes stress and disruption, creating a comfortable environment for your furry companion.
Convenience for Pet Owners
For pet owners, the convenience of having grooming and boarding services under one roof is invaluable. It streamlines the process, making it easier to schedule appointments and manage your pet's needs. Whether it's a weekend getaway or a busy workweek, knowing that your pet is well-cared for in every aspect provides peace of mind.
Frequently Asked Questions
What are the key factors to consider when choosing a dog groomer?
When selecting a dog groomer, it's essential to look for experience, expertise, and a genuine love for pets. Additionally, consider the range of services offered, the cleanliness of the facility, and reviews from other pet owners.
How often should I have my dog groomed?
The frequency of grooming depends on your dog's breed, coat type, and lifestyle. Generally, most dogs benefit from grooming every 4-6 weeks, but consult with your groomer for personalized recommendations.
Are these groomers equipped to handle special needs or anxious pets?
Yes, the mentioned groomers have experience working with special needs pets and those prone to anxiety. They employ gentle techniques and create a calm environment to ensure a stress-free grooming experience.
What can I do to prepare my dog for a grooming session?
Before the grooming appointment, ensure your dog is well-exercised and has relieved itself. Brush out any tangles or mats in their coat, and communicate any specific instructions or concerns with the groomer.
How can I maintain my dog's coat between grooming sessions?
Regular brushing at home is crucial to keep your dog's coat in good condition. Additionally, check for any foreign objects or pests in their fur, and address any matting promptly.
What sets these groomers apart from others in Tulsa?
The highlighted groomers stand out due to their combination of expertise, personalized care, and a genuine love for pets. They go above and beyond to ensure every grooming session is a positive experience for both the pet and the owner.
Conclusion
When it comes to the well-being and style of your furry friend, choosing the right groomer is paramount. The top dog groomers in Tulsa, including Paws on Pearl, Muddy Paws, The Barking Lot, and more, excel in providing exceptional care tailored to your pet's unique needs. With their expertise, your beloved companion will not only look fabulous but also feel cherished and pampered. Trust in these establishments for a grooming experience that goes above and beyond.