The Ultimate Guide to Spending Time With Your Pet
Do you live in Tulsa and wonder where you can take your four-legged friend? We're here to help. We've asked around and done some research of our own, and we landed on some pretty cool dog-friendly Tulsa spots. We know there are many dog-friendly local dining and shops, but these are a few!
From restaurants and coffee shops to stores and activities, this list will give man and his best friend plenty of opportunities for some quality time.
Let's start with some of Tulsa's dog-friendly restaurants. More and more Tulsa restaurants are making their patios dog friendly- and some even bring out water and a treat for the pup too! Here are a few Tulsa spots where Baxter can take his human to dine! 
Roosevelt's: With misters, fans, and an extensive beer and burger list, this place has easily become a top Tulsa spot for all dog
lovers even in the heat of summer!
Wild Fork: Most Tulsan's would argue that there's no better spot than Wild Fork in Utica Square to people watch with your pup. Sit under a shady tree and enjoy a bite to eat, then head on over to the Dog Dish in Utica. More on that later!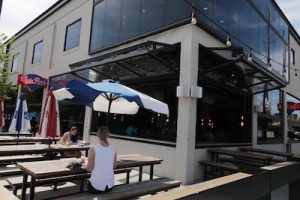 Elgin Park Sports Bar & Brewery: Take your four-legged friend to Elgin Park's patio to enjoy their huge windows that open to the outside, and don't forget to try one of their pizzas. I heard the pups love the crust!
Chuy's: Does anyone else's furball love Mexican like mine? Chuy's is most definitely a dog-friendly favorite! If you bring in a framed picture of your dog, they'll hang it on the wall AND give you a free appetizer.  
Tulsa's Dog-Friendly Coffee Shops
Lauranne's Bakery: This little local spot in Broken Arrow loves furry friends! Grab a latte and cupcake, or should I say, pupcake, and enjoy the sights and sounds of the Rose District with your dog. 
Shades of Brown: Dogs are even allowed inside this local Brookside coffee shop! 
Nordaggio's: You can sit outside or inside at this South Tulsa coffee spot. Believe me, your furry friend is sure to get lots of attention here!
A Few of Tulsa's Dog-Friendly Bars
Renaissance Brewing Company: Baxter is always welcome to join you for a pint with friends at one of Tulsa's top breweries. 
The Bistro: Located on Yale, this local brewery LOVES dogs and is sure to have you asking for craft refills! 
RBar: Suitable for humans and dogs, this Tulsa favorite bar welcomes your leashed pup to enjoy all Brookside has to offer with you. 
Most local bars with outdoor seating will allow you to bring your dog. But it's always a good idea to call ahead and make sure! 
Tulsa's Dog-Friendly Trails and Parks
Turkey Mountain
Gutherie Green
River Parks
Centennial Park
Osage Prairie Trail
These parks are leashed dog-friendly but don't forget a bag!
Tulsa Off-the-Leash Dog Parks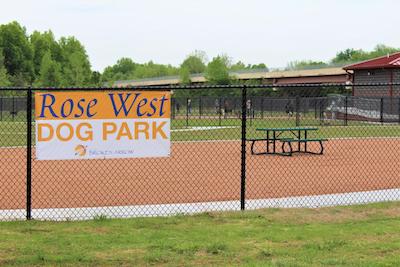 Biscuit Acres Dog Park, a long time Tulsan favorite, located in Hunter Park. Biscuit Acres has plenty of doggy drinking fountains and even a place to wash all that slobber off at the end of the day! 
Rose West Dog Park off Garnett in Broken Arrow. With indoor bathrooms for the humans and trails to walk, this place will always be a hit for the whole family.
Bark West Dog Park in Jenks. With lots of shady spots and two separate play areas, this is a sure win for warm summer evenings with the dogs. 
Joe Station Dog Park: Opened since 2008, Tulsan's and their K9s have been enjoying this downtown park for a long time. Joe Station's hours are 5 am-11 pm, so there will always be time to play here! 
All of these off-the-leash Tulsa parks have stations throughout the park with poop bags to ensure you're always ready when you know what happens. 
Dog-Friendly Activities in Tulsa
Bring your dog to The Gathering Place on Wednesdays for furry fun on the lawns and pathways.
Tulsa Garden Center: Tulsa's horticulture headquarters welcomes your dog on the grounds but not inside any of the buildings. They offer classes, shows, and special events right inside the historic Woodward Park. 
Admiral Twin Drive-In: Who doesn't love to cuddle up with their dog for a movie? And you get to enjoy the great outdoors while doing it?! Say no more. 
Tulsa's Dog-Friendly Retail Stores
Let's start with the obvious! Petsmart, Petco, and Southern Agriculture. They'll happily welcome your (leashed) dog! These three stores have locations all over the Tulsa area, so bring your pup in for a little summer socialization. And to pick out a new toy, of course.  
Home Depot: There's plenty of space to bring your dog inside of Home Depot to accompany you in your latest home improvement endeavor.
Lowes: Another place where your four-legged friend can help you choose the right paint color for the bathroom or finally get that new Fiddle Tree the human mom has been begging for!
Bass Pro Shop: Bass Pro Shop is a very pet-friendly establishment and most definitely encourages having your dog in their stores! 
The Dog Dish: Located in Utica Square, The Dog Dish, happily welcomes your dog! From clothing, baked goods, toys, grooming supplies, and more- the Dog Dish has it all. 
Lifehack: There are often treats at the registers! Gotta keep the bellies full, am I right?
Tulsa will be hosting AKC National Agility Championship in March 2021. This is quite obviously a dog-friendly event. And if you're coming in from out of town, be sure to stay at one of the MANY pet-friendly Tulsa hotels. Like Aloft Tulsa, Hampton Inn, or the Doubletree. They make sure your pets stay is just as comfortable as yours! 
And we get it. Poop happens. Luckily for us, Tulsa is a big-time dog-friendly city. But be sure to respect local business owners and keep your dog on their leash when necessary and always have your poop bag with you in case the four-legged friend leaves a little something behind! 
We know more local Tulsa spots are pet-friendly. We just can't name them all! If you know of any more we can add to our next article, let us know! Thanks for reading Discover Tulsa. Until next time, T-Town!
Looking for more to do in Tulsa? Check out upcoming Tulsa events here.