One of the best ways to spend an evening is by checking out a new brewery with your friends. But with so many Tulsa breweries to choose from, how do you decide where to start? Discover Tulsa is here to save the day, providing both Tulsa locals and visitors with everything they need to know about the best breweries in town.
We have compiled a list of the top ten breweries in Tulsa to guide your weekend plans! This list includes information on places like American Solera Brewery, Welltown Brewery, and even a few breweries that you may not be familiar with.
The Tulsa breweries in this list all offer unique atmospheres and environments. Looking for a place to have a night with friends? What about a place to enjoy an afternoon of family fun? Look no further! We will help you find a brewery that fits all of your needs. Enjoy!
Best Breweries in Tulsa
Are you looking to check out a new brewery in Tulsa but not quite sure what to expect? Keep reading for a rundown on some of our favorite breweries! 
American Solera Brewery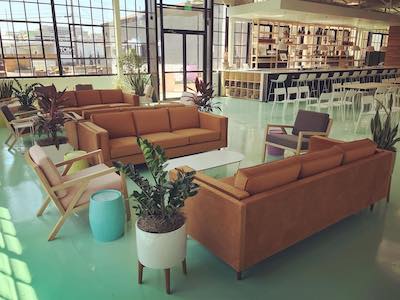 It should come as no surprise that American Solera Brewery is at the very top of our list! With two locations in Tulsa, American Solera has quickly become a favorite of Tulsa locals of all ages. Their beautiful, bright atmosphere is complimented perfectly by a delicious line-up of brews. If beer is not your thing, they also offer a selection of wine and ciders.
American Solera Brewery has been making a name for themselves from the very start. Shortly after opening in 2016, they were named the 2nd Best New Brewery in the World as well as the Best New Brewery in the United States by RateBeer. 
Both of their locations feature patio seating that is open to families and pets. Bar seating, however, is limited to individuals 21 and up. This is one Tulsa brewery that you do not want to miss! 
Cabin Boys Brewery
The team at Cabin Boys Brewery delivers high-quality ales that combine traditional styles with modern creativity. They strive to create a place of community and fellowship surrounding their bold ales. With over 270 reviews on Google, it is evident that Cabin Boys have successfully gained a loyal following.
While enjoying a brew in their laid-back taproom, you can play a game of ping-pong or simply relax and enjoy quality conversations. Many loyal fans describe Cabin Boys Brewery as "home". What more could you ask for in a brewery?!
Heirloom Rustic Ales
The beautiful atmosphere of Heirloom Rustic Ales continues to attract people from all over. A great place to hang out with friends, read a good book, or even get some work done, Heirloom Rustic Ales offers a refreshing and simple approach to beer. Their top-notch vibe is accompanied by a wonderful selection of small-batch brews. When you visit Heirloom Rustic Ales, be sure to check out their patio and enjoy a few patio games.
Nothing's Left Brewing Co.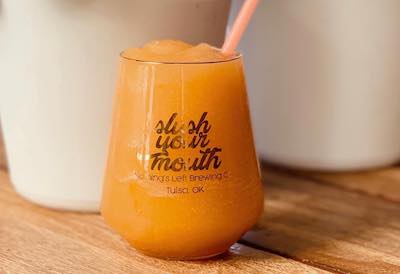 Beer slushies. Need we say more? Nothing's Left Brewing Co. offers many delicious beers but their unique beer slushies truly set them apart. Bring your pup along and enjoy the large warehouse area full of games, projection screens, and much more. 
Nothing's Left Brewing Co. features a wide selection of brews, each with a fun twist. Some of their current offerings include a fruity pebbles gose and a cinnamon roll stout! A current fan favorite, however, is the strawberry blonde wheat beer that attracts fans from across Oklahoma. Although they do not serve food, there is almost always a Tulsa food truck parked out front to satisfy your hunger.
Welltown Brewing
Located in Downtown Tulsa, Welltown Brewing offers a beautiful view from their upstairs patio. As one of the largest breweries in Tulsa, Welltown Brewing offers plenty of space to relax, meet up with friends, or take part in some friendly yard game competition. 
Welltown Brewing continues to set themselves apart by thinking outside the box in every aspect of their business. They are dedicated to cultivating community and partner with many nonprofits in Tulsa on a regular basis. Additionally, Welltown Brewing is a family-friendly brewery! They offer many games and activities for the whole family, including your four-legged friends.
Local Cider
Cider and tacos. Certainly not two things you would associate with each other. However, Local Cider has set out on a mission to change that! Located behind its sister company, Oklahoma Distilling Co., Local Cider features a selection of homemade ciders as well as several beer options. Many of the beverages at Local Cider are naturally gluten-free, something that can be hard to find in a brewery setting.
In addition to their selection of drinks, Local Cider boasts America's Best Tacos! That is certainly a big claim, but once you taste a taco (or three) from their rotating menu, you will agree. 
Pearl Beach Brew Pub
A beach bar in the heart of Tulsa?! It's true! Pearl Beach Brew Pub features 3 beach volleyball courts that lend to the beachy atmosphere. Get your friends together and reserve a court for a night of fun while enjoying one of the many beers offered in the taproom. Not feeling up for a game of volleyball? No problem! They also have many areas to relax and connect with friends both inside and outside. 
Renaissance Brewing Co.
With a great selection of brews and an expansive knowledge of the brewing process, Renaissance Brewing Co. certainly earns their place on this list. This small Tulsa brewery certainly packs a punch with a beautiful taproom and friendly atmosphere. While parking may be harder to find at some of the breweries on this list, Renaissance Brewing Co. has plenty of free parking located around their building.
High Gravity Brewing Company
High Gravity Brewing Company offers something for everyone with weekly events, live music, trivia nights, games, and much more. A family-run business, High Gravity Brewing Company features a wide variety of beers on tap, nitro brews, wines, and even an occasional frozen drink. In addition to their delicious brews, they also serve delectable small plate comfort food that perfectly complements your adult beverage. 
Marshall Brewing Co.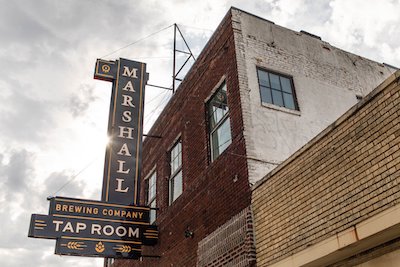 As Tulsa's first production craft brewery, Marshall Brewing Company continues to stand the test of time. With the common goal of bringing the art of craft beer to life in Tulsa, the entire team at Marshall Brewing Company maintains a commitment to education and top-notch training. This is one of the qualities that certainly sets this brewery above the rest. 
The family-friendly brewery features games, live music, and even shuffleboard courts, ensuring that you will enjoy the time that is spent on their premises. While many of their beers are available across Oklahoma, they do feature several brews that are exclusive to their tap-room. In addition to their many brews, they also offer a selection of ciders, wine, non-alcoholic beverages, and a rotating schedule of Tulsa food trucks.
There are many other breweries that we could feature on this list, these are just a few of our favorites located in and around the Tulsa area. With so many great breweries to choose from, you are sure to find the perfect spot for your next Tulsa date night, evening with friends, or even a delicious brew by yourself. Visiting Tulsa's top breweries is an excellent way to explore everything Tulsa has to offer. Did we miss your favorite Tulsa brewery? We'd love to hear about it! 
Thank you for visiting Discover Tulsa! You can learn more about things to do in Tulsa here.