Whether you have lived in Tulsa for your entire life or you're visiting for the weekend, there are many incredible ways to make memories with your special someone. Tulsa is exploding with opportunities to break out of your cycle of mundane dinner dates and add some excitement into your weekend! 
Today, we are sharing 15 incredible Tulsa date night ideas for couples! We hope that the ideas shared in this post will inspire you to spend some time with your favorite person enjoying the many fun activities that Tulsa has to offer.
Best Tulsa Date Night Ideas
Date nights with your significant other provide a perfect opportunity to explore and experience the many things that Tulsa has to offer. Here are just a few fun ways to spend your next date night! 
Create a Succulent Masterpiece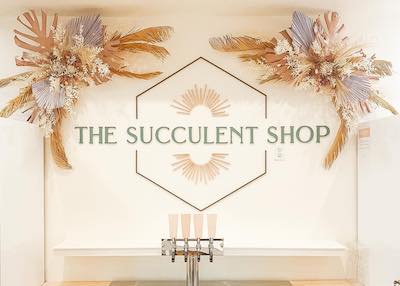 The Succulent Shop is one of the newest additions to the Tulsa area. They provide you with everything you need to make a succulent masterpiece that can add life into your home, reminding you of your special night. In addition to an incredible selection of plants and plant accessories, The Succulent Shop features a full bar with a variety of beer, wine, and mixed drinks! 
Not quite confident in your creative abilities? The plant experts at The Succulent Shop hold periodic workshops where they will guide you through the process of creating a beautiful terrarium. Classes typically cost $35/person and include plants, pottery, and complimentary refreshments! 
Spend Some Time at Guthrie Green
During the summertime, there is almost always something going on at Guthrie Green. Conveniently located in the Tulsa Arts District, Guthrie Green hosts a variety of free events. On any given evening, you may find a concert, art crawl, fitness event, movie night, or fun festival. 
Surrounded by many of Tulsa's favorite spots, you can always find something to do, eat, or enjoy around Guthrie Green.
Take a Stroll Along the Riverwalk
The Tulsa Riverwalk runs alongside the beautiful Arkansas River. It is a perfect place to enjoy a nice stroll while enjoying the peaceful atmosphere created by the river. After you work up an appetite, enjoy one of the many restaurants with patios overlooking the river to complete the perfect date night.
Experience Tulsa's Best Food Trucks
Tulsa is home to many incredible restaurants. But did you know we have our fair share of food trucks as well?! Choose one (or several) food trucks to try. Some of our favorites include Dope Soul, 1907 Barbeque, and Mr. Nice Guys. End your food truck experience with a stop at Lauranne's Baking Company, the best dessert food truck in Tulsa! 
You can find a complete list of the top 10 Tulsa food trucks here.
Go On a Coffee Crawl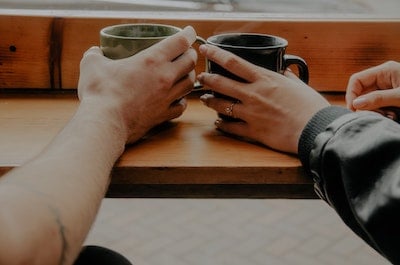 It seems as if a new coffee shop pops up in Tulsa almost every day. We certainly aren't complaining! With so many Tulsa coffee shops to choose from, how do you find your favorite? We suggest a coffee crawl! Make a list of a few local coffee shops you've been wanting to try and sample something from each of them. At the end of the date, give each of the coffee shops your official rating to find the java that truly reigns supreme.
(A tip from the experts, don't plan this date at nighttime unless you don't want to sleep!) Not sure where to start? Here is our list of some of the best coffee shops in Tulsa.
Explore Chandler Park
Some of the best date nights are the ones that feel as if you have traveled to another location. In many ways, Chandler Park creates this very feeling! Located across the river from Downtown Tulsa, Chandler Park features a unique landscape full of natural rock formations.
Pack a hammock, a picnic lunch, and your favorite book for a relaxing date night that neither of you will soon forget. If you're feeling adventurous, try your hand at a game of disc golf on one of their 2 courses.
Visit Mother Road Market
Tulsa's first food hall, Mother Road Market, is home to more than 20 restaurants and shops. This unique stop offers many unique dining options as well as opportunities for exploration. Choose a few small treats to try from various restaurants and enjoy an exciting meal on the beautifully lit patio. 
Plan a Tulsa Staycation
If you are longing for adventure but needing to stay local, a Tulsa staycation could be a perfect solution! Pack an overnight bag and head to one of the many beautiful hotels located in Downtown Tulsa. Most hotels offer discounted rates during weekdays if you are looking to plan a date night on a budget. Order carryout or enjoy a meal at one of the many surrounding restaurants. 
Stop & Smell the Roses
The Tulsa Botanic Garden is a must-see for locals and tourists alike. With an ever-expanding plot of beautiful gardens, each visit to the gardens is unique. Take a stroll around the Lakeside Promenade, a three-quarter-mile path that circles the gardens 7-acre lake. 
In addition to the everyday beauty that can be found throughout the gardens, they hold many unique events including Star Night, an opportunity to enjoy the beauty of the night sky with your sweetheart.
Old Fashioned Movie Night
Take a step back in time at the Admiral Twin Drive-In. This drive-in movie theater features two movies each evening that can be enjoyed from the comfort of your own vehicle. Don't forget to bring an FM radio along so you can hear the movie as it plays. Grab some movie treats from the concession stand and get ready to get comfortable. Showtimes begin at dusk each evening.
Learn Something New
Tulsa is home to many educational museums including the Gilcrease Museum, Philbrook Museum of Art, and the Tulsa Air & Space Museum. Learn more about the unique history of our state by strolling through the hallways of these Oklahoma destinations. Both the Gilcrease Museum and the Philbrook Museum of Art include beautiful grounds if you prefer an open-air learning experience.
Enjoy a Backyard Picnic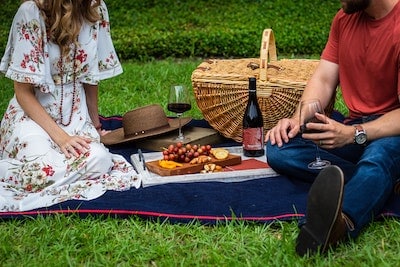 Maybe you are spending more time at home these days or you simply can't find a babysitter. Sometimes, all you need is a tasty meal and a picnic blanket! Think outside the box and order a fancy meal from your favorite restaurant. (Have it delivered to add to the luxurious experience.) Enjoy your dinner in your backyard under the stars or beside a bonfire! Bonus: you can enjoy a five-star meal in your pajamas if you choose to do so. 
Engage in Friendly Competition
Have you ever wanted to try your hand at a new board game but didn't know which one to choose? Shuffles board game cafe provides an excellent solution. With over 1,400 board games to choose from, you and your significant other can engage in a friendly competition while learning a new game. A full bar, dinner menu, and even milkshakes will ensure that you enjoy an evening at this unique date night locale. 
Visit Our Unique Landmarks
Do you realize how many unique landmarks surround the Tulsa area? The Center of the Universe, Praying Hands sculpture, and the Cave House are a few popular stops. What about the Golden Driller? As the fifth tallest statue in the United States, this is one place every Tulsan should visit.
Take a Walk on the Wild Side
Tulsa is home to hundreds of unique creatures residing at both the Oklahoma Aquarium and the Tulsa Zoo. While these spots may not immediately come to mind as a date night destination, they can provide an experience unlike anything else. 
No matter the season or time of day, you are sure to find a way to enjoy time with your loved one while exploring everything that Tulsa has to offer. Interested in what's currently happening in Tulsa? You can find more information on upcoming Tulsa events here!