Tulsa has a prolific and thriving coffee culture that rivals any other notable city in the United States. In fact, in the last few years, a native Tulsan won the roasting competition in the United States Coffee Championships and another placed fifth in the Brewers Cup.
This helped put Tulsa on the map of coffee, but if you have spent any amount of time in Tulsa, you know that there is a coffee shop on every street corner, it seems. These coffee shops were around years before, even decades for some of them. They've been making coffee for Tulsa and perfecting their craft for so long, they all stand out for different reasons.
Everyone you ask an opinion of will say different things about what coffee shop they like best and for what reason. This can be confusing when you are trying to find a coffee shop to get your caffeine fix from. We did some research (and by research, we mean we went around and drank probably a little too much coffee) and have compiled a list of the 6 best coffee shops in Tulsa.
We tried three menu items from each shop to compare each coffee shop on an equal playing field. The criteria we based our judgments on were:
Espresso
Coffee of Barista's Recommendation
Food Item
Ambiance
In the interest of all things coffee, let's get brewing.
Nordaggio's – ★★★★★
I'm not the chicest individual (shocker), and I was always afraid of visiting Nordaggio's for some reason. The name made me think I needed to be a super hipster to really "get it." After taking the plunge to visit Nordaggio's, I was pleasantly surprised to know that there isn't any stigma surrounding it. The atmosphere is simple and inviting.
I ordered three things within the parameters that I preset for the test. First, I ordered a double macchiato, which is two shots of espresso with an equal portion of half-and-half. It's a small drink, but it still wowed me with flavor with every sip.
Next, I got a Chemex pour-over with Ethiopian coffee per the barista's recommendation. This drink blew me away with its flavor and complexity. It was quite a large drink, which was welcomed and allowed me to taste all the flavors it has to offer. With every sip, I felt like I was learning new things about the blend of flavor notes, like how they bloomed over time as the coffee cooled and some flavors settled to the bottom and some stayed at the top.
For the food item, I picked a sausage roll from a variety of sweet and savory pastry options supplied by a local baker fresh every morning. It was scrumptious and the perfect pairing for the coffee I was drinking. The entire flavor experience was delightful, and I know I'll be going back to Nordaggio's in the future.
Triangle Coffee – ★★★★★
Triangle felt a lot like Nordaggio's on the inside with a very similar aesthetic and welcoming vibe. The baristas are friendly and genuine as well as helpful with answers to any questions (coffee or otherwise) that you may have.
I ordered a latte with a double shot and was met with a wonderful blooming cup of pure goodness. The cream on top was velvety and light, while the espresso was strong and complex. I am still getting used to the stronger flavors of coffee drinks, but I enjoyed the flavors in this drink.
The other drink I was made by the barista as his recommendation was a single-origin pour-over from Panama. He was right about it being a good cup of coffee. I enjoyed the stout, dark flavor of the Central American roasted beans.
It was lunchtime when I visited Triangle so I ordered a turkey sandwich and it was a good choice. The meat was seasoned very well, while the greens were fresh and crunchy. It all sat between two whole-grain wheat slices that brought it all together very nicely.
By the time I came here, my unsubstantiated fear of coffee shops had been quelled, but the friendliness of the shop made me want to come back and try more coffees.
Topeca Coffee – ★★★★★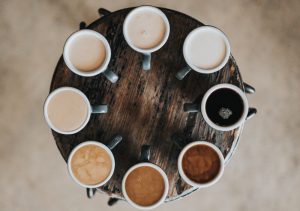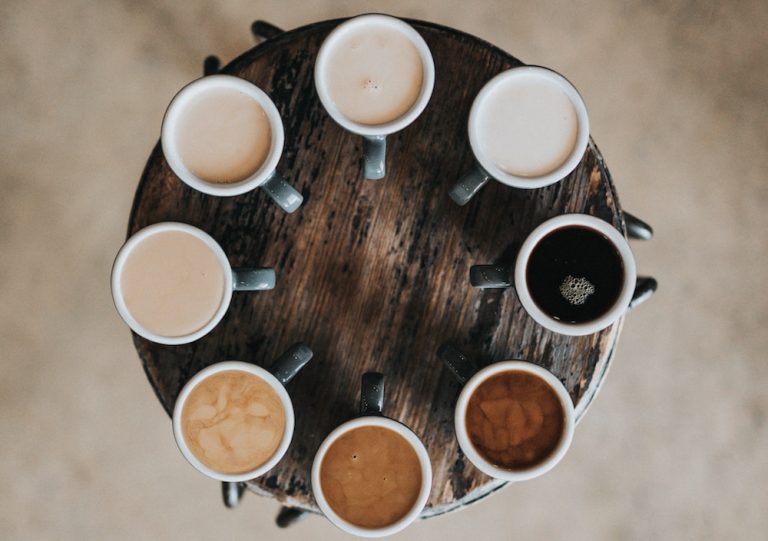 Topeca Coffee has two locations, but the one I chose was in the art deco district of downtown Tulsa. Their shop is very quaint and small with a few different seating areas including a nook over to the side with a few outlets for chargers and a retro-looking couch that turned out to be pretty comfortable.
I ordered an americano for my first drink to see how their espresso tasted and I was very happy with the way it turned out. There were notes of floral flavors that I was not really expecting but liked nonetheless.
The drink that the barista recommended was an iced oat milk latte, which I was a big fan of. I had never had oat milk before that day, I thought it was going to be a little bit gritty or sandy because of the oats, but it was smooth and sweet. I would have never tried it had the barista not made it for me and now I may have to get it more often.
I decided on a ham and swiss croissant sandwich for my food item and I have to say, it blew me away. The flaky layers of the croissant seemed to melt into every corner of my mouth, leaving the ham and cheese to cut through and complete the experience.
Throughout my experience, I kept thinking, "this place would be a nightmare when it's packed" and came to the conclusion that I would probably get my coffee to go and be happy walking to a nearby park to enjoy it.
Cirque Coffee – ★★★★★
Cirque Coffee is a bit of an oddball on this list. They started as a coffee shop, became a bar, then reintroduced all the coffee items to the menu. The industrial rustic feel of the shop is very cool, but the lack of seating was a bit weird. I ended up standing at a countertop with my friend when I received my drink.
I ordered a hot vanilla latte with an extra shot of espresso and it was exactly as I was expecting. You really can't go wrong ordering a latte from anywhere unless they make it wrong, which the barista at Cirque did not.
The recommended drink I got was a single-origin Ethiopian coffee. It's funny how that's the second one on this list. It didn't compare to the one from Nordaggio's though. I found myself being reminded of how good that cup of coffee was rather than enjoying the cup of coffee I was drinking from Cirque.
Their baked bread is amazing and the person behind the bar gave me a small sampling of three different ones for free to get a good range of tastes. I find myself a bit biased towards savory flavors when it comes to carbs, but I still enjoyed the flavors of their different bread.
Coffee House on Cherry Street – ★★★★☆
When walking into Coffee House on Cherry Street, I was met with a very stylistic and somewhat cramped interior that just screamed coffee shop. I found the look and feel endearing by the end. Nothing matched and that was fine.
I ordered an iced vanilla latte to start and it was a very good drink. The vanilla flavor tasted real and the cream was nice and smooth. It had a good balance of sweet and strong flavors.
When I asked the barista what he recommended, he offered a seasonal drink called the Polar Bear. It's an aptly named iced flat white with cinnamon in it. I wasn't a huge fan of this drink, as it was too similar to the other drink I ordered.
The food item I ordered was phenomenal, though. I decided on the potato and herb quiche and it definitely was in my top three for the food category. On the plus side, it was also gluten-free.
Overall, I liked this place and I would come back to grab a coffee or something to eat. I would definitely need to explore the large menu a bit more to find some variation that I really liked.
Shades of Brown Coffee & Art – ★★★★☆
Shades of Brown is a nice shop that feels like an "underground library." The dim lighting and worn feel to the interior give it a sort of cave or alcove vibe. That being said, it by no means feels unwelcoming, but mo feels hidden and special like a secret.
I ordered a double espresso shot ristretto from the bar and sipped on it for a while, enjoying its flavors and notes. It was a good espresso and tasted acidic and bright. That flavor area isn't my favorite, but I did appreciate how well the shot was pulled.
The barista recommended their cold brew to me and I ordered a coconut cold brew to-go. It was very good and one of the better recommendations from the baristas in Tulsa.
The food menu there is simply baked goods, so I ordered a scone. I was happy that it wasn't dry and had some great berries in it as well.
Overall, you'll find some great drinks here, but if you are looking to study or read while sipping your drink, it might not be the place for you since the atmosphere is a bit dim.
Conclusion
Tulsa's best cup of coffee comes from a variety of places. Coffee is a subjective thing and everyone has their own tastes and their own favorites. For me, the best comes from Nordaggio's. The best might be from Cirque for you.
I hope you go and experiment for yourself and try all these places as I did. I learned so many things about coffee and what I liked about each drink. There are so many coffee shops and espresso bars in Tulsa to experiment with all the different flavors and atmospheres they offer.