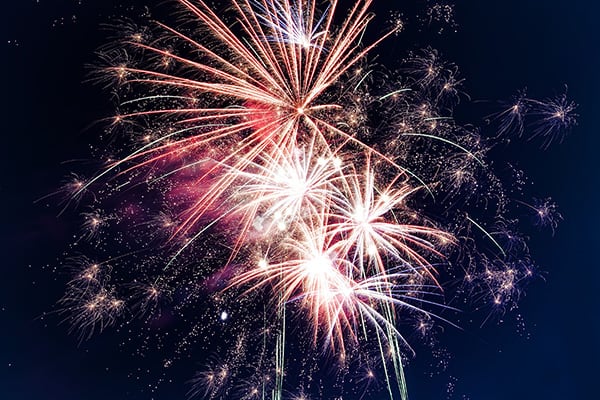 03 Jan

Events Happening in Tulsa on New Years Eve 2021
Events Happening in Tulsa on New Years Eve 2021
It is time for us to celebrate another year that has been completed, we did it! Whether your year was difficult, easy, or sub-par, it is time to let go of the old and on to something new. What better way to celebrate that with these 8 events that are happening in Tulsa. It is so important for the community of Tulsa to get together and celebrate as we ring in the year 2022. Some are kid-friendly and fun, while others are fun for adults. Whatever you seek, I'm sure you will find something to suit your party needs this New Year's Eve! So invite a friend and come out to one of these events this New Year's Eve.
Covid Reminder
This year's celebrations are a bit different. Safety has to be a top concern. If you are sick, be kind and courteous to yourself and others and stay home. Remember to stay informed on event venue's covid guidelines so you can be prepared. We want our Tulsa community to stay safe and happy. Always be watching the websites or social media pages for updates, covid guidelines, etc.
9 Events Happening This New Years Eve
New Years Eve Party- The Great Room ( Dec 31st)
This Event will be Happening at the 36th Street North Event Center. This event center is known to host and throw some amazing parties and events. This should be a night to remember for all who attend! The event starts at 8:00 pm and lasts until 1:00 am on December 31st. This event will have you dancing the night away! Check out their social media to stay informed on all the updates that take place.
Life Is Good On Our Boat- (Dec 31st)
If you are wanting to be a little fancy this year, this event is for you! Come to the Margaritaville restaurant in your finest cruise wear. Prepare to tell 2021 "Bon Voyage"  as we ring in 2022. There will be fine dining, delicious drinks, and entertainment by DJ ECOG. This event is free for the DJ and dancing experience. However, if you would like to experience the fine dining and bar, there are VIP tickets available for purchase. The tickets are 60$. You will have exclusive access to the upstairs bar and food area. You must be 21 and older to attend this event. The event is at the Margaritaville restaurant on Riverside. The event begins at 9:00 pm on December 31st and goes until 1:00 am. Click this link for more information
William Clark Green With Joshua Walker (Dec 31st)
These 2 country artists will be performing at the Cains Ballroom on December 31st. The concert begins at 8:30 pm. This concert will be a great way to end 2021. Both of their music is soulful and fun. Both artists originated in Texas and have that southern soul. Their music will take your mind on a ride as they tell stories and experiences through their music. You won't want to miss out on this fun evening! Get your tickets at the Cains Ballroom website. Cains Ballroom has clear covid safety guidelines that must be followed so be sure to look at their website for all of that information.
NYE Party And Midnight Balloon Party ( Dec 31st)
This event will be held at the 5 O'clock Somewhere Bar in Tulsa. There will be drinks, dancing, and a live performance by the Hi-Fidelics. This event begins at 9:00 pm on December 31st and ends at 1:00 am. There will also be a big balloon drop when the clock strikes midnight. This event is bringing New Year's Eve in time square vibes. There will be lots of entertainment and fun. The event is free but seating is limited so you will want to get there early. Stay up to date on all the information using this link
New Years Eve Party- Woodlake Church (Dec 31st)
All sixth-through twelfth graders are invited to ring in the New Year at Incredible Pizza! Come hang out with us from 9:30 pm – 12 am. You'll get unlimited food, drinks, and desserts while you play video games or enjoy other attractions including Go-Karts; Laser Tag; Bowling alley–whatever your heart desires. In addition, the students will have unlimited play passes for all these fun activities. Your kids will have so much fun playing and eating until their hearts are content. Students will need to be picked up by 12:30 am. So sign your kids up and bring them on out! They will have blast and a time to remember! Register your kids using this link
New Years Eve W/ the Plumbers (Dec 31st)
PJ's Pub and Grill is a Tulsa favorite food destination. The atmosphere is always filled with joy and laughter. The food and drinks are amazing as well. This year, they are hosting the Tulsa cover band "The Plumbers" this New Years' Eve. This band will get you moving as they play great hits. They are fun and know how to bump up an atmosphere. If you are looking to hang out with friends and eat some great food, this is the event for you. It starts at 9:30 pm on December 31st and lasts until 1:00 am. You don't want to miss out! Check out the event on Facebook for any updates
Open Skate at Winterfest (Dec 31st)
There is still time! The ice skating rink in front of the BOK center will still be available and open to skate on. The rink open skate begins at 12:00 pm and goes until 11:00 pm that night. This is an amazing thing to do with your kids. You can bring out the entire family. Or, just bring your significant other and have a fun time skating the day away together. Be sure to go on their website and purchase tickets ahead of time! However, tickets will be available on sight.
Tulsa Post 1 New Years Eve Ball (Dec 31st)
The American Legion Post is having their NYE ball on December 31st. For $25 a person and $45 per couple, you will be able to enjoy some great music by Dejayee Tee Nicee while sipping drinks in this huge hall with plenty of parking nearby! This party will be 70's themed. So come dressed in your best 70's attire and join in on the fun. This party also supports our veterans so let's celebrate another year passing as well as starting off 2022 right – celebrating our service men & women who have sacrificed all for us. This event starts at 8:00 pm on December 31st and lasts until 1:00 am. Use this link to find out more information and grab your tickets! You won't want to miss out on this 70's themed event!
Jesse Shamp New Years Eve (Dec 31st)
If you are looking to end the New Year with a powerful encounter with God, this is the event for you. Jesse Shamp is a powerful minister that loves to preach and demonstrate the gospel of Jesus Christ. He has seen signs, wonders, and miracles. He loves demonstrating the power of God and sharing what God can do in his services. You and your family will be encouraged in the Lord as you end the New Year and begin 2022. Child care will be provided. The event will be held at the RiverGate Church in Tulsa. It begins at 7:00 pm on December 31st and ends at 9:00 pm. Go to the RiverGate Church website for more details.
Tulsa County YR Holiday Party (December 30th)
If you are a young republican and want to meet other like-minded people in the Tulsa area, then come on out to this event! There will be food and fun for everyone to enjoy. In addition, there will be an ugly sweater contest with a prize for the winner. This event is not only just to kick off the new year, but also to help establish the Tulsa County Young Republican Club. This is a place where lifelong friends and business connections can be made! You don't want to miss out on this event. The event begins at 6:00 pm and lasts until 9:00 pm. The address and additional details can be found using this link
Party Party Party!
Whether you decide to ice skate with the kids or party on a boat 70's style, you are bound to have a good time! Remember to be safe! Also, follow event center websites or social media for any updates. Covid has added an extra layer of caution for anyone hosting events. So always be prepared to follow any guidelines that event centers have in place. We hope that you have an amazing and safe New Year! We are excited to see what 2022 has in store for our Tulsa community.