What Are 6 Churches In Tulsa to Visit on Easter?
Going to church on Easter has always been an essential part of life in the US. In Tulsa, Oklahoma, this tradition continues today. The unique thing is that there are very diverse churches in the Tulsa Metroplex. You can go to very traditional churches such as Catholic, Methodist, or Baptist, just to name a few. For those looking for something different, there are several churches that offer non-traditional services and beliefs; it is your choice that you should consider. So, what are some churches in Tulsa to visit on Easter?
Here are six churches in Tulsa to visit on Easter Sunday:
Life Demonstration Church
Holy Family Cathedral
Asbury Church
First Baptist Church Tulsa
Trinity Episcopal Church
Battle Creek Church
While you are trying to decide on where to go for Easter, try to think about your spirituality and what kind of service you are looking for. Are you looking for a more modern or classical service? Do you prefer a traditional liturgical service with choirs and hymns, or a contemporary worship experience that emphasizes more modern music? No matter what your preference is, here are six churches in Tulsa that offer something for everyone.
Address: 1200 S Olive Ave, Broken Arrow, OK 74012
Our goal is for you to have a personal relationship with Jesus and comprehend His limitless love for you. This should translate into success in all areas of your life, such as your relationships, finances, and health. Additionally, our aim is for you to exemplify Jesus by allowing Him to live through you and demonstrate His love in practical ways to others. So go visit Life Demonstration Church this Easter Sunday just outside of Tulsa in Broken Arrow!
Easter Sunday
Our Sunday service will start at 10 a.m. Come by early for coffee and donuts. You will also get a chance to meet our church family. We will be having a traditional service with modern praise and worship music, thanking our God for all He has done for us. Pastor Brett will be bringing a message of our Lord and Savior, sharing His desire to be with us because He simply loves us. Following, we will be having an Easter egg hunt for kids of all ages.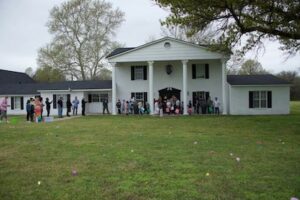 2. Holy Family Cathedral
Address: 8th Street & Boulder Avenue, Tulsa, OK
The Holy Family Cathedral was first founded in 1899 at 3rd & Elgin in Tulsa. Later in 1914, the parish moved to 8th & Boulder and constructed the current building, which is now the oldest Church building in use in Tulsa. The establishment was given the status of a Cathedral in 1973 following the establishment of the Diocese of Tulsa.
Holy Family Cathedral is offering traditional masses and services for Easter. The Vigil Mass on Saturday, April 8 at 5 p.m., followed by the Solemn Mass of Easter Sunday, April 9 at 10 a.m. All are welcome to attend and celebrate the resurrection of our Lord Jesus Christ!
Come and participate in the Holy Week and Easter celebrations at Holy Family Cathedral:
On April 2, Palm Sunday will be celebrated with Vigil Mass on April 1 at 5 p.m., followed by Sunday Masses at 8 a.m., 10 a.m., 12 p.m., and 5 p.m. There will also be a Solemn Palm Sunday Procession during the 10 a.m. and 12 p.m. Masses, and a Tenebrae Service at 7:30 p.m.
On April 4, there will be a Chrism Mass at 5:30 p.m.
On April 6, Holy Thursday events will start with Confessions from 5-6:30 p.m., followed by Mass of the Lord's Supper at 6:30 p.m. There will be Adoration until midnight.
Here is the schedule of religious events:
On Good Friday, April 7, you can attend Private Prayer from 9 am to 6:30 pm.
At 3 pm there will be Stations of the Cross and Confessions will be heard from 3 pm to 6:30 pm.
The Commemoration of the Lord's Passion will take place at 6:30 pm.
On Holy Saturday, April 8, the Easter Vigil will start at 8:30 pm.
For Easter Sunday, April 9, Masses will take place at 8 am, 10 am, 12 pm, and 5 pm.
On Divine Mercy Sunday, April 16, there will be a Holy Hour and Sung Divine Mercy Chaplet at 3 pm.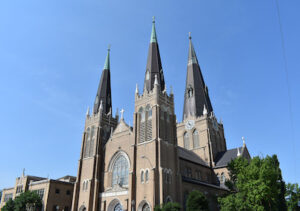 3. Asbury Church
Address: 6767 S Mingo Rd, Tulsa, OK 74133
Asbury Church has several church services coming up, including Palm Sunday on April 2 with services at 8 a.m., 9 a.m., and 11 a.m. in both the Chapel and Sanctuary; Maundy Thursday on April 6 at 7 p.m. in the Sanctuary with Communion and childcare available for Pre-K and younger.
Easter Sunday on April 9 with services at 6:30 a.m., 9 a.m., and 11 a.m. in the Sanctuary.
Please note that there will be no student ministry, adult communities, or elementary kids during the Easter Sunday services, but there will be childcare provided for Pre-K and younger during the 9 a.m. and 11 a.m. services.
Join us for the Easter Prayer Vigil from April 7-9 at the Chapel. Choose a 30-minute time slot between the end of the Good Friday Service (starting at 8 pm).
The beginning of Easter Sunday (ending at 6:30 am). You can sign up for the Easter Prayer Vigil. We also have childcare available for children under Pre-K at the Sanctuary starting at 7 pm on Friday, April 7.
What to expect if you are new on Easter:
Dress casually and wear whatever makes you feel comfortable. AsburyKids Early Childhood (1st Floor) is open for preschoolers and younger children; AsburyKids Elementary (2nd Floor) is closed for kindergarten and above.
There will be ASL interpreters available at the 11 am service, and you can catch a ride on one of the golf carts for easy transportation.
After the service, don't forget to grab your FREE Scripture Journal for Psalms.
We have Easter treats and activities available throughout the building as well as an activity book for children.
If you have any questions, simply visit one of the Guest Services Desks located at every entrance.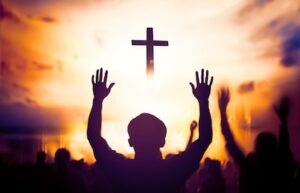 4. First Baptist Church Tulsa
Address: 420 South Detroit Avenue, Tulsa, OK 74120
On April 9th, there will be an Easter Sunday photo booth.
This Easter, we have a new photo opportunity for you! On April 9th, there will be a wooden cross and baskets of flowers inside the entrance of the Detroit Children's Building. We invite you to attach a flower to the cross as you arrive. The cross represents a message of tragedy that ends with the beautiful gift of salvation. On Easter Sunday, take a moment to appreciate the beauty of the cross and snap a photo to remember what Jesus did for you. This photo should not just be taken for social media, but rather as a personal remembrance.
5. Trinity Episcopal Church
Address: 501 S. Cincinnati Ave
Join us for an Easter Egg Hunt on April 8 that's suitable for all ages. The event is set to take place at the Promenade at precisely 11:00 am, so please arrive promptly. After the hunt, we'll be holding a potluck lunch in the Great Hall. Don't miss out on the fun.
The Easter services schedule is as follows:
April 9
6:00 a.m.: Sunrise vigil. The vigil starts in the darkness outside the southwest entrance (6th & Cincinnati Ave.) and continues inside with candles until the sun rises. The service finishes with organ music and song.
7:00 a.m.: Festival Breakfast. After the sunrise vigil, enjoy a mimosa breakfast with pastries, breakfast casseroles, and fruit.
8:00 a.m.: Spoken Eucharist, Rite I. This service is similar to our typical 7:30 a.m. service but without the choir. There will be organ music.
There are two Eucharistic services with choir and music accompaniment. The first one is at 9:00 a.m. and is called Rite II. The second one is at 11:00 a.m. and is called Rite I. The 11:00 a.m. service is more formal and even includes incense.
At 11:05, there will be a "Flowering of the Cross" ceremony in the Church Down Under for an all-ages service. This interactive service is perfect for younger attendees who may find it difficult to sit in the upstairs pews. You are welcome to participate by covering a large wooden cross with flowers and witnessing its transformation into a magnificent vision of new life.
6. Battle Creek Church
Address: 3025 N Aspen Ave, Broken Arrow, OK 74012
Battle Creek Church in Broken Arrow, which has roots in the Southern Baptist Church, embraces a modern and practical approach that upholds the teachings of Jesus Christ and the Christian faith. They have planned several Easter programs and activities, including sunrise services, an outdoor Easter egg hunt for children, and a worship service with a strong spiritual impact in the evening. This year, their emphasis is on events that cater to children.
Two Amazing Experiences at BattleCreek Kids
Mark your calendars for two upcoming BattleCreek Kids Productions:
"Jerusalem" on Sunday, April 2nd, and "Jerusalem: The Encore" on Saturday and Sunday (April 8th & 9th).
During "Jerusalem," kids will learn about the events of Holy Week that led to the Cross as Curly the farmer reflects back to the time of Jesus.
During "Jerusalem: The Encore," Curly returns to share the Good News of Jesus and takes us back to the empty tomb to celebrate that He has risen!
Don't forget to invite your friends, neighbors, and teammates to join us for these exciting services on Palm Sunday and Easter.
In Closing
These are just some of the churches in Tulsa that are offering amazing Easter events for people of all ages. Whether you're looking for a sunrise vigil, potluck lunch, an outdoor egg hunt, or just a place to remember Jesus's sacrifice and strengthen your spiritual identity, there's something for everyone this Easter. So mark your calendars and plan to attend one or more of these churches in Tulsa to celebrate the joyous occasion and remember Jesus's death, burial, and resurrection.