Looking for ways to get out of your house this winter season? We've got some places for you to check out where you can enjoy a great meal in the outdoors while staying warm. Tulsa takes pride in its restaurants offering more than just good food, but also great atmospheres. Here are 10 restaurants in Tulsa that have heated outdoor seating.
10 Restaurants With Heated Patios in Tulsa
Whether you're wanting breakfast, lunch, dinner, or even dessert, we've got a place for you. Try out one of these great restaurants during your next weekend adventure or Tulsa date night!
1. Society Burger
This fun burger joint is the perfect place to stop if you're looking to try something new made with fresh ingredients every time. With plenty of options to choose from, you can have a classic cheeseburger or venture to try something new such as the "Pim' & Jam" which has pimento cheese, bacon jam, lettuce, tomato, and a creamy house sauce. If burgers aren't your thing, they offer delicious salads and a few meals that highlight chicken as the star.
Looking for a sweet treat after dinner? Society Burger has that too! Known for their unique flavors, their hand-spun milkshakes are something you can't miss out on. From seasonal shakes to the signature favorites such as the bananas foster topped with caramel, bananas, brown sugar, and whipped cream, you can't go wrong with one of these. With the warmth of the fireplace, this outdoor patio stays extra toasty during the winter.
2. Roosevelt's Gastropub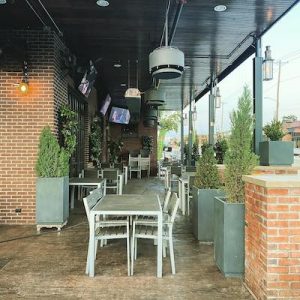 When it comes to Christmas decorations, Roosevelt's Gastropub takes the cake. With ceilings covered in garland and ornaments, you might have a hard time deciding whether you want to enjoy the cozy outdoor patio or sit inside to take in the holiday cheer. Located in the heart of Cherry Street, this family-owned gastropub takes pride in sourcing its ingredients from local farms throughout Oklahoma.
Stop by for lunch to get one of their signature burgers served on brioche buns or their grilled Atlantic salmon served with vegetables for dinner. Either way, their seasonal drinks are something you should try. Known for their craft beers and festive decorations, you won't want to miss this Tulsa treasure.
3. R Bar & Grill
No matter what the season, R Bar & Grill's patio is a great place to get together to enjoy some delicious food while catching up with friends or watching the game. They offer some great food such as a beef meatloaf sandwich topped with crispy onions, chicken and waffles with a jalapeño syrup, or a veggie burger with a red onion jam.
Depending on the day, you'll find different items on the menu to ensure that they use the freshest foods of the season. You can stop by for brunch and order from the ever-evolving menu to keep from boredom.  You'll feel right at home with their tasty comfort food and great atmosphere.
4. Café Ole
Known for their eclectic southwestern Tex Mex, Café Ole has a great covered outdoor patio where you can sit and enjoy a margarita with chips and queso surrounded by twinkly lights and the warmth from the fireplace. After opening in 1987, it has quickly become a favorite of many households, always providing a great ambiance and fresh quality ingredients in their dishes. This is a casual, contemporary spot that offers great options if you're in the mood for food with a southwestern flair.
5. East Village Bohemian Pizza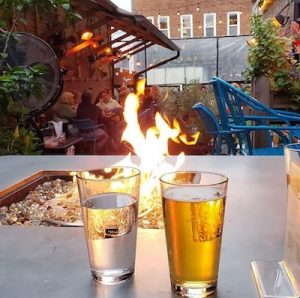 A brother-sister-owned pizza joint, East Village Bohemian Pizza has a passion for delicious food and hospitality. Not your average pizza place, this restaurant has transformed into a place where many Tulsans choose to gather with friends and family. These wood-fired pizzas are cooked at over 800 degrees, ensuring that the flavors of Italy are embodied in every slice.
They offer a range of flavors in each pizza with their fresh ingredients imported from Italy or locally sourced. The outdoor heated seating is occasionally accompanied by live music, adding even more attraction to this hipster pizza joint. If you're looking for a place with good food and an even better environment, this is the place for you.
6. Blue Rose Cafe
If you're looking for a more relaxed atmosphere, Blue Rose Cafe is a great spot to unwind. You can stop by and chow down after riding your bike or taking a walk along the Arkansas River. An extra plus is that well-behaved furry friends are welcome on the patio with you. Some customer favorites are the famous cheese fries and blackened chicken prepared fresh daily.
Whether you're looking for a relaxed dinner on the patio overlooking the sunset or needing a space for a private party, Blue Rose is a great place to stop by if you're itching to be outside.
7. Wild Fork
Serving upscale breakfast, lunch, and dinner, Wild Fork is a Utica Square favorite offering a wide spectrum of dining options. You can enjoy blueberry pancakes topped with lemon curd for breakfast, a fresh spinach salad for lunch, or crab pasta topped with toasted garlic bread crumbs for dinner. The options are endless at this classy dining establishment. You can choose to sit inside or outside on their heated patio, surrounded by the beautifully hung Christmas lights and decorations. After stopping by, you can walk around to see more of the flowers and decorations or go shopping at any of the surrounding stores.
8. Red Rock Canyon Grill
Red Rock Canyon Grill has something for everyone in the family. From flavorful salads to juicy ribs or creamy mashed potatoes to seasonal vegetables, you can't go wrong with anything on their menu. As the outdoor seating goes, you can sit next to a warm fireplace while looking out at the orange and yellow hues of the sky from the sun setting over the river. This is the place to go for a fancy date night or a family birthday dinner.
9. Queenie's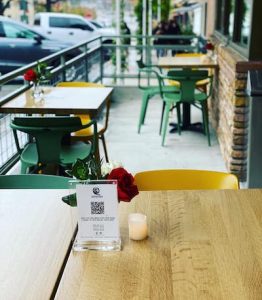 Queenie's is the place to go for all your breakfast needs! Whether you like sweet or savory, this little bakery has something new to offer every day of the week. From pumpkin pancakes topped with a cinnamon whipped cream to their Italian breakfast sandwich on sourdough bread, you can enjoy a variety of breakfast options on their quaint outdoor heated patio.
For those that are not considered morning people, you can stop by for lunch and enjoy a variety of delicious options. If you're not really hungry, but still want a sweet treat, you can order pies by the slice or try one of their delicious cookies or bars.
10. Andolini's Pizzeria
There is nothing quite like sitting down with friends and family while enjoying a slice of pizza. Andolini's Pizzeria takes pride in the quality of their food and service and it shows through their dishes. When you walk into the restaurant, you can see into the kitchen and watch the pizza dough being hand made.
If you have kids with you, you can even ask to have some extra so they can have something to entertain them with at the table. Both locations in Tulsa, on Riverwalk and Cherry Street, have patios where you can enjoy the aroma of fresh pizza being cooked in their wood-fired ovens.
Andolini's Pizzeria maintains its reputation as one of the best Italian restaurants in Tulsa and is a must-have for local Tulsans.
In Conclusion
There are plenty of places throughout Tulsa to enjoy your food with a view, but staying warm is a bonus during these winter months. These 10 restaurants are sure to make you feel at home while still being out, and you don't even have to cook!
Didn't see one of your favorite restaurants with a heated patio? We would love to hear about it and include it in our next list!
Looking to learn more about Tulsa? Check out our list of upcoming Tulsa events!