Top 10 Things To Do in Tulsa During Holiday Season
Tulsa is a great place to celebrate the holidays with your family. It can be tough to bring the whole family together, especially during the holidays. However, there are plenty of amazing things to do with your family this year that might help. No matter how old your kids are, or how young, Tulsa has you covered.
The holiday season is a magical time of tradition and family bonding. It's also a time to share good cheer with friends, reflect on our blessings and look forward to the future with hope. A little snow can add to the beauty and magic of this time of year when we celebrate the birth of Jesus Christ.   Since wonderful things are happening all over the city, of Tulsa, we put together this list of upcoming holiday events in and around Tulsa. Here's our list of 10 unique holiday activities that will help get you into a festive holiday mood.
1. Tulsa Zoo
The Tulsa Zoo has lots of family-friendly events planned for the holiday season. Guests are invited to join in on the fun, including making animal ornaments at Care-A-Lot, participating in the parade of lights, and enjoying live music performances while visiting Santa's Village.
The zoo also offers a sensory room where guests can experience different textures, sounds, and lights to help the children relax. The zoo says it is one of the best places in Tulsa for families with young kids, offering an "interactive environment that stimulates the imagination.
When: November 24-December 26
Where: Tulsa Zoo, located at 2701 S. Rockford Rd., Tulsa
2. Rhema Lights
Rhema Lights is one of Tulsa's biggest light displays. With many acres of land, they have over a million lights displayed. The whole family can enjoy the beautiful lights, delicious hot chocolate, and magical carriage rides. The lights come on at dark and stay on until midnight
When: November 24- January 1, 2021
Where: 1025 W. Kenosha St. Broken Arrow, Ok 74012
3. Elf on a Shelf
Elf on a Shelf is a musical production that will be taking place in December! The musical takes place in the North Pole. It is an original story that tells an unusual tale of elves working in Santa's workshop. The whole production is full of amazing imagery and original scoring. This production is full of music and fun the whole family will love!
When: December 12th, 2:00 pm- 7:00 pm
Where: The Tulsa Theater 105 Reconciliation Way, Tulsa OK
4. Winter Wonderland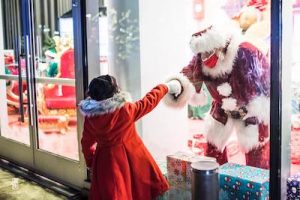 As a kid, Christmastime was the best. There were so many fun things to do in Tulsa during the holiday season! When you have children of your own, it's time to take them back down memory lane and let them discover all the great things there are to do for Christmas in Tulsa.
In December, if you are feeling festive, you can go to the Gathering Place. During this time, The Gathering Place puts on a Winter Wonderland for free! You will see enormous snowflakes hanging from the trees with sparkling lights lining them. There's also an ice rink where you can skate with your family and take pictures.
Where: Gathering Place 2650 S John Williams Way East, Tulsa, OK 74114
When: December 17th- January 2nd
5. Tulsa Christmas Parade
The Tulsa Christmas Parade is the perfect way to welcome the holiday season with exciting floats, bands, and drill teams. You'll see giant helium balloons escorted by balloon wranglers as they float through downtown streets while thousands gather for this highly anticipated event!
When: December 11th at 11:00 am
Where: Downtown Tulsa, OK
6. Christmas at the Ranch
Ever wondered what it would be like to shop at the North Pole? Well, Christmas at The Ranch is pretty close. For a few days, the 181 Ranch is a winter wonderland. It is full of gifts, decorations, and toys for all ages. They also have fun activities. Some of these activities include shopping, food trucks, Santa, petting zoo, Christmas Music, Inflatables, Aerial performances, face painting, and games. This event will be tons of fun for the whole family! So be sure to put this event on your 2021 holiday calendar!
When: December 3rd- December 5th, 10:00 am- 4:00 pm
Where: 3913 E 181st Street SouthBixby, OK 74008 at the 181 Ranch
7. Guthrie Green Festival of Lights
If you're looking for a little bit more out of an afternoon, check out the Festival of Lights in Tulsa. This event is held at Guthrie Green and it is completely free! The lights will absolutely dazzle you, making a picture-perfect memory to share with your kids. The lights are beautiful and the memories are worth it! Make sure to check it out.
Where: 111 E Reconciliation Way, Tulsa, OK 74103
When: December 2021
8. Tulsa Winterfest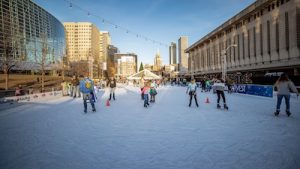 This year the Tulsa Winterfest is open 47 days! This Tulsa tradition is one of the best! Come bring your family out to ice skate and soak in the holiday magic. The skating rink is made to feel like a winter wonderland. You and your family will have wonderful memories together, skating and taking in the view. In addition, they have fun activities lined up on certain days!
When: November 19th- January 4th
Where: BOK Center Downtown Tulsa
9. Utica Square Park
The holiday season is upon us and it can be a great time to visit Tulsa. Utica Square is Tulsa's first shopping center, built on five acres of land donated by the Utica Park Company in 1947. The park has grown into the largest collection of retail shops in Oklahoma with over 100 specialty retailers including clothing boutiques, jewelry stores, art galleries, gourmet restaurants, and more.
During the holiday season, Utica Square Park becomes Tulsa's largest Christmas light installation with over 500,000 bright lights decorating 25 acres. "Utica Lights" is on from 5:30 p.m. to 10 p.m., every evening starting Thanksgiving night through New Year's Eve. The lights will be up for all to enjoy.
When: November 24th- January 1st
Where: Utica Square Park Midtown Tulsa, OK
Make Family Your Priority
The holiday season is here family! Yes, the holidays are a time where we celebrate with our families, and what better way to celebrate than by enjoying fun activities together?
Holidays should be a time of happiness and cheer, not a time for stress and anxiety. So if you're going into this holiday season with a heavy heart, take the time to make traditions with your family and enjoy yourselves. Put away your worries (for now) and enjoy spending time in good company. Be sure to put these activities on your calendar and prioritize family time this holiday season, that is what it is all about!
Are you looking for more fun in Tulsa? Find great Tulsa events here!