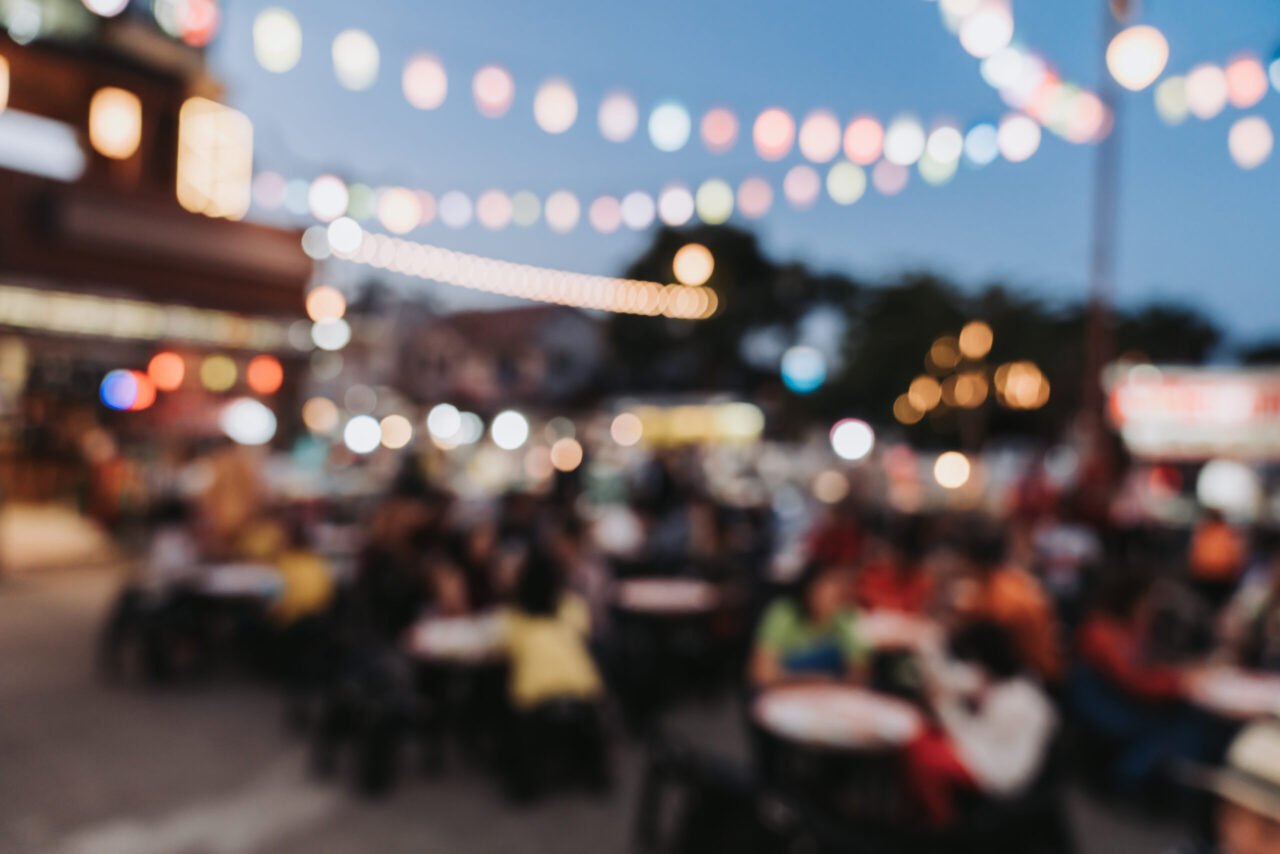 23 May

Tulsa Events Happening In June 2022

The sun is out and it is warm. It is time to be out and enjoy this beautiful weather. There are many activities to enjoy in Tulsa during June. As the winter has subsided and the flowers are coming to bloom the inner need to be outside is bursting forth. This time of year in Tulsa there are many outdoor concerts and festivals to enjoy also some old forgotten favorites. Continue reading and find out what is happening.
What Are Things To Do In June 2022?
After being stuck inside most people want to get out and walk around a bit. Most want to enjoy some outdoor entertainment or at least away from home. Here are a few things you can do in Tulsa this June.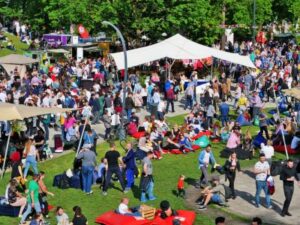 "Weird Al" Yankovic – …Ill-Advised Vanity Tour
June 01, 2022| 7:00pm
The return of "Weird Al" to the stage is coming up, and it will be even more ridiculous than before. The Unfortunate Return of the Ridiculously Self-Indulgent, Ill-Advised Vanity Tour will continue.
He is a five-time Grammy winner and comedy recording artist who has sold over 14 million albums.
"Weird Al" is the biggest-selling comedy recording artist in history.
He has earned five Grammy Awards, four gold records, six platinum records, and fifteen gold and platinum certifications.
Al has also won ten MTV Video Music Awards, a Peabody Award, and two Emmy Awards.
This tour will be even weirder and more self-indulgent than before, so don't miss out. For more information: https://https://www.weirdal.com/
2022 T.E.G. International Jazz Fest Presented by SpiritBank
June 3 ,2022| 6-9pm
Most people when they are going to visit Tulsa, OK, do not think of jazz music as a stop. You do not think that it is a place for top-tier jazz artists to visit. Jazz does have some definite beginnings here.
There are true jazz legends that are from the area like Chet Baker, Jimmy Rushin, and of course Frank Montooth.
There are surprising little bits of history found all over this ever-surprising city.
The Tulsa Entertainment Group (T.E.G.) is the organization behind Tulsa Jazz Fest, which takes place as part of International Jazz Day, a worldwide event recognized by the United Nations and UNESCO that began in 2011.
The T.E.G.'s International Jazz Fest is an official International Jazz Day gathering.
The Tulsa International Jazz Fest is put on by SpiritBank and takes place around the first Friday Art Crawl in the Tulsa Arts District, which sees an average of nearly 3,000 visitors each month.
This, combined with free admittance, will almost certainly guarantee large audiences to hear some truly fantastic jazz performances.
In 2016, Tulsa began participating in International Jazz Day, and the city has been celebrating ever since.
This year's lineup features world-renowned jazz artists such as Dee Lucas, Joyce Spencer, Clark Gibson with the NSU Jazz, and Cynthia Simmons
Dog Days of Summer in the Tulsa Meadow Gold District
June 4, 2022 | 10:00AM – 3:00PM
Bring your four-legged companions to the Meadow Gold District, Tulsa's first mixed-use community district on historic Route 66, for the city's inaugural Dog Days of Summer event on Saturday, June 4, 2022, from 10 a.m. to 3 p.m.
Enjoy food trucks, a dog costume contest, pop-up businesses, a canine water park, and much more.
For the monthly Meadow Gold Market Day event, shop and support local businesses in the area.
The event goes from 10 AM-2 PM, Dog Water Park will be open at Spirit Ranch Dog Training, where you can play with your dog.
The dog costume contest will take place at 1 PM under the famous Meadow Gold Sign.
This will be a great event not only for man's best friend but for your entire family.
I bet your dog will not be the only one having fun and getting wet.
Leashes are required at this event. Leash length is asked to be no longer than 4-6 ft nylon leash, with no retractable or Flexi leads. 
Disney Princess Tea At The Harweldon
June 5, 2022| 2:30 pm – 4:30 pm
Have you ever wanted to be a Disney Princess or Prince for an afternoon? You're invited to come to celebrate with us. Come out with your favorite royal regalia. All little princesses and princes are welcome!
Along with the colorful company of three Disney princesses, you'll enjoy classic English Tea with savory bites and sweet delights.
There will also be an amazing company of three Disney princesses accompanied by the acoustic piano.
Tickets are limited, so book yours now!
The cost of tickets will be $50- 55.00.
It is important to remember that the meals on this menu may include milk, eggs, wheat, soybeans, peanuts, tree nuts, and/or fish. There is a possibility we may be able to accommodate special dietary needs but can't guarantee.
For More Information: harwelden@gmail.com
Tulsa Zoo Nights: On The Rocks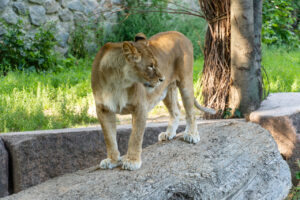 June 17, 2022| 6pm- 10pm
Bring your favorite adult and enjoy a summer evening at the Tulsa Zoo! All of the guests must be 21 and older. They are invited to journey through the zoo after business hours. The Zoorassic exhibit is included. This exciting time begins on Friday, June 17th from 6-10 p.m.
You can purchase tickets in advance for $25. You can still buy tickets that evening for $30 upon arrival.
There will be drink add-ons for an additional $25, enjoy 4 special kinds drinks as you explore the zoo.
The party will start at 6 p.m. and continue until 10 p.m. when the event registration will begin.
The latest you can arrive up is 9 p.m.
There will be plenty of train unlimited train rides to go around.
Zoorassic World will be open to all visitors at the event.)
For more information: https://tulsazoo.org/zoo-events/tz21/
You will also be able to converse with the zookeeper conversations and live animal demonstrations. The will be games in the yard. You can also take advantage of the cash bar and there will be food available for purchase at the zoo concessions.
Tulsa, OK Route 66 Road Fest
June 25-26, 2022| Saturday 9am-10pm & Sunday 9am-7pm
The Mother Road, Route 66, will be marking its 100th anniversary in 2026, and to commemorate the occasion, AAA is staging the first-ever… AAA Route 66 Road Festival.
This incredible event will take place at Sage Net Center at Expo Square
Oklahoma is the ideal location to celebrate this milestone event because the highway runs for 400 miles throughout its borders.
It will pass through the state capital and Tulsa.
Come On Out and experience Route 66 like never before. Marvel at more than 200 classic cars on display.
Tour an eclectic collection of vintage RVs.
Enjoy live performances from local and regional bands.
For more information: https://route66roadfest.com/
Take a stroll down Route 66 and learn about the history of each decade through interactive displays. Make it a complete trip—plan your ideal road trip and see all of the wonderful places, attractions, and activities on The Mother Road. It has so much to offer.
Summer's Fifth Night
JUNE 2, 2022| 7 PM – 9 PM
One of Tulsa's true summer treasures is returning Summer's Fifth Night. Come on out and enjoy a summer's worth of concerts for free. There is anticipation in the air for everyone to come out on the grass to relax with family and friends. This incredible, unique lineup of local musical acts are prepared to entertain you with everything from jazz, to rock, to country. During the concert, there are great restaurants and bistro's to enjoy along with ice cream and candies.
It is imperative that you attend one of these free evening skyed concerts every Thursday from June 2nd through August 4th. It will be a summer to remember for the rest of your life.
During the month of June you will be able to enjoy:
June 2- Zodiac — Dance Rock
Next week June 9- Steve Ham's Jambalaya Jass Band —New Orleans Swing
June 16 Mid Life Crisis Band — Classic Rock
June 23 Denise Hoey & The Boulevard — Pop Rock
For More Information: https://www.uticasquare.com/events/summers-fifth-night
Art Start At The Gathering Place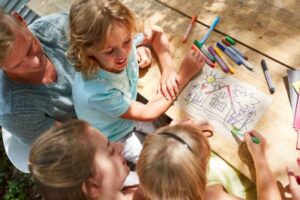 June 18, 2022| 10 AM – 12 PM
During a visit to Gathering Place, you may expand your creativity and create a one-of-a-kind masterpiece! Art Start promotes the value of imagination and allows visitors to meet and interact with a local visual artist.
This is a great opportunity to learn more about the process and materials artists use to create their work.
The location for this event is the Gather Round Stage.
Each month, a new art educator leads a fun, hands-on activity for kids and families to participate in. Art Start is free and open to the public on the third Saturday of June, July, and August at 10 a.m.
For More Information: https://www.gatheringplace.org/events/event/2147578/date/2022-06-18
Conclusion
There are memories to be had for everyone in June 2022. From Tulsa Zoo Nights: On The Rocks to AAA Route 66 Road Fest to Summer's Fifth Night, there is something for everyone. Plan your trip today and come experience all that Tulsa has to offer. As you can see, there are plenty of Tulsa events happening in June 2022! Whether you're looking for a night out at the zoo or a road trip down Route 66, there's something for everyone. So mark your calendars and get ready for a summer of fun!