Enjoy Delicious Delicacies at Nouveau Chocolates
Melvin and Hailey Piper, owners of Nouveau Chocolates, are proud to provide our Broken Arrow community with the most scrumptious desserts in town! With a wide selection of both modern and traditional Belgian chocolates, coffee drinks, ice cream, and more you are sure to find something that suits your fancy. Next time you are in the Rose District, stop in and grab something sweet. You'll be glad you did!
What Sets Nouveau Chocolates Apart?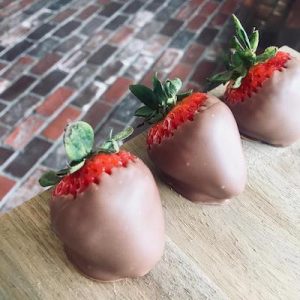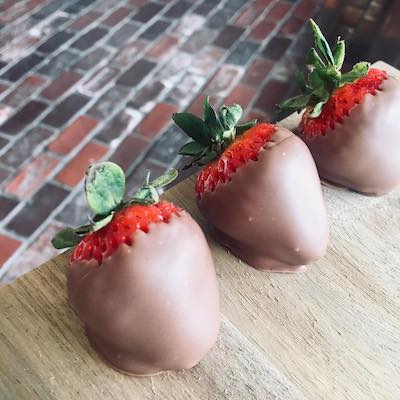 Many things set Nouveau Chocolates apart from other dessert shops in Tulsa. Nouveau Chocolates uses the freshest ingredients imported from Belgium to create a wide variety of delicacies. Not only do they serve mouth-watering handmade truffles and Belgian chocolates but they also offer ice cream, coffee, and other delicious desserts.
However, Nouveau Chocolates is not just another candy shop. They strive to provide an experience surrounding the chocolates that their customers have come to love. Just can't get enough chocolate? Nouveau Chocolates offers a monthly chocolate membership! This is a great gift for the chocolate lover in your life. (Although we won't judge you if you purchase a membership for yourself.)
As a member of the monthly membership club, you will have access to exclusive benefits in addition to your monthly selection of truffles, popcorn, cake pops, and the like! You can find more details about the Nouveau Chocolates' Membership program here.
Are you looking to celebrate a special event? Nouveau Chocolates offers private fondue service for one or two. For celebrations of a larger scale, Nouveau Chocolates offers fondue packages for special events as well as wedding and special event catering. Celebrate your big day at one of the many beautiful Tulsa event venues with a delicious spread from Nouveau Chocolates!
Nouveau Chocolates continues to create fun treats that are sure to excite both their youngest and oldest customers. Be sure to check out their latest selection of holiday desserts for your upcoming party! Whether you have a reason to celebrate or you just need to satisfy your sweet tooth, Nouveau Chocolates is the place to be. 
Nouveau Chocolates' Services
Nouveau Chocolates offers many delicious treats and services  including the following:
Traditional Belgian Chocolates

Ice Cream

Handmade Truffles

Belgian Desserts

Chocolate Memberships

Coffee Shop

Candy Store

Private Fondue Service

Special Event Fondue Service

Custom Chocolate Creations

Wedding Dessert Catering

Special Event Dessert Catering

Novelty Desserts & Gifts
Contact Information for Nouveau Chocolates
To learn even more about Nouveau Chocolates or try one of their delicious treats for yourself, use the details listed below.
Nouveau Chocolates
205 S. Main St
Broken Arrow, OK 74012
(918) 258-2877
melvin.nouveauchocolates@gmail.com
Nouveau Chocolates is certainly an incredible asset to our community! End your next Tulsa date night with a delicious dessert or stop by with the family next time you find yourself in the Rose District. Nouveau Chocolates is open 10AM – 8PM on Monday, 10AM – 9PM Tuesday through Saturday, and 12PM – 7PM on Sunday. You can keep up with their latest menu items as well as updated hours on their Facebook page.
Thank you for reading! You can learn more about other great Tulsa businesses here.