What are some fun things to do in Tulsa this fall you might ask? Why not stop in and give these local Tulsa coffee shops a review of your own!
Tulsa has a thriving coffee culture. And for that reason, it seems as if there's a coffee shop on just about every corner! Wide-eyed, sleep-deprived, business people, students, wobbly tables, and warm smells fill these Tulsa shops. And ah, we sure love it! 
In honor of pumpkin spice latte season being upon us, we thought it would be nice to highlight some of Tulsa's top coffee shops. Along with their various seasonal flavors, each one of these local spots does offer, drumroll, please… pumpkin spice drinks! We get it, not everyone is a pumpkin spice kinda person though- so don't be afraid to try another shop specialty. 
Each one of these coffee shops in Tulsa is very inviting, unique, and has something fun to offer! They also have free WiFi, grab your laptop and head on over to get some work done along with a craft cup of joe! 
Tulsa Coffee Shops With Pumpkin Spice Lattes
Tulsa's coffee selection has grown rapidly over the past few years; however, there are a few tried and true coffee shops in the mix. Some of these shops are new and some have been perfecting their craft around Tulsa for decades. 
Without further ado, let's get this article brewing. 
Coffee House on Cherry Street
"Oh. My. Goodness. This place is so lovely and adorable!" 
Our coffee-loving hearts may wander, but they always seem to come back to their first love- The Coffee House on Cherry Street. There's nothing quite like sitting next to their outside fireplace right on Cherry Street sipping your pumpkin spice latte. To top it off, the Coffee House on Cherry Street uses eggs, dairy, and bread sourced from Oklahoma. Supporting a local coffee shop never seemed so easy! 1502 E 15th St, Tulsa, OK 74120. 
Laurannae Baking Company
"One of my favorites! EVERY coffee I've had from Laurannae's has been delicious."
You may be wondering how Laurannae Baking Co. has been around for just about 2 years and they already have over 200 5 star Google reviews. Well, try their pumpkin spice latte, pumpkin spice scone, and other fall treats and you won't be wondering anymore. This local Broken Arrow coffee shop has stolen the hearts of so many Tulsan's! Their adorable modern farmhouse aesthetic and small shop for local artists makes this bakery on Main a tough one to beat. 112 West Commercial Street, Broken Arrow, OK 74012. 
DoubleShot Coffee Company
"The coffee here is spectacular! I always get the pour-over and I'm never disappointed." 
This local craft roaster has been a fan favorite since 2004. The owner, Brian Franklin, has traveled all across the globe to master the art of a good cup of coffee. And I'm sure most Tulsans believe he's nailed it. Brian claims everything from the people who grow, pick and process the beans to him brewing them right here in Tulsa plays a huge part what sets his shop apart from the rest.
DoubleShot Coffee Company prides itself in its 1953 Vittoria and 30-kilo W. Roure roasters- something no other coffee shop in the area has! Give DoubleShot Coffee Company and their pumpkin lattes a shot this season. 1633 S Boulder Ave, Tulsa, OK 74119 
Chimera Cafe
"This place will change your life! Thank me later."
Not one of the new kids on the block! Chimera Cafe is well known for its strong embrace of a healthy and vegetarian way of cooking. But did you know they have some of the highest-rated coffee in the area? This downtown bistro serves up some of the freshest salads and tacos as well as a large variety of coffee classics- such as cold brew, lattes, chai's, and americanos. See their full menu here. Chimera takes pride in every drink poured and sources its coffee from a few award-winning roasters across the United States. There's no better time to give Chimera Cafe a try than pumpkin latte season! 212 N Main St, Tulsa, OK 74103.
Rocket Brothers

"Great flavors and even better flavors. I go here every single morning, they know my order!" 
This small family-owned and operated drive-thru has a line wrapped around the building every morning for a reason. They're simply the most delicious and convenient way to get your caffeine fix in the morning! Hot and iced coffee, baked goods, and oatmeal- Rocket Brothers has it all.
This season they have pumpkin pie lattes and Rocketccino's as well as caramel apple cider, now try to tell us that won't put you right in the mood for fall. 1021 N 9th St, Broken Arrow, OK 74012 and 9705 E 61st St, Tulsa, OK 74133
Shades of Brown Coffee and Art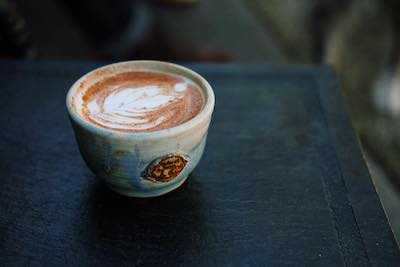 "Awesome coffee spot on Brookside with great drinks and delicious treats! If you haven't been, you need to go."
This is one of those tried and true coffee shops we talked about earlier. Ask any local Tulsan if they've been to Shades of Brown, 9 out of 10 times, they've been! From espresso's to non-coffee drinks, Shades of Brown has an extremely inviting atmosphere and is perfect for enjoying a cup of coffee or even some local art. Stop by to see what they've got on the menu for this season! 3302 S Peoria Ave, Tulsa, OK 74105. 
Foolish Things Coffee
"We loved it! The employee took the time to explain the different coffees to my husband AND they make their own syrups! I seriously LOVE this place." 
Foolish Things Coffee believes in coffee for a common union. You'll feel this as soon as you walk through the doors of this downtown coffee shop. This place gets our vote for the best scenery too!
Foolish Things uses three different brew methods:
Pour-over
Chemex
Espresso
These three things plus their craft secrets are what set this shop apart from most. Foolish things also offer customers the opportunity to rent out their coffee for your next event. This place is worth the visit! Foolish Things has been a hot spot for coffee lovers for many years! 1001 S Main St, Tulsa, OK 74119
As an added bonus, every single one of these shops offers dairy alternatives:
Oat milk
Almond milk
Coconut milk
Just a few of the many different substitutions you can find at these local shops. 
In Conclusion
To say we're proud of how far Tulsa has come in the coffee industry is an understatement. Coffee chains stomp down small businesses every year across the country; however, Tulsa still has countless unique and locally-owned coffee shops. 
Tulsa's 'best' coffee comes from a variety of different places since coffee is such a subjective thing. Everyone has their own tastes and favorites! Many things can make a coffee shop stand out, and we believe these local shops are some of the best. From espressos, lattes, holiday flavors, and ambiance- Tulsa has made leaps and bounds in the coffee industry. 
Find yourself a little shop that's inviting, warm, and delicious! Grab a latte on your way to visit the local boutiques in Tulsa. Or sip on a tasty beverage while you work on that project that seems to never end. Whatever your day is looking like, a Pumpkin Spice Latte is sure to get you in the spirit for fall! 
Did we miss your favorite local Tulsa coffee shop? We'd love to hear your thoughts on the best Pumpkin Spice Latte in Tulsa!