Hidden Gems in Tulsa You Didn't Know Existed 
Tulsa can seem small when you frequent the same places and see the same people every week. Whether Utica or Brookside is your jam, Tulsa is a big city that often feels like a tiny one. But Tulsa is also full of surprising and exciting places. Hidden in corners you've forgotten about and overshadowed by more prominent companies, there are some fantastic restaurants, coffee shops, and entertainment for times when you want to spice up your day. From date nights to day drinking, we've got you covered with a list of hidden gems in Tulsa. 
Duet 
"Where great food meets great jazz." Duet is a restaurant and jazz club that will sweep you up into an elegant world of jazz and food. Located in the historic Archer building downtown, their food is modern American with a hint of fancy (they even have a heavenly brunch menu). This is the perfect place to wine and dine clients or your potential love interest, or even have a fun night with friends. Duet is closed on Monday and Tuesdays but open at varying hours the rest of the week for dinner and live music on the patio. They don't require reservations, but it's recommended. 
3 Tequila 
Let's say you want to go a more casual route than a jazz restaurant. More like tacos? 3 Tequila is an absolute hidden gem, and their dedicated fanbase would probably like to keep it that way (but it's too good not to share). Whether you order one of their yummy entrees or larger-than-usual drinks, 3 Tequila offers excellent service and food at reasonably affordable prices. Their patio is a fun outdoor seating option to enjoy nice weather. You can then stroll down Brookside and enjoy quaint shops like Ida Red or a coffeeshop like the nearby Shades of Brown. 
Jenks Bridge 
If you're an avid runner, skater, biker, or even walker, Tulsa has some fantastic trails. The Jenks Bridge offers an exceptional view, especially sunrise or sunset, and a usually less crowded pathway. The Jenks bridge will take you straight to the Riverside trail if you want to go a longer distance. There is also an assortment of restaurants nearby, from Mexican to award-winning pizza. The perfect place to end with some well-deserved, celebratory carbs.  
Le Louvre Cafe
You may not have realized how fierce the competition is for the best croissants in Tulsa. It is, indeed, fierce, and we have to say Le Louvre has a pretty magical croissant (especially the Pain Chocolat). This is a great place to grab a crêpe or salad for lunch, but don't forget the very best part: Le Louvre's coffee. Their café viennois is a double shot of espresso topped with their chantilly cream. The perfectly bitter espresso paired with the cream will take you right back to the old streets of Paris.
And if that doesn't do it, glance to the back of the shop, where a wall-sized rendition of (the original) Le Louvre's pyramid proudly reminds customers that the bakery doesn't just feel French. Oh no, this place is no American hipster rendition of a French café. Its owners are straight from Paris (France, not Texas). 
ClimbTulsa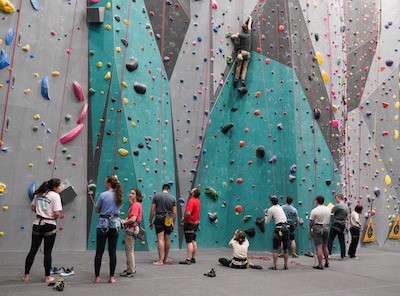 If you are a climbing enthusiast here in Tulsa that loves tackling exciting new climbs, then you'll love ClimbTulsa. ClimbTulsa is the premier indoor climbing gym that includes a bouldering area and a yoga class. It's the best of everything rolled into one unique and strengthening gym that uses your body weight to give you the workout of a lifetime. Even if you're not a climbing pro, ClimbTulsa has a handy intro for all beginners that will get you tackling the wall in no time. 
Collaborative Coffee 
If Tulsa could only boast of one thing, it would be coffee. Downtown, Brookside, wherever you go, there's probably a good cup of joe waiting nearby. One of the newest and hottest spots recently is Collaborative Coffee, where you can pop by for a specialty drink, like their s' mores latte, and enjoy a lovely patio accented by string lights and a fun fireplace. The inside of the coffee shop has a must-see mural of some of Tulsa's most notable landmarks. Other art and murals accentuate this fun coffee shop's walls and create the perfect creative atmosphere to get some work done or hang out with your people.  
Sherwin Miller Museum of Jewish Art  
Tulsa has many excellent museums of art and history for residents or those passing through to enjoy. However, the Sherwin Miller Museum of Art is truly a hidden gem. Tucked away in a beautifully designed building on the Zarrow Campus, the museum consists of a stunning display of art and artifacts that illustrate a 5,000-year-old history of the Jewish people, all the way to a settling of the Jewish community right here in Tulsa.
The museum also houses a haunting and must-see holocaust exhibition, made up of donated objects from Oklahoma veterans who took part in liberating German concentration camps. This is a great place to go when you're seeking a bit of history or taking the kids on a family field trip. 
Magic City Books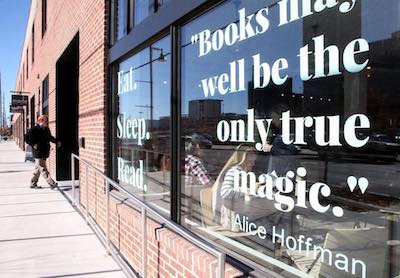 Okay, so maybe this isn't exactly "hidden," but we love this local Tulsa bookstore. Located in the historical Archer Building downtown, Magic City Books is owned by the Tulsa Literary Coalition. Stuffed full of books, this shop also features several local writers. 
Literary events are often held at Magic City (although most have moved online now due to COVID). They have a quaint bar that serves coffee, tea, and wine, as well as a small reading area for those moments when you need to ponder just what to buy (or reluctantly put back on the shelf). We're a big fan of this little local Tulsa bookstore. 
Mondos Ristorante 
Tucked between shops on Brookside is an Italian gem that's rarely given as much press as it deserves. Mondos, a family-owned Italian restaurant that makes quality Italian food their priority. Seriously, the food is fantastic. Mondos has been around for ages and has won the "best Italian restaurant" in Tulsa if that gives you an idea of just how good their food is. Mondos doesn't stop at good food but also has a lovely atmosphere you'll want to be in for hours. Cozy and quaint, the walls are lined with pictures of the past. It's a perfect place for an anniversary, date night, or even a classy girls' night. 
Reconcilliaition Park
Last but not least, Reconciliation Park is a hidden gem tucked away downtown near the Drillers Stadium. This park is a memorial of the Tulsa Race Riots in the 1920s, and it showcases both brutal history and great hope for Tulsa's future. It's a quiet and reflective place to honor the African Americans that played a massive role in building our city. The park also has tours available covering historical events surrounding the Race Riots, Black Wall Street, and more. This is a great way to become more informed on Tulsa's history. 
Planning a Weekend of Hidden Tulsa Gems 
If you're a local or from out of town, Tulsa has plenty of fun activities, restaurants, and sights to keep you busy. From parks to fancy rooftop bars, Tulsa boasts of a unique mix of tucked away locally-owned places. If you're planning a fun weekend here in Tulsa, there are a few things to keep in mind: 
Keep your coffee local. We already mentioned it, but Tulsan's are proud of their coffee shops. Don't miss out on some of the best brews you've ever had.  

When in doubt, pick a place. There are plenty of fun strips in Tulsa that you can go to with no plan. From Brookside to Utica to Downtown, hidden Tulsa gems are everywhere. 

Check the weather. One day it can be lovely out, and the next, it's a downpour. Be sure to check the weather before you plan your weekend out at the parks and gardens. 
Looking for more to do in Tulsa? Be sure to check out these upcoming Tulsa events!