Top House Cleaning Services in Tulsa
When you're life is full, finding time to clean can be a pain. Wiping the spilled sauce from the fridge is the last of your priorities, and doing the dishes is not a relaxing end-of-day activity. Or maybe your home needs an extra thorough cleaning before your in-law's visit. There are plenty of home cleaning options to keep your spaces squeaky clean. Below are the 9 best house cleaners in Tulsa!
1. Bright Impact Cleaning
Bright Impact Cleaning is a great option for fast, reliable, and excellent home cleaning and sanitation. They provide customers with the highest quality service and their trained residential cleaning experts will ensure your home is as clean as it can be. Bright Impact's carefully chosen house cleaning staff have been individually screened so that each customer can enjoy residential services knowing that great care will be taken to protect your belongings from loss or damage. Bright Impact offers the following popular services for Tulsa customers:
Residential cleaning
Hoarding Clean-up
Move-In Clean-up
New Construction Cleaning
Satisfaction Guarantee
When you choose Bright Impact Cleaning, you are choosing trusted professionals who provide fantastic service at an exceptional price.
2) Domesticaide
Domesticaide is an amazing Tulsa cleaning service that prides themselves on offering a wide range of services that are flexible and catered to their customers needs. Their number one value at Domesticaide is trust. They pride themselves in hiring trustworthy employees that you feel comfortable allowing into your home. Domesticaide has a variety of services and packages to fit their clients needs.
Residential Cleaning
Real Estate Cleaning
Commercial Cleaning
A La Carte Cleaning Services
So whether you are looking to have your business cleaned, your home reorganized, or just need one area of the house clean, Domesticaide has got you covered. They are the trusted cleaning service in Tulsa. In addition, they have founded a non profit called Cleaning For A Reason that cleans the homes, for free, of cancer of women who are fighting cancer. Domesticaide doesn't just want to make a profit, they believe a clean space is a helpful tool for mental health. If you are needing your house cleaned by a honest and honorable company, contact Domesticaide today!
3. Merry Maids 
Merry Maids is a trusted house cleaning company that offers flexible times and thorough services. They've been in business for over 40 years and have built up a reputation for excellence in personalized cleaning options. 
Merry Maids is highly customizable; they can be available weekly, every other week, monthly, or for a one-time cleaning. You can also customize your cleanings, but the Merry Maids team will always dust, vacuum, and sanitize your space, no matter what. 
Merry Maids is an excellent option if you're looking for a well-respected company with highly customizable cleaning options. Merry Maids even offers enhanced disinfection for your house cleaning for the below places: 
Doorknobs

Light switches

Hand railings

Countertops

Appliance handles/ knobs

Sinks/faucets

Toilet seats/handles

Tabletops
 Your cleaning service has a worry-free guarantee, so you can book knowing that you'll always get your money's worth. 
4. Maids of Tulsa 
If you're looking for a more natural option for good home cleaning, Maids of Tulsa could be a great fit! Maids of Tulsa offers customized, essential oil cleaning! Their naturally clean guarantee keeps you and your family protected from harmful chemicals and irritants present in commercial cleaners that cleaning companies often use.
Maids of Tulsa offers the following cleaning services to customers: 
Basic Cleaning:

 Maids of Tulsa provides a thorough cleaning with natural products that will ensure your space is sparkly clean. 

Deep Cleaning:

 The deep clean service option is a comprehensive top-to-bottom clean of your home.

Move-in/Move-Out Service: 

Moving can be a huge hassle, but Maids of Tulsa can ensure your home is ready for a new tenant.

Organization:

 Whether you need help staying organized every week, every month, or just one time, Maids of Tulsa can help! 

Toy Pick-Up: Maids of Tulsa even offers organization for your toys and clothes. No matter what you need help with, Maids of Tula can help you clean, naturally! 
5. Clean Freaks 
Clean Freaks has over 15 years of experience cleaning Tulsa's homes and businesses. A local favorite, Clean Freaks is a premier Tulsa cleaning company that uses natural products and offers customized services. Clean Freaks offers a 24-Hour Guarantee to ensure their customers are always happy with their cleaning services.
Clean Freaks offers essential cleaning services for homes and businesses but also takes customized cleaning requests. They offer laundry, dishes, oven and fridge cleaning, and much more to help your home stay clean and organized. Clean Freaks service is pet friendly, so you can rest assured your furry friends are being treated well when your home get's a thorough cleaning. 
6. Maid to Please of Tulsa 
Maid to Please of Tulsa is a local Tulsa home cleaning service that offers customizable packages, excellent customer service, a 100% guarantee, and 50% of your very first cleaning. The team at Maid to Please gets excellent customer reviews online. They certainly live up to their promise of providing incredible professional cleaning services.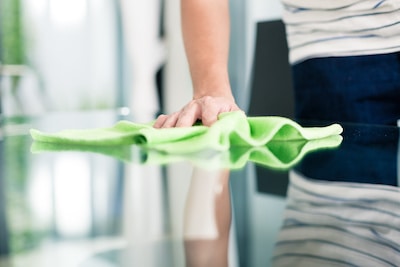 Maids to Please's services are entirely customizable to offer you the best value. However, they also offer a handy membership option for customers looking for more consistent cleaning. A few of the services they offer are following: 
Laundry (folding and washing)

Bathrooms

Living rooms

Kitchens

Bedrooms

Laundry (folding and washing)

Bathrooms

Living rooms

Kitchens

Bedrooms
7. Nook and Cranny Homekeeping
Nook and Cranny Homekeeping is locally owned and operated and has been professionally cleaning Tulsa's homes and businesses since 2016. This Tulsa cleaning company won numerous awards as one of Tulsa's top cleaners and, similar to our other picks, have plenty of positive reviews online from satisfied customers.
Nook and Cranny even offer their very first home cleaning for free! This is an excellent option if you're looking for a reputable cleaning company in the area but aren't sure which one to choose. With their low-commitment first cleaning, you can test if Nook and Cranny is the cleaning company that best suits your home and preferences!
Nook and Cranny offers a wide variety of professional cleaning services: 
Residential Homekeeping 

Organizing Services 

Commercial Cleaning

Realtor Services 

Post-Construction Cleanup
8. Bliss Maid Services 
Bliss Maid Services aim to make the busy life more comfortable by offering reoccurring cleaning, one-time cleaning, vacancy cleaning, deep cleaning, and much more for your home or business! The personalized services provided by Bliss Maid Services are designed to fit your exact needs.
Every cleaning job is paired with a cleaner that suits the specific cleaning needs. Bliss's team members have been background checked, bonded, trained, and certified, offering peace of mind to customers looking for a trustworthy cleaning company for various cleaning projects. They offer many customizable cleaning services to meet the exact requirements of your home: 
Recurring Cleanings 

One-time Cleanings 

Deep Cleaning 

A La Carte Cleaning 

Event Cleaning 

Holiday Cleaning 
They now offer a $20/per hour disinfectant service, an excellent option for homes or businesses today. Bliss Maid Services offers a free online quote for your cleaning job, or you can contact them directly to create your personalized cleaning package. 
9. CottageCare Tulsa 
CottageCare is a national cleaning company that has a trusted professional cleaning branch in Tulsa. The CottageCare team offers residential cleanings starting at only $99. Additionally, CottageCare won't lock you into a messy cleaning contract. They believe in providing great value with every cleaning.
Although they don't make customers sign a contract, many clients have been with CottageCare for over five years. CottageCare doesn't charge to reschedule either, making this an excellent option for Tulsan's whose schedule tends to change quickly and often.
CottageCare uses eco-friendly products that are all non-toxic and non-abrasive for your home, pets, and others living and working in your spaces. In addition to these pros, the company also has a charity supporting widows and orphans in Rwanda.
CottageCare Tusla is an excellent option if you're looking for a reputable company that uses non-toxic products and supports non-profit work in developing countries. 
10. Maid Pro Tulsa 
Offering personalized and precise cleaning services, Maid Pro Tulsa serves those located in Bixby, Broken Arrow, Catoosa, Coweta, Glenpool, Jenks, Owasso, Sand Springs, Sapulpa, and Tulsa. Maid Pro Tulsa has been serving the Tulsa area since 2005. During this time, they have built up a reputation for excellence. This is in part due to how the local cleaning service has improved its efficiency, reduced errors, and provided better customer service by using useful and efficient janitorial business software.
Maid Pro's signature cleaning services are kitchens, bedrooms, bathrooms, and living areas, but you can give Maid Pro a call to personalize your cleaning service today. Maid Pro uses a 49-point checklist that ensures that every cleaning service is thorough and gets even the smallest appliance sparkly fresh.
In Closing
Whether you are looking for a weekly cleaning service or simply hoping to spruce up your home before your family comes to town, these Tulsa cleaning teams are ready to serve you! There are many reasons to treat yourself to a professional house cleaning appointment. With the time you will save, consider checking out a local breakfast restaurant, going for a walk, or catching up on your favorite show!
Thank you for reading Discover Tulsa! Learn more about upcoming Tulsa events here.