Tulsa's Favorite Breakfast & Brunch Restaurants
Brunch has become a mainstream thing for families and friends alike. From special gatherings to a casual dining experience, brunch is for everyone! If you're new to the Tulsa area or just want suggestions on where to have your breakfast or brunch, look no further! We'll tell you Tulsan's favorite places to get a bite around Tulsa.
Dilly Diner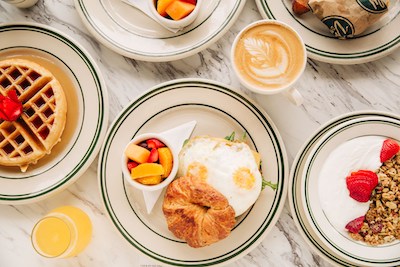 Dilly Diner is Tulsa's favorite diner located in the Blue Dome District! They're your go-to for breakfast all day and late-night dining. They serve up breakfast all day, including housemade bread, pastries, pies and cakes, homemade soft serve, house-cured meats, local produce, and so much more! Their full menu is served all day for your convenience. Located at 402 E 2nd St. Tulsa, OK 74120, you can also order from them online through Doordash! They serve brunch on Saturdays and Sundays with a fully stocked bar.
Dilly Diner has currently opened its dining room, patio, curbside, and delivery service. The freshness of their food is one of the main factors that sets Dilly Diner apart from other diners. They're ready to serve you safely. Learn more about Dilly Diner from their Facebook and Instagram. 
Bramble Breakfast and Bar
Bramble Breakfast and Bar is community-driven, locally sourced, and offers forward-thinking cuisine and cocktails. They serve Tulsa's most delicious brunch while giving their guests a fun and unique experience! Taking great pride in their fresh ingredients, they bake all their delicious bread in house and provide high-quality service to match!
They recently started a GoFundMe campaign that you can donate to for those in the hospitality community. They'd love for their patrons and guests to Feed Those Who Feed You. This provides great insight into the generous, caring community that they have created in their diner.
It is important to note that they don't take reservations and are a first come first serve seating style. Their locations downtown, off Riverwalk Terrace, and in Broken Arrow fill up quickly, so go early to enjoy their delicious foods for breakfast and brunch!
First Watch the Daytime Cafe
First Watch offers freshly prepared, award-winning breakfast, brunch, and lunch options and specializes in traditional and innovative creations. Located off South Lewis Avenue, they serve everything made to order with a freshness that's never compromised. Using only the finest ingredients, they ensure that you are served with the highest quality service and products.
Their menu includes a wide variety of seasonal items, cocktails, classic favorites, healthier options, egg options, omelets, and frittatas. They also have several griddle options, power bowls, salads, sandwiches, juices from the juice bar, as well as kid items, sides, and beverages. 
Learn why they're a top pick for Tulsans to eat breakfast and brunch by visiting them for your next meal! You can read more and connect with First Watch by visiting their Facebook and Instagram. 
Savoy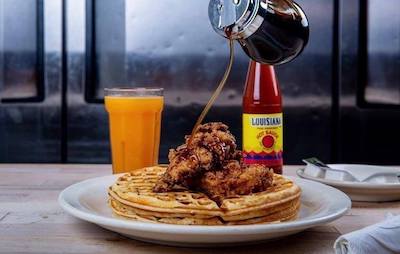 Savoy has been proudly serving the Tusa community since 1918! They strive to provide their diners with the highest-quality dining experience coupled with special culinary traditions. From its foundation by a Greek immigrant in 1918 to the passage of ownership in 1941 and re-opening in 1954, Savoy has a rich heritage that can be tasted. Located at 6033 South Sheridan, this family-owned and operated restaurant will gladly serve you an excellent breakfast or brunch!
Savoy makes homemade foods and packages your favorite menu items for you to enjoy! Savoy is well-known for its famous Savoy Cinnamon Rolls, Caramel Pecan Rolls, Pancakes, Blueberry Pancakes, Biscuits, and Sausage Casserole among its loyal customers. You can order curbside pickup as well. You can learn more about Savoy and connect with them on Facebook. 
The Deuce
The Deuce, also known as BBDII, is Tulsa's one-stop-shop for deluxe breakfast and brunch! Their specialty items include their Philips360 or their Bootcamp Tulsa meal! They also offer homemade granola, cookies, pastries, and bread. Located at 8218 South Harvard Avenue, you can order online or cater with them. Whether you carry out or deliver, they've got all of your breakfast and brunch needs covered!
Enjoy their all-day breakfast, including their house specials. Their menu also indicates healthy choices and gluten-free options. Connect with BBDII on Facebook and Twitter!
Neighborhood JA.M.
Neighborhood JA.M., located at 4830 East 61st Street South, is a great casual spot for your brunch or breakfast. They offer a gluten-free menu for those with dietary restrictions, joining the ranks of Tulsa's top gluten-free restaurants. They strive to make breakfast right and believe in putting all of their eggs in one basket. This breakfast and brunch restaurant is open for take-out so you can enjoy a meal from your Neighborhood JA.M. from your home! 
They also offer Breakfast with Benefits on the first Friday of every month. Enjoy breakfast for a good cause with 15% off all proceeds to benefit a local school or non-profit organization. It is important to note that they don't take reservations, but you can be put on a waitlist through Yelp. Go early and experience the excellent food Neighborhood JA.M. has to offer! Visit their Facebook and Instagram for more information and to connect with your Tulsa Neighborhood JA.M.!
The Vault
The Vault proudly serves the Tulsa community from the corner of 7th and Cincinnati Avenue. They serve classic American food and craft cocktails made to order using house-squeezed juices, syrups, and fine quality spirits. The Vault focuses on quality made-from-scratch food.  They serve Tulsa with breakfast Tuesdays through Friday and brunch on the weekend. Their menu includes vegetarian, vegan, and gluten-free options. 
The Vault has been offering classic American far and craft cocktails in a mid-century modern setting since 2012. The Vault's original building intentions was a First National Auto Bank with six drive-through lanes. Today, it serves as a gathering place for Tulsans as well as a night time hang out. Visit The Vault's Facebook and Instagram for more information about them. 
Modern American Diner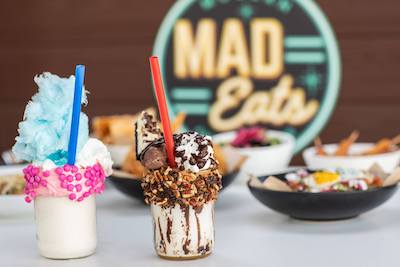 Modern American Diner, or MAD Eats, is focused on bringing a family-friendly atmosphere with creative, Chef-driven, diner-style food to Tulsa and the surrounding areas! MAD Eats offers an all-day brunch seven days a week with daily mimosa and bloody Mary specials. They also offer their homemade pies, milkshakes, various local beers, frozen cocktails, and 'boozy shakes' for you to enjoy! Their restaurant features fun games like corn-hole, giant Jenga, and connect-four. MAD Eats is perfect for everything from a day of family fun to your next Tulsa date night! 
Located in the Redbud District, this diner is an excellent place to stop for breakfast or brunch. Check out their Facebook and Instagram for more updates and information!
Antoinette Baking Co.
Antoinette Baking Co. offers their brunch Friday, Saturday, and Sunday from 9 am-3 pm. Their foods include vegetarian, vegan, and gluten-free options. Their menu items are now available through Grubhub for delivery! Visit their shop and sip on a piping latte while you munch on a satisfying sea salt chocolate chip cookie.
If you want to stop by for more than just their brunch menu, you can select from their assortment of baked goods! They also offer macarons, cake, and other baked goods. They even offer wedding cake services. For more information about Antoinette Baking Co., visit their Facebook and Instagram pages! 
Plan a fun weekend adventure by taking advantage of one of the many upcoming Tulsa events after enjoying your outdoor meal!