We asked Tulsans what their favorite gluten-free restaurants are, here is a list of the top restaurants that offer gluten-free options for you and your family.
Best Gluten-Free Restaurants in Tulsa
1. Hideaway Pizza
With three locations on Cherry Street, 51st and Memorial, 61st and Yale, Broken Arrow, Owasso, Bixby, and Tulsa Hills, Hideaway Pizza offers world-famous pizza that it has provided since 1957! Their world-famous menu includes starters, salads, build-your-own pizzas, specialty pizzas, sandwiches, baked pasta, desserts, and gluten-free options. They even offer vegetarian pizzas.
2. The Coffee House on Cherry Street
This neighborhood coffee house and bakery offers locally roasted coffee, as well as homemade breakfast, lunch, and desserts. It can be hard to find gluten-free sweets in general, but finding ones that taste excellent are like diamonds in the rough! The Coffee House on Cherry Street has a great selection of gluten-free pies, cookies, cakes, quiche, and so much more! Customers boast that the cookies are the best they've ever had, and they could choose from a variety.
3. Bobby O's
Family-owned Bobby O's is home to the 2-foot pizza on Route 66 in Tulsa! They offer huge slices cut from a thin crust 24" pie. They specialize in adding your choice of toppings! Bobby O's is located east of the iconic Meadow Gold sign on Route 66. Initially an auto shop in 1939, it's been transformed into a modern pizza restaurant that serves the local community.
They have a completely separate gluten-free kitchen and have made their historic building handicapped accessible. In addition to gluten-free options, they offer vegan options.
4. Big Baby Rolls & Donuts
This local business opened its doors for the first time during the COVID-19 pandemic. In addition to traditional items, Big Baby Rolls & Donuts specializes in vegan and gluten-free pastries and baked goods! Their menu frequently changes based on their inspiration or the weather, so there is always something new to discover! Big Baby Rolls & Donuts is located at 3739 East 11th Street, Tulsa, Oklahoma 74112.
5. Bird & Bottle
Bird & Bottle is a fresh ingredient, American eatery and bar. Located on 3324-A East 31st Street, Tulsa, Oklahoma 74135, they offer gluten-free and vegetarian options. Their menu consists of small plates, meats and cheeses, salads, sandwiches, flatbreads, and entrees. They also provide specialty house wines by Zinke Co. Their Facebook reviews sport high praise from their customers for their food and excellent service!
6. NEFF Brewing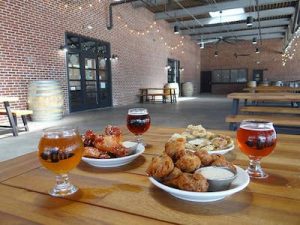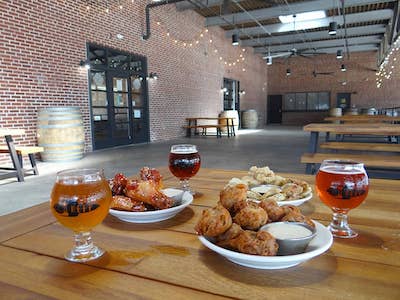 New Era: Fine Fermentation, A.K.A. NEFF Brewing, was selected by Tulsa World as one of the best brewpubs in Tulsa! They are a microbrewery and pub whose purpose is pushing boundaries of brewing and culinary science. They're located in a building known as The Dock in the East Village district of downtown Tulsa. They are a gluten-free brewery where they proudly "Brewed for Everyone." The brewery, taproom, and restaurant are all gluten-free! Instead of using traditional barley, wheat, or rye, NEFF Brewing uses millet, buckwheat, rice, or quinoa to create naturally gluten-free beer.
7. Napa Flats Wood-Fired Kitchen Tulsa
Located across the river from the Oklahoma Aquarium, Napa Flats Wood-Fired Kitchen in Tulsa offers a complete gluten-free lunch and dinner menu, including starters, soups and salads, pizzas, pasta, grilled options, steaks, sides, and options for kids.
They've been voted as one of Tulsa's best restaurants and have a positive review from the Oklahoma Restaurant Association. With cuisine inspired by California flavors with Italian flair made from scratch and prepared in an open kitchen over a wood-fired grill, Napa Flats offers many familiar foods that aren't commonplace. Napp Flats also happens to be one of the top Tulsa restaurants with outdoor seating!
8. Kupcakz
Kupcakz Bakery was the first cupcakery in Tulsa! Baked fresh every day, every cupcake is hand-crafted with all-natural ingredients with no preservatives. They pride themselves in using the best global and local pastry ingredients. Join Kupcakz for their Gluten-Free Fridays! They offer cupcakes by the dozen, half dozen, four, and single cupcake options. They can even provide wedding cakes. Kupcakz is located on 6105 South Mingo Road, Tulsa, Oklahoma 74133.
9. Savastano's Pizzeria
Savastano's is a unique, little slice of Chicago in Tulsa, Oklahoma! Located at 8211 East Regal Place, Suite 109, Tulsa, Oklahoma 74133, they bring you a quality authentic Chicago style cuisine! From their pizzas to their pasta, it all starts with quality ingredients like their doughs, meats, and specialty sauces all made daily using family recipes.
They offer gluten-free pizza made with gluten-free dough and regular toppings. They prepare this pizza on a separate table, with a different cutting board and knife. Their philosophy is still in play today: "When you're here, you're family!"
10. Dos Bandidos
Dox Bandidos offers many of its options as gluten-free! These options are marked on their menu. They serve appetizers, tacos, traditional options, bowls, fajitas, enchiladas, quesadillas, burritos, combos, kids options, salads, alambre, and desserts. They are located at 109 North Detroit Ave., Tulsa, Oklahoma 74120. Many of their food options come from family recipes, with a large portion being gluten-free.
11. Barbee Cookies
Barbee Cookies opened in 2010 in the Tulsa area. They offer many assortments of gluten-free cookies, including cinnamon roll cookies, iced sugar cookies, sassy snickerdoodle, chocolate chip, tantalizing triple chocolate, sugar cookies, and decadent double chocolate! You can pick up a cookie package or build your own box.
Barbee Cookies also offers cookie cakes that are available as gluten-free. They're proud to serve cookies to their guests at either of their locations––8393 South Memorial Drive, Tulsa, Oklahoma 74133, and downtown at 415 South Boston Ave., Tulsa, Oklahoma 74103.
12. SushiFork
SushiFork serves the Tulsa area as a fast, casual, create-your-own sushi restaurant. Their sushi options include traditional and not-so-traditional sushi rolls, sushi burritos, and diverse sides. In addition to the options they offer, SushiFork also provides a "you pick. we roll®" menu where guests can create their own sushi roll any way they like. Some sushi is not gluten-free, but SushiFork offers many gluten-free sushis marked on their menu! Gluten-free items include sauces, sushi rolls, sushi burritos, and sides. They're located at 8115 South Olympia Ave., Tulsa, Oklahoma 74132.
13. Laurannae Baking Co.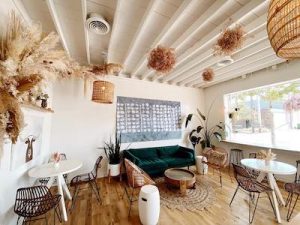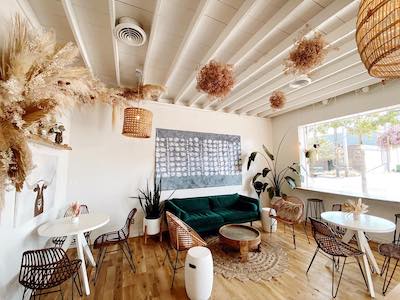 Laurannae Baking Co. is a boutique bakery located at 112 West Commercial Street, Broken Arrow, Oklahoma 74012. They specialize in gourmet cupcakes and couture cakes, including their popular gluten-free choices! Their made-from-scratch pastries and desserts and espresso bar help to make Laurannae Baking Co. a unique space!
Their cake options include browned butter and vanilla bean, lavender and vanilla, brides cake, London fog, red velvet, lemon butter, strawberry and honeycomb, spiced churro, raspberry brown sugar, blackout chocolate, spiced carrot, lavender and lemon, blackberry and hazelnut, Italian cream cake, chocolate chip cannoli, and orange poppy seed. They also offer custom cakes and wedding cake services.
14. Pizza Shoppe in Bixby
The Pizza Shoppe in Bixby is a full-service restaurant that features stone-oven pizzas, pasta, sandwiches, and fresh-made salads. Located at 13161 South Memorial Dr. Suite C, Bixby, Oklahoma 74008, they offer gluten-free crust pizza for your convenience! Their menu includes specialty pizzas, combos, appetizers, salads, sandwiches, and pasta. Originating in Kansas City, the Pizza Shoppe is home to authentic pizza made with the finest meats and cheeses, fresh-cut vegetables, and homemade pizza sauce.
15. Bin 35 Bistro
Bin 35 Bistro is a local, rustic, French-American bistro cuisine located at 3509 South Peoria Ave., Tulsa, Oklahoma 74105. A vast majority of their food options are gluten-free and are marked on their menu. They offer appetizers, soups and salads, sandwiches, and entrees on their lunch and dinner menus. Their entrees include American classics such as ribs, salmon, fried chicken, grilled pork chops, ribeye, burgers, and meatloaf.
16. Andolini's Pizzeria
Andolini's is a "Tulsa Style" Pizzeria that traces back to Italian roots. Anything that can be made in house is, such as the dough, crusts, sauces, dressings, mozzarella cheese, and sausage. With locations in Tulsa, Jenks, Broken Arrow, Owasso, and their food truck, you can find a bite of Adolini's in more places than one! Their Tulsa location is 1552 East 15th Street, Tulsa, Oklahoma 74120. Their menu includes appetizers, entrees, pizza, desserts, and drinks.
Andolini's offers gluten-free pasta and pizza. Their gluten-free pasta contains cornflour, rice flour, mono, and diglycerides. Their gluten-free pizza dough contains brown rice flour, rice flour, tapioca starch, yellow cornmeal, sugar, xanthan gum, corn starch, potato starch, dextrose, salt, flour, guar-gum, vegetable fiber, and emulsifiers. Other gluten-free items do not have wheat in the recipes. Andolini's substitutes a gluten-free flour when applicable.
17. East Village Bohemian Pizzeria
Serving wood-fired pizzas prepared Neapolitan style, East Village Bohemian Pizzeria offers pizzas with ingredients imported from Italy as well as locally sourced. Their pizzas are cooked in their wood-fired oven at over 800 degrees. Located at 818 East 3rd Street, Tulsa, Oklahoma 74120, they offer great, authentic pizzas gluten-free! You can request that a gluten-free crust is used on a pizza from their menu or create your own using the gluten-free crust as your foundation!
18. Antoinette's Baking Co.
Antoinette's Baking Company cater baked goods, offer wedding and party cakes, and are dedicated to epicurean decadence for all! They offer catering services with weddings cakes, party cakes, cookies, muffins, pies, tarts, and yeast bread. Antoinette's is located on 207 North Main Street, Tulsa, Oklahoma 74103. They offer a wide variety of freshly baked items, breakfast, lunch, brunch, and special orders.
Their gluten-free cookies include sugar cookies, snickerdoodles, and chocolate chip with sea salt. They offer gluten-free brownies with ganache. They also provide gluten-free muffins and scones, as well as cinnamon rolls. Their signature pies can be gluten-free upon request. They offer gluten-free cake options, as well.
19. The Tropical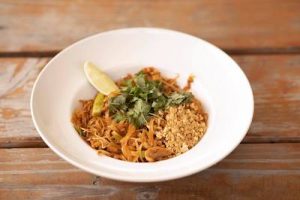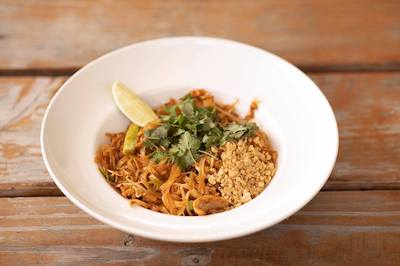 The Tropical is an Asian seafood-inspired restaurant. They've been ranked top 10 in new restaurants in 2011 by the Tulsa World. Located at 8125 East 49th Street, Tulsa, Oklahoma 74145, The Tropical boasts a menu full of Thai inspired surf, turf, and vegan dishes. Their menu includes tropical starters, grilled options, flavors of the wok, classic Thai entrees, signature tropical entrees, lunch specials, and beverages. They offer vegetarian, vegan, and gluten-free options to best meet their customers' needs.
20. Chimera
Named after a fire-breathing she-monster with a lion's head, goat's body, and a serpent's tail from Greek mythology, Chimera is a local cafe located at 212 North Main Street, Tulsa, Oklahoma 74103. They offer coffee, mixed drinks, beer, wine, and fresh foods. Chimera's menu consists of healthy and environmentally conscious items that are locally sourced. They offer breakfast tacos, sandwiches, pastries, soups, salads, smoothies, and more. They offer different gluten-free options, including gluten-free breakfast tacos.
We rely on our Discover Tulsa community to share the greatest spots around Tulsa. While these are some of Tulsans' favorite gluten-free establishments, don't just take our word for it. Visit them today to experience the best that Tulsa has to offer for yourself!
Looking for more to do around Tulsa? Check out our list of upcoming Tulsa events!