Summer is upon us and what better way to celebrate than a meal enjoyed outdoors. Tulsa is home to many delicious restaurants, each with its own unique atmosphere. There certainly is something for everyone.
Whether you are a local or just visiting Tulsa for the weekend, finding a new restaurant to try can be exhausting. For this reason, we having compiled a list of the very best restaurants with outdoor seating in and around Tulsa. Enjoy! 
Tulsa Restaurants With Patio Seating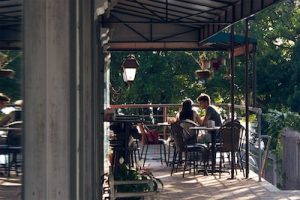 With so many changes to the restaurants in Tulsa, it can be hard to know which locations currently have outdoor seating available! At the time of this article, the restaurants included in this list are serving guests on their patio seating areas. (Most of these locations are also serving indoors as well incase the rain ruins your outdoor dining dreams.)
The Bistro at Seville
A restaurant that is truly local, The Bistro at Seville remains committed to the use of locally-sourced produce and freshest of ingredients. This commitment is evidenced in their delicious food which keeps patrons coming back time and time again. 
With a generous menu overflowing with options, you are sure to find something that everyone in your party will enjoy. From burgers to decadent steak and seafood dishes, it's hard to go wrong at The Bistro. With outdoor patio seating, The Bistro Seville is the perfect place to escape for a date night or girl's night out. 
Society Burger
Is there anything better than a well-made burger? Society Burger specializes in made to order burgers, homemade buns, and delicious hand-dipped milkshakes. Society Burger believes that the best burgers are shared with friends and family. Because of this, they have created a comfortable dining atmosphere that includes outdoor seating.
With two locations in Tulsa, Society Burger is one restaurant every Tulsa native must try. While the execute the classic burger with excellence, they also offer many unique takes on classic treats! A few of the most exciting items on their menu include the Everything burger, Jalapeno Cheddar tots, and Maple Bacon tots during brunch hours.
Mother Road Market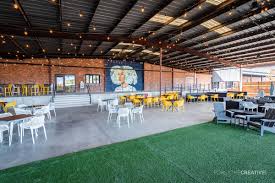 While it is not your typical restaurant, Mother Road Market provides a unique outdoor dining experience. Tulsa's first food hall features over 20 restaurants, allowing each member of your group to choose a meal that excites them. Most of the restaurants that occupy Mother Road Market are run by food entrepreneurs, giving you the first taste of their new concepts or menus.
At Mother Road Market, you can find just about any type of meal you may be craving from tacos to pizza, sandwiches to dessert, and much more. Turn your meal into an outdoor dining experience by visiting one of the delicious restaurants located within Mother Road Market.
Old School Bagel Cafe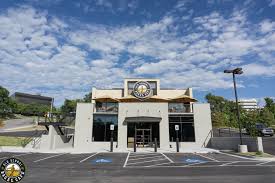 With several locations in and around Tulsa, Old School Bagel Cafe is a great place to enjoy breakfast or lunch in the sun. As you can probably guess from their name, their menu features a variety of delicious bagels, bagel sandwiches, and baked goods. These aren't just any bagel sandwich, however.
Old School Bagel Cafe gets creative with its cuisine offering items such as BBQ bagel sandwiches and pizza bagels, as well as unique spreads like Bacon Chive & Onion. It is important to note that while most of their locations feature an outdoor eating area, there are a few exceptions. At the time of this article, both Tulsa locations have outdoor seating available.
Bird & Bottle
Located in midtown Tulsa, Bird & Bottle is known for its cozy patio dining atmosphere. With a unique selection of small plates, flatbreads, and sandwiches, Bird & Bottle is an excellent choice for a summer date night. With a focus on locally-inspired ingredients and dishes, your experience will quickly exceed your expectations. 
Since Bird & Bottle maintains such a cozy environment, it is recommended that you make a reservation ahead of time to ensure that you have a spot. Reservations for outdoor dining at Bird & Bottle can be conveniently made through phone or email, both of which can be found on their website.
Shawkat's Grill & Deli
Shawkat's Grill & Deli has been an establishment in Tulsa for over 22 years. With a delicious menu of Mediterranean dishes made from scratch, Shawkat's will quickly become a new favorite. Not only is their food delicious, but the ingredients they use are healthy and wholesome.
Whether for a quick lunch break during your workday or a weekend get-together with a friend, a delicious meal from Shawkat's enjoyed outside is sure to put a smile on your face. 
Casa De Reyes Mexican Kitchen
There is something to be said for enjoying chips and salsa on a patio in the middle of summer. Casa De Reyes Mexican Kitchen can make your summertime dreams a reality on one of their two beautiful patio areas. With classic dishes made using only the best ingredients, the experience at Casa De Reyes is hard to beat.
With a commitment to using wild-caught seafood and meat that is non-GMO and antibiotic-free, you will never have to question the quality of food you are enjoying at this local Tulsa establishment. A family-owned establishment, Casa De Reyes will provide an atmosphere in which all of your family members feel welcome.
Napa Flats Wood-Fired Kitchen
Napa Flats Wood-Fired Kitchen is a favorite amongst Tulsa locals. With a wide selection of delicious meals made using locally sourced ingredients, you will never be disappointed with your meal. Napa Flats describes its cuisine as "California Fare with Italian Flair".
On their menu, you will find classics like pizza, pasta, steak and chicken dishes, and much more. The experience at Napa Flats is hard to beat. With special menus catering to children and those with dietary restrictions, everyone is sure to find a meal that they will thoroughly enjoy. Napa Flats Wood-Fired Kitchen offers an extensive gluten-free menu that includes items such as pizza and pasta.
With a delicious menu, high-quality service, and a comfortable outdoor dining experience, Napa Flats is one restaurant that you do not want to miss.
Burn Co. Barbeque
A staple in the Tulsa area, Burn Co. Barbeque has three convenient locations. Burn Co. Barbeque makes their food fresh each day, ensuring that they provide their guests with only the best BBQ available.
Their Riverwalk location in Jenks features a beautiful outdoor seating area, perfect for a lunchtime escape from reality. A quick look at a few of their outstanding online review will have your mouth watering. With a selection of BBQ favorites, grilled sandwiches, and classic sides, you are sure to leave this meal satisfied.
The Deuce
The Deuce provides a classic diner experience with an extensive selection of breakfast and lunch items. This locally-owned establishment is sure to become a favorite, serving up just about any meal you can think of. From breakfast classics to Cinnamon Swirl French Toast, The Deuce will satisfy your breakfast cravings all day long.
If you're not in the mood for breakfast food, check out their selection of grilled sandwiches and burgers that are sure to hit the spot. Enjoy your next breakfast, brunch, or lunch at The Deuce while getting some fresh air in their outdoor seating area.
Outdoor Dining in Tulsa
While there are certainly many other restaurants in Tulsa that offer outdoor seating, we regrettable can not feature them all. Did we miss your favorite Tulsa restaurant with patio seating? We'd love to hear about it and include it in our next list! 
Consider taking advantage of an upcoming Tulsa event after enjoying your outdoor meal! 
Are you looking to include the kids in your next meal? Check out this great list of Tulsa restaurants where kids eat free!