There is no better feeling than coming home to a clean house. But imagine the feeling of coming home to a clean house that you didn't clean! This is the benefit of working with a professional house cleaning company. Enjoy your home knowing that it is clean and free of germs while spending your time accomplishing other, more enjoyable tasks.
Fortunately, Tulsa is home to many house cleaning experts! In this post, we have compiled a list of the 8 BEST house cleaners in Tulsa. With a wide variety of services and price points, you are sure to find a house cleaning service that is suited to your unique needs.
Tulsa's Best House Cleaners
Each homeowner has a different set of priorities and ideals when it comes to a clean house. While one homeowner may appreciate help tackling the deep cleaning tasks that often go unnoticed, others may be looking for a house cleaning service that takes care of everything! 
1. DomesticAide
DomesticAide views each of its clients as friends, working to establish a level of trust that is important when inviting someone into your home. They offer a wide range of house cleaning services including standard cleaning and customized cleaning packages. Understanding that each homeowner has a unique set of priorities, they can provide their house cleaning services on a weekly, bi-weekly, or monthly basis.
Looking for a deep clean? DomesticAide also offers several a la carte cleaning services including refrigeration cleaning, oven cleaning, window washing, woodwork washing, and much more. With their help, you can keep your home spic and span!
DomesticAide is not only passionate about developing a relationship with their customers but also with the community in which they serve. Through their non-profit, Cleaning for a Reason, they offer free house cleaning services for women undergoing treatment for cancer. By partnering with DomesticAide, you can play a small part in this incredible mission.
2. Bright Impact Cleaning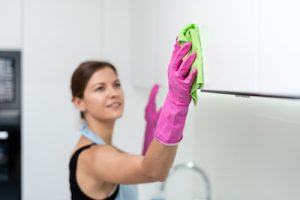 At Bright Impact Cleaning, they understand that a clean and sanitized environment is the first defense against illness of any kind. Bright Impact Cleaning seeks to provide a clean, welcoming environment in which you can relax after your busy day. They offer house cleaning services that include weekly, bi-weekly, and monthly cleaning. Additionally, they offer one-time house cleaning services for those months when you just can't seem to stay on top of your to-do list.
While not every house cleaning company offers cleaning services for apartments, Bright Impact Cleaning offers this important service, allowing you to feel at home no matter where you find yourself. Looking for a fresh start as you move into a new place? Consider move-in or move-out cleaning services! Bright Impact Cleaning is passionate about impacting lives through its dedication to excellence. 
3. Blue Dog Carpet Cleaning
We all love sitting on plush carpeting as we relax. However, carpet can also present quite the cleaning challenge! With spills, messes, and daily use, the carpet quickly becomes dirty and begins to look worn. Blue Dog Carpet Cleaning is here to make sure you can once again enjoy your carpet, knowing that it is free of dust, dirt, and allergens.
Whether you are moving into a new home or simply looking to refresh your living space, steam cleaning and carpet deodorization can do wonders for your carpets! Blue Dog Carpet Cleaning offers professional carpet cleaning services for homes and businesses. However, they also specialize in tile and grout cleaning, furniture cleaning, and more! Let Blue Dog Carpet Cleaning help you clean those hard-to-clean areas of your home and provide you with a fresh and clean living environment.
4. Nook & Cranny Housekeeping
Nook & Cranny Housekeeping has been known as one of Tulsa's best house cleaners since its start in 2016. Owner Elizabeth W. believes that cleaning is a craft that can influence the energy within a home. A clean home provides a place of peace and joy. Take one look at the Google Review and you will quickly witness the support of loyal fans who have benefitted from the top-notch house cleaning services of Nook & Cranny Housekeeping.
As a team, they offer a wide range of house cleaning services to suit your unique needs. In addition to weekly, bi-weekly, and monthly cleaning services, they also offer cleaning memberships, organization services, and commercial cleaning services. Nook & Cranny Housekeeping is so confident in their services that they even offer a $1 Kitchen Clean for first-time customers! 
5. CottageCare
CottageCare is an eco-friendly house cleaning company that has been serving homeowners since its founding in 1988. Their team of professional house cleaners provides exceptional house cleaning services at an affordable rate! From basic cleaning services performed regularly to special occasion cleaning, CottageCare is passionate about providing you with a clean space in which to relax. 
CottageCare is another house cleaning company with a mission. Through their professional house cleaning services, they launched The Rwanda Project serving widows and orphans throughout Rwanda. When you partner with CottageCare to clean your home, you are playing a part in this important project.
6. Maids of Tulsa
If you are looking for a unique house cleaning service, consider Maids of Tulsa. This team of professional house cleaners takes a natural approach, using only essential oils for their cleaning services. With over 17 years of experience, they continue to serve homeowners with their professional, non-toxic cleaning services.
Maids of Tulsa offers several services depending on your unique needs. Their house cleaning services include basic cleaning packages, deep cleaning packages, organization services, pick-up services, and much more.
7. Katie's Peachy Clean
The team at Katie's Peachy Clean understands that relationships are important. Because of this, they work to pair professional house cleaners with clients who they service regularly. This allows the homeowner to develop a relationship with the individual who is cleaning their home. 
Katie's Peachy Clean uses only products that are safe for yourself, your pets, and your children. You should not have to worry about what products were used in your home and whether or not they will harm your family members. With a range of house cleaning services, Katie's Peachy Clean is ready to provide you with a comfortable and clean home in which you can relax after your busy day.
8. Bliss Maid Services
Bliss Maid Services is dedicated to providing affordable, dependable, trustworthy house cleaning services. With over a decade of experience, this locally-owned business continues to provide Tulsan's with more time to do what they love instead of cleaning their homes. Not sure you are ready for a scheduled house cleaning service? Bliss Maid Services provides the opportunity for "At Your Own Pace" cleanings. This allows you to schedule an appointment as it fits within your budget and cleaning needs.
In addition to recurring house cleaning services, Bliss Maid Services offers one-time cleaning, special event cleaning, holiday cleaning, moving cleaning, office cleaning, and much more! With their help, you can be sure that your home is prepared for whatever life sends your way.
In Conclusion
Whether you are looking to move to Tulsa and needing a house cleaning service or simply looking to eliminate cleaning from your weekly to-do list, a professional house cleaning company will greatly benefit your life. Instead of cleaning your home, you can spend your extra time exploring the many unique things to do in Tulsa, catching up with a friend, or simply enjoying some time to yourself.
With the wide range of services available through the Tulsa house cleaners on this list, you are sure to find a professional cleaning service that fits both your needs and your budget! 
Thank you for reading Discover Tulsa! You can learn more about upcoming Tulsa events here.