Oklahome Inspectors is the Best Business in Tulsa to Have Inspect Your Home
With over 30 years of experience in home inspection and building, we have become experts within our industry. Serving the Tulsa area and offering a range of services allows us to provide specialized services that meet your home inspection needs. We also hire experienced and qualified Certified Master Inspectors (CMI's) to ensure you have the best home inspection experience possible, offering a 200% Satisfaction Guarantee! Our quality services are provided with confidence and experience, leading Oklahome Inspectors to be the best in the business when it comes to Tulsa home inspections.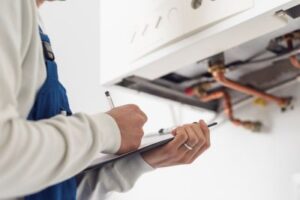 What Sets Oklahome Inspectors Apart?
Oklahome Inspectors stand out among the rest because of our amazing service and professionalism. We have set the standard for home inspections in Tulsa with computer generated reports, specialized camera documentation, one on one meetings with inspectors to discuss their findings, and effective communication between you, your realtor, and our inspectors, making you feel taken care of whether you are a buyer or seller. Our high standards and outstanding home inspectors have made us confident providers of home inspections and has allowed us to provide this wide range of inspection services.
Oklahome Inspectors Tulsa Services
Mold Testing
Radon Testing
Asbestos & Lead Paint Testing
Floor Duct Video Inspections
Meth Testing
Sewer Camera Inspection
Commercial Roof Infrared Inspection
Winterization
Contact Information for Oklahome Inspectors
Phone Number
(918)-605-1498
Address

534 W Ft. Worth St.
Broken Arrow, OK 74012
Website
Hours
We are open 24 hours a day to ensure your home inspection needs are taken care of!
Providing excellent services to the Tulsa area has allowed Oklahome Inspectors to become the best home inspectors in the area. We deliver dependable service to our customers and work hard to make sure you are satisfied with your home inspection. Our team of Certified Master Inspectors are experienced and will communicate with you to discuss their findings and ensure you are satisfied with your home inspection. To learn more about us, visit our Google Reviews or contact us today!