Whether you're planning a vacation or a staycation, Tulsa provides plenty of opportunities for excitement and adventure! With so many fun things to do in Tulsa, it can be hard to know what to prioritize. Keep reading to learn about the top 10 tourist attractions in Tulsa to make the most out of your visit!
1. The Gathering Place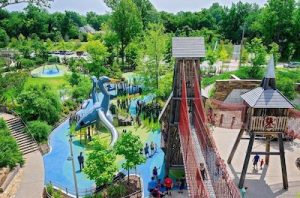 You may think it's strange for a park to be on a list of the top tourist attractions. Trust us when we say it's a MUST! The Gathering Place is known as one of the best parks in the country and even earned the title of America's Best New Attraction by USA Today in 2019. 
The Gathering Place has a little something for everyone including a skate park, splash pad, playgrounds, walking trails, beautiful scenery, elaborate gardens, and more! Additionally, there are special events taking place nearly every day, ensuring that there is never a dull moment. Learn more about visiting The Gathering Place here! 
2. Gilcrease Museum
Take a step back in time by visiting Gilcrease Museum. Founded in 1949, the Gilcrease Museum is home to the world's largest collection of art from the American West with over 350,000 items in its collection!  
When you're ready to get back outside, take some time to explore the 23 acres of gardens that surround Gilcrease Museum. 
3.  Philbrook Museum of Art
Speaking of museums, the Philbrook Museum of Art certainly deserves a spot on this list! Housed in a 1920's villa, the museum features a vast collection including American, Asian, Antique, African, Contemporary, European, and Native American art. 
The villa itself is breathtaking with 72 rooms each fully decorated with fountains, fireplaces, and other features unique to the Italian Renaissance style. To fully immerse yourself in the experience, be sure to take advantage of the free audio tour provided upon your arrival!
4. Golden Driller Statue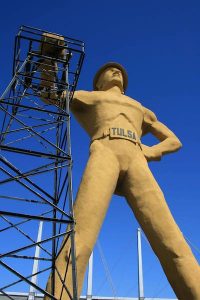 Tulsa is home to several unique landmarks including The Center of the Universe, the Praying Hands sculpture, and the Cave House. Perhaps the most impressive monument, however, is the Golden Driller!
Built in 1953, the Golden Driller is currently the sixth tallest statue in the United States, standing at 75-feet tall! You can find the Golden Driller in front of the Tulsa Expo Center, its home since 1966. 
5. Tulsa Zoo
Adults and children alike will enjoy a trip to the Tulsa Zoo! First opened in 1927, the Tulsa Zoo is currently home to over 1,500 animal species including some of the rarest species from Asia such as Malayan tigers, red pandas, snow leopards, and Komodo dragons! 
6. Utica Square
Are you looking for some retail therapy? Utica Square, Tulsa's first shopping center, continues to buzz with excitement! Located in the heart of midtown Tulsa, Utica Square has a quaint, inviting vibe that complements the historic homes in the surrounding area. 
Utica Square is home to many top-of-the-line shops such as Anthropologie, Athleta, Coach, LOFT, Madewell, Restoration Hardware, and West Elm, to name a few. Several local Tulsa shops and boutiques are also proud to call Utica Square home. Once you're done shopping, enjoy a meal at one of the many restaurants ranging from steak dinners to quaint cafes.
7. Tulsa Garden Center at Woodward Park
The Tulsa Garden Center at Woodward Park is a must-see for visitors and Tulsans alike! This 45-acre park features beautiful gardens including the Tulsa Rose Garden. Visitors will be stunned by the beauty of over 9,000 roses that fill the Tulsa Rose Garden, the park's true claim to fame. 
In addition to strolling through acres of breathtaking gardens, visitors can tour the Historic Sneeden Mansion, take part in a class or workshop, learn more about gardening in the Linnaeus Teaching Garden, or enjoy one of the many live events that take place at Woodward Park.
8. Oklahoma Aquarium
While we certainly hope the weather during your visit allows you to enjoy both indoor and outdoor activities, it is always good to have a rain plan! The Oklahoma Aquarium is not only an enjoyable rainy day activity but is a great place to cool off from the hot summer sun.
The Oklahoma Aquarium has several permanent exhibits including Sea Turtle Island, Ozark Stream, Polynesian Reef, Shark Adventure, Extreme Amazon, and Aquatic Oklahoma. They are always adding new exhibits and features to their collection. Doing so ensures that every visit is just as exciting as the last. 
In addition to the world's largest collection of bull sharks, beautiful fish, and impressively large sea turtles, the Oklahoma Aquarium features a children's playground and several dining options. 
9. Guthrie Green
Visitors to Tulsa would probably not expect to find another incredible park located in the heart of downtown, but that is exactly where you will find Guthrie Green! Located in the middle of the Tulsa Arts District, Guthrie Green hosts events nearly every day of the week. 
From weekly storytime to food truck festivals, weekend concerts, and fitness classes, there is truly something for everyone! Guthrie Green is surrounded by countless restaurants, providing the perfect opportunity to enjoy a dinner in the park. Learn more about planning the perfect visit to Guthrie Green here! 
10. Tulsa Air and Space Museum & Planetarium
Looking for something that is truly out of this world? Be sure to add a stop at the Tulsa Air and Space Museum & Planetarium to your weekend itinerary! While you may not expect to find a museum of this sort in Tulsa, it has attracted over 600,000 visitors.
The Tulsa Air and Space Museum is home to incredible exhibits with unique aircraft, historic lessons, demonstrations, and flight simulators. Some of the current exhibits include The Mars Experience, Hometown Hero: Astronaut Bill Pogue, and The Tulsamerican. Before you head home, be sure to stop at the Planetarium to enjoy an experience that is truly out of this world! 
Planning Your Next Visit to Tulsa
Bonus Tip: As you are planning your trip, be sure to research each of the stops on your itinerary as some of the locations on this list are limiting daily capacity requiring a ticket for entry.
These are, of course, just a few of the many attractions in Tulsa. Whether you enjoy an outdoor adventure, a step back in time, or a little of both, we guarantee you will find something in Tulsa that suits your fancy! 
Are you still in the planning phases of your Tulsa vacation? Check out our Tulsa International Airport guide to start your trip off on the right foot! Looking for a place to recharge for your next day of exploring? Here are five of the top-rated hotels in Tulsa. We hope this article has played a small part in you enjoying your stay as you Discover Tulsa!