The Best Summer Kids Activities In Tulsa
The summer is one of the most exciting times when you're a kid. It's a season full of endless playtime for children, and it gives them the freedom to explore beyond their own backyard!
Tulsa is an amazing place to live in any season, and summer is no exception. The hot weather can't hold Tulsa's parents back with all of the fun activities and places that are available for your kids. This summer, encourage creativity and courage in your kids by encouraging the talents and passions they have already developed, and by helping them to find new ones.
It might seem difficult this summer as we move forward with social distancing, but there are so many exciting things you can do this summer. Don't let this summer be boring for you or for your kids! Instead, schedule out times to explore Tulsa's best summer activities for kids!
As Tulsa's foremost resource on what to do around town, we put together a few places that are perfect for summer fun with your kids.
Virtual Events with the Tulsa Library
Tulsa's library is jam-packed with fun virtual events for kids this summer. From online escape rooms and storytimes to virtually painting garden stones, the Library is a great resource to keep your kids busy and having fun.
Screens might be hard to avoid this summer with self-isolation and masks, but that doesn't mean that your kids have to just watch the tv. Keep them curious with these great events (and books). All you need is a library card!
Explore the Gathering Place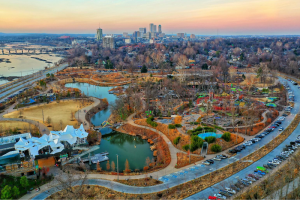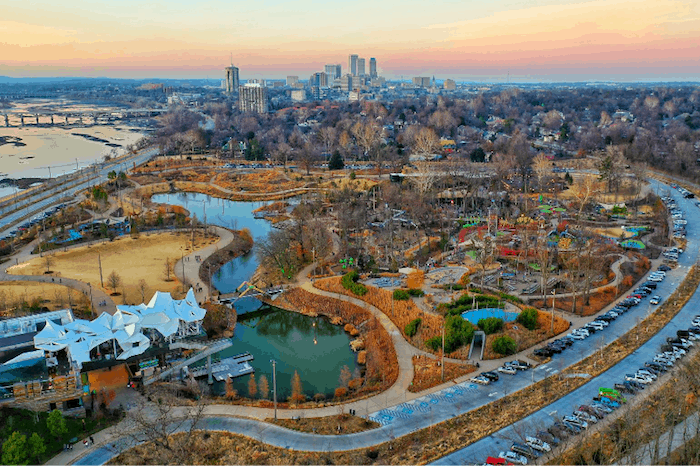 Make sure to check out the Gathering Place this summer!
The Gathering Place is a playground that spans almost 100 acres and hosts tons of self-guided activities. There are sports courts, running trails, a beach area, gardens, and many play areas for kids. We recommend doing this scavenger hunt from the Gathering Place's website as an activity together with your kids. Then, grab some ice cream at the Redbud Cafe to top off the day!
Sprinklers at the Philbrook Museum
You can register your kids to join in virtually for Philbook's Art Camp At Home to create DIY arts and crafts that will keep their creative juices flowing at home this summer. If you're looking for something in the sunshine, another great weekend event that Philbrook hosts are Sprinkler Saturdays.
From 10 a.m. to 12 p.m. bring your kids to the Philbrook for a few hours to cool down under the water sprinklers! Pack a picnic blanket to sit back and fully enjoy the beautiful gardens there.
Take Care of the Aquarium's Fish
As a kid, did you ever gaze at the aquarium fish in their brightly colored tanks and wish you could jump in and swim with them? Well, your kids can have the next best thing- taking care of the fish! The Tulsa aquarium is home to a vast array of aquatic animals and the largest collection of bull sharks in the entire world.
Not only can your kids stroll around the amazing exhibits and pet stingrays, but they can also sign up to be a marine biologist for a day. They will learn how the fish are fed and taken care of, test water quality, and more. This is an amazing opportunity for little ones who are passionate about animals and would love a peek inside the aquarium life.
Classes at the Tulsa Zoo
Who doesn't remember long days exploring the tiger exhibit and craning our necks to see the giraffes? Take your child's zoo experience to the next level with these fun classes. These classes are offered to adults and kids alike, grandparents too!
From teaching teens what it's like to work at the zoo to adventure games for pre-schoolers, the zoo has an activity for just about everyone. The Zoo also hosts a live storytime on Facebook weekly on Wednesdays at 10 a.m. Zoo staff will read a storybook about an animal, such as a hedgehog or other, and then show the actual animal and teach kids a little bit about it! This is a great opportunity to teach your kids about various animals and to encourage their curiosity!
A Nature Walk at Oxley Nature Center
Get some exercise in with your kids by walking trails and looking for deer and other animals at the Oxley Nature Center. With almost nine miles of trails and 800 acres of wildlife, the Oxley Nature Center is a Tulsa hikers' paradise.
You can hike with your kids on one of the many trails and explore ponds, meadows, and beautiful forests. Take pictures of any animals or interesting plants you see there to be investigated later with the whole family.
This is a great option to encourage your kids to stay away from screens and focus on the beautiful nature found in Tulsa. Pack snacks like granola bars and water so that you have something to munch on as you explore!
Mini Golf with the Minis
Mini golf is a classic summer activity for a reason. At the All Star Sports Complex, you can enjoy a creative golf course surrounded by water.
It's the perfect weekend activity for the entire family, from grandparents to toddlers. Going mini-golfing will teach your kids the basics of golf, like how to hold the little gold clubs. It's also a fun activity to encourage healthy competition and focus.
Kid Yoga
The Discovery Lab is an educational resource for Tulsa providing outreach museum classes to area schools and organizations and as a field trip destination to over 20,000 students each year. At the Discovery Lab, you can take your kids to a yoga class!
This fun class is for parents or caregivers and kids alike. It's a great time of exercise and teaching your kids stretching and breathing techniques. This will teach your kids their very own yoga flows that they can do with you at home! No more parent yoga at home, now you will have a mini yogi copying your downward dog.
Farmers' Market
Teach your kids the importance of homegrown goods at the Tulsa Farmers' Market every Saturday morning from 7 a.m. to 11 a.m. The Farmers' Market is a wonderful place to wander around (with your mask on) and teach your kids the importance of fresh produce and local farmers.
Strike up conversations with your Tulsa farmers and include your kids. Let them taste the cheese samples and pick out a plant that can be their very own to take care of.
Tulsa is a Fantastic City for Kids!
You and your kids have an exciting summer full of exploration and fun ahead of you here in Tulsa! Don't be discouraged by the heat, but instead beat it! Explore the outdoors in the cool early mornings and late evenings.
During the hottest part of the day, take advantage of the many museums and activities listed above! Tulsa is such a creative city, and there are so many great indoor activities. Don't be afraid to call businesses or museums and ask them if they have any fun offers or activities for kids during the summer.
Also, be sure to check out the virtual aspect of what's out there for summer entertainment. Many local Tulsa businesses, are offering virtual alternatives to concerts, plays, and much more to keep you and your kids entertained and educated this summer! Make this the summer that you catch up on your creativity and teach your kids just how fun Tulsa can be.