The Top 10 Skin Care Offices in Tulsa, Oklahoma
Whether you're wanting to improve the appearance of the skin, reduce signs of aging, or boost your self-confidence, facials, cosmetic surgeries, and other skin care treatments can be highly effective. These procedures can also address specific skin concerns such as acne, scarring, or hyperpigmentation. With an array of exceptional skin care centers in Tulsa, it can be overwhelming to choose the perfect one. That's why we've compiled this list of the top 10 skincare offices in Tulsa to help you make an informed decision and achieve a healthy, glowing complexion. So, let's dive in and explore the finest skin care offices Tulsa has to offer!
1. Dr. Lee Bottem
Dr. Lee Bottem is an experienced plastic surgeon who specializes in operating on the sensitive eye area. He offers a variety of reconstructive, functional, and emergency treatments, as well as cosmetic and non-invasive procedures. These include brow and forehead lifts, FaceTite, MyEllevate, and acne and rosacea treatments, to name just a few.
Whether you're looking to improve skin texture, minimize the appearance of scarring, or tighten your skin, Dr. Bottem and his team can help. And their services aren't limited to the eyes and face either — they can help with your skin concerns on other parts of your body as well.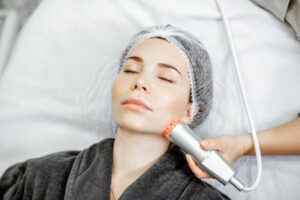 2. Tulsa Skin Center
Almost everyone has areas of their skin they'd like to smooth or tighten, and Tulsa Skin Center offers a variety of services designed to address those concerns. These include laser hair removal, skin resurfacing and rejuvenation, and brown spot removal. Tulsa Skin Center can also remove tattoos.
Their noninvasive treatments are affordable and have minimal recovery time, all while offering noticeable and long-lasting results (note that some services require multiple treatments for best results). Tulsa Skin Center even offers private Girls' Night Out Laser Parties where you can enjoy drinks and snacks with your friends while getting your laser treatments.
3. Institute for Beauty, Wellness, and Regenerative Medicine
Dr. Nicole Castellese and her team are passionate about helping patients feel their best in their own skin. As a part of this, Dr. Nicole prioritizes working with patients on a private, individual level to make sure she understands their goals and they understand their options and realistic outcomes. She also encourages them to develop a positive self-image that will remain with or without treatment.
She offers a variety of services, including non-surgical facial rejuvenation, body contouring, breast ex-plants, and more. In addition, Dr. Nicole also offers a variety of skincare products that patients can use at home to target their skin concerns.
4. Beyond Skin Deep Wellness Spa
From facials to peels to waxing, Beyond Skin Deep Wellness Spa offers everything you need to help your skin be as smooth and healthy as it can be. Beyond Skin Deep's treatments target a variety of concerns, so you can rest assured that we'll have something to help your fine lines and wrinkles, breakouts, skin texture, sensitivity, or hyperpigmentation.
Beyond Skin Deep treats more than just facial skin — you can get facials and waxes for the rest of your body as well, as your face isn't the only place that needs some attention. Once you finish your skin care treatments, book a massage to finish off your whole-body self-care day.
5. Utica Square Skin Care
Utica Square Skin Care offers a variety of skin care services, including Fraxel Restore and Refine, microdermabrasion, peels, Botox, Juvederm, and more. A small local company that has been in business for over ten years, Utica Square Skin Care focuses on correcting benign skin irregularities rather than medical conditions.
If you're looking for a place that can help you achieve your skin goals with top-tier treatments and technology, look no further than Utica Square Skin Care in Tulsa.
6. Lily & Lavender Skincare Salon
Lily & Lavender Skincare Salon offers an extensive list of esthetician treatments, ranging from facials and dermaplaning to brow tinting and scalp treatments. These services target a variety of conditions, so whether you have dry skin, acne, or just want to smooth skin tone and texture, Lily & Lavender Skincare Salon has a treatment for you.
What truly sets Lily & Lavender apart is its specialized oncology aesthetics treatments. One of the side effects of chemotherapy and radiation is often skin dryness, inflammation, sensitivity, rashes, and/or loss of elasticity. Lily & Lavender's owner is certified in Oncology Aesthetics, so she can help soothe and protect your delicate skin with treatments customized to your needs and concerns.
7. Body & Face Studio
Body & Face Studio offers many services designed to help promote health and beauty in clients. Customized to your skin care concerns, Body & Face Studio's facials will help you reach your skin goals. Each one even comes with LED light treatment to promote skin health starting from deep under the surface.
Body & Face Studio offers acne, anti-aging, and moisturizing facials, as well as a facial designed for men's skin needs. They also provide a variety of waxing services and eyelash extensions. If you are looking for a full-body reset and relaxation, you can book a massage at Body & Face Studio as well.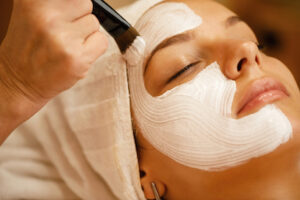 8. South Tulsa Plastic Surgery
Whether you're looking for something as significant as a tummy tuck and breast augmentation or want a less-invasive injection treatment, Dr. Brenda Schiesel and her team at South Tulsa Plastic Surgery can help you look and feel your best.
Dr. Schiesel is a board-certified plastic surgeon who offers breast procedures, body contouring, and noninvasive treatments for both men and women. She also offers free consultations, so even if you're just curious about what your options are, you can make an appointment and discuss your concerns and goals with her.
9. Plastic Surgery Center of Tulsa
Dr. Greg Ratliff and his team at the Plastic Surgery Center of Tulsa offer a plethora of plastic surgery and injections to help you look and feel your best. Whether you're looking to minimize fine lines and wrinkles or add volume and lift, Dr. Ratliff has a treatment for you.
Dr. Ratliff is nationally renowned for his breast augmentation procedures, and he applies that same care and excellence to facial and other body treatments. Whether you're looking for facial fillers or liposuction, the Plastic Surgery Center of Tulsa is ready and willing to listen to your concerns and goals and find the best treatment plan for you.
10. Face and Body Medical Aesthetics
From nose jobs to brow lifts to permanent makeup, Face and Body does it all. Whether you're looking to sculpt your body, smooth wrinkles, or remove a tattoo, Dr. Ladd Atkins and his team can help you feel your best in your own skin.
If you're looking for noninvasive treatments, Face and Body offers a variety of laser therapies to help smooth skin texture and tone as well as cosmetic surgeries. Whatever your goals are, Dr. Atkins and his team will listen to your concerns and goals and work with you to create a plan to address those.
Related Questions
What should I consider when choosing a skin care office?
When choosing a skin care office, it's important to consider factors such as the expertise of the professionals, the range of services offered, customer reviews, and the overall ambiance of the establishment. Look for offices that prioritize hygiene, use high-quality products, and have a proven track record of delivering excellent results.
What types of skin care treatments can you get?
Some common skin care treatments include facials, chemical peels, microdermabrasion, laser treatments, dermal fillers, Botox injections, micro-needling, LED light therapy, and photo facials. These treatments can target issues like acne, wrinkles, hyperpigmentation, uneven texture, and skin laxity, among others. It's important to consult with a skincare professional to determine the most suitable treatment for your specific needs.
What is the difference between a noninvasive procedure and an invasive procedure?
Noninvasive procedures, such as chemical peels, laser treatments, and injectables, do not require surgical incisions and are typically performed on the skin's surface or just beneath it. Invasive cosmetic surgery, on the other hand, involves surgical incisions and may require restructuring or reshaping of underlying tissues, often performed under general anesthesia. Procedures like facelifts, breast augmentation, liposuction, and tummy tucks are considered invasive. Invasive surgeries generally entail longer recovery times and carry higher risks compared to noninvasive procedures.
How much do cosmetic surgeries typically cost?
The cost of cosmetic surgery can vary widely depending on several factors, including the specific procedure, the surgeon's experience and reputation, the geographical location, the facility fees, anesthesia costs, and any additional expenses like post-operative care or medication. Prices can range from a few hundred dollars for minor procedures like injectables to several thousand dollars for more complex surgeries such as facelifts or breast augmentation. It is essential to consult with a qualified surgeon to obtain a personalized cost estimate based on your specific goals and circumstances.
In Closing
When searching for a skincare office in Tulsa for skin care or cosmetic surgery, it's crucial to prioritize expertise, reputation, and client testimonials. Look for board-certified dermatologists or plastic surgeons with extensive experience in the specific procedures you're considering. Additionally, consider the office's cleanliness, state-of-the-art equipment, and personalized approach to ensure optimal results and a comfortable experience.
Choosing a skin care office is a highly personal decision, so don't be afraid to ask lots of questions and take your time doing your research. Once you find the right provider for your personality and needs, all that work will be worth it.