Tulsa's Top 5 Cooking Classes
Now more than ever, the art of cooking is becoming more and more important. Get ready to wash your hands, sharpen your knives, and put on an apron as we go through the top 5 cooking class options in Tulsa!
1. Raisin a Chef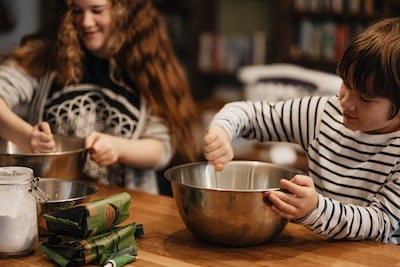 What could be more important than learning how to cook? Teaching your kids how to cook! Raisin a Chef offers classes for almost every age group. The cooking studio is owned by Janet, a chef, registered nurse, and mother of 2. She is passionate about healthy cooking, eating, and including children in the process. In her studio, you will be provided with the environment and tools needed for you and your kids to learn how to make delicious food and have fun while doing it!
The Tater Tot class offers cooking classes for ages 3-5. These classes are designed for eager and curious children who are ready to get involved in the kitchen. They teach valuable lessons by incorporating counting, shapes, colors, and following directions. Their cooking skills will improve their motor skills as they learn how to mix, pour, wrap, shake, spread, peel, roll, and mash. You and our little one are sure to have fun as you learn how to work together in the kitchen and make cooking fun.
For ages 6-9, the Mini Chef Class is available. This class has a special focus on kitchen safety and healthy cooking and eating habits. It is designed to build upon their previous cooking experiences. Their participation will help them improve their counting, estimations, following directions, telling time, and math skills.
The Tween Cook is for age groups 10-13 and focuses more on critical thinking. In addition to learning how to create delectable meals, they will learn "why" foods are prepared the way they are. In this class, your tweens are encouraged to explore the different flavor and texture combinations and put their own spin on recipes. This will not only learn how to cook, but they will learn confidence and independence in the kitchen and home.
You can even hire Raisin a Chef for private groups. So whether you want to book a program for your girl scouts group, to your soccer team, or even a birthday party, Raisin a Chef has you covered.
2. The Girl Can Cook Classes
Why spend your evenings in the same old way when you can spend them not only trying new foods but learning how to make them too!
Girls night out? Date night? Birthday party? The Girl Can Cook offers amazing themed cooking classes where you can learn a variety of things from hand-made pasta to grilled steak or Asian potstickers.
The Girl Can Cook offers in-person cooking classes on Tuesday, Wednesday, and Thursday nights from 6:00-8:00 pm. These two-hour cooking classes include hands-on instruction, all food prepared, recipes, and even wine pairing. These classes not just bring deeper knowledge about cooking food but they bring fun into the kitchen!
The Girl Can Cook provides each one of the tasty ingredients needed for the meal and all of the equipment necessary. All you need to do is show up, have fun, and enjoy the meal you created!
3. All Things Cake Shop
Do you have a bit of a sweet tooth that needs satisfying? All Things Cake Shop has you covered! Not only is this cake shop one of Tulsa's top bakeries offering delicious baked goods but it offers classes on piping buttercream that are guaranteed to impress.
If you have always wanted to learn how to make professional-looking piped desserts then look no further. All Things Cake offers in-person baking classes that teach you how to bake and decorate beautiful and delicious desserts. In these two-hour classes, you will learn how to decorate sugar cookies with elegant buttercream piped designs. They provide the baked blank cookies, buttercream, bags, and different piping tips and tools.
All you have to do is show up as they give you all of the tips and tricks for creating amazing floral-designed cookies. The edible treats you make are sent home with you at the end of the class to enjoy with your family or friends. Gluten-free? They have you covered. For an additional fee, you can request a gluten-free cake or cupcakes. The class sizes can be up to 12 people so get your spot while you can!
4. Cozymeals Online Interactive Cooking Class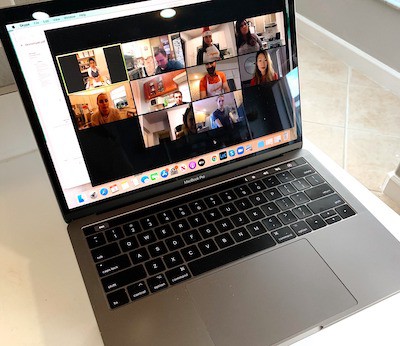 Are you desperate to learn how to whip up an impressive meal but still trying to keep your distance? Cozymeal might be just the thing you are looking for! Join world-class chefs from around the globe who are revolutionizing cooking through a live streaming virtual platform.
At Cozymeal, you can sign up for a plethora of interactive online cooking classes. They have everything from Mia Tais and Asian Appetizers to Authentic Italian Risotto and Panna Cotta lessons. Their step-by-step coaching allows you to cook alongside them and ask questions along the way.
Worried about your gluten sensitivity, or equipment you might not have? Well, worry no more! At Cozymeal you have 8 different options to choose from to make your cooking class more tailored to your needs. They provide options like "Gluten-free" "Plant-Based" "No Special Equipment" and "Family Friendly" so you can enjoy your experience even more.
Sometimes working with other people can enhance your online cooking experience even more. Cozychef also offers Online Team Building Activities. Chefs from all over the world teach you and a team of other people to make iconic recipes around the globe. These classes accommodate anywhere from 4- 20 people. If you have any questions or comments you can chime in and ask.
The Cozymeal's 75-minute classes equip you with not just the skills to make decadent meals, but they also give you the option to order all of your ingredients from your preferred local grocery store. You can order in your home and have it delivered right to your front door so you never even have to leave the comfort of your house.
5. Healthy Table Cooking Classes
Have you ever wanted to learn how to make healthy meals that taste delicious? The Healthy Table has created a space where you can gather together for hands-on cooking classes that emphasize the importance of healthy eating and how it can positively impact every aspect of your life. Whether it's for their medically-based programs, like their Diabetes Prevention Program, Pedal for Parkinson's, MS Programs, or a fun class for your family, the Healthy Table aims to teach you how cooking healthy can be affordable and easy, and help create community!
Using fresh and seasonal ingredients is another facet of Healthy Table Cooking classes that sets it apart from the rest. In fact, they even have gardens right outside their front doors where they grow herbs, fruit, and vegetables. Some of the fruits and vegetables that they have harvested and incorporated into their meals include a variety of herbs, as well as peppers, watermelon, strawberries, cauliflower, broccoli, tomatoes, different lettuces, green onions, and eggplant.
They work closely in collaboration with OU, Reasor's, Educate, and the Tulsa Health Department to provide their fun and educational classes! Their five state-of-the-art cooking areas include a wide variety of stations. These stations include equipment such as induction stovetops, sinks, disposals, and all necessary cooking tools and utensils. Their double ovens allow for baking if you are planning for a larger group or multiple dishes. They even have tools like a flat-screen TV in the kitchen that provides an opportunity to show additional information during classes if needed.
Is your mouth watering yet? We can't wait to try out one (or several) of these fun yet practical cooking classes! Consider which cooking class you will take first over a delicious meal at one of Tulsa's favorite brunch restaurants!
Be sure to check out these upcoming Tulsa events for more information on things to do this weekend!