Tulsa's Best Wineries
There are not many things more enjoyable than a Tulsa date night at one of the many wineries in and around Tulsa. Whether you are a Tulsa local or just visiting for the weekend, a trip to a winery can be a great way to relax and enjoy your friends and family. Here are a few of our favorite wineries in Tulsa:
Water's Edge Winery and Bistro – Broken Arrow
Waters Edge Winery and Bistro – Broken Arrow is an urban winery in the heart of the Broken Arrow Rose District. They provide a wide selection of white and red wines sourced from vineyards all around the world. They also provide a variety of sangria, fruit-infused wines, and a selection of bistro-style small plates. You can do a wine tasting of their various selections, enjoy a tour or bottling party, or purchase fine wines to take home. You can even design a customized label to place on a favorite blend to take home as a gift.
With adorable outdoor seating, the feel of the restaurant is upscale casual if you're looking for a delightful spot to dine along with wine tasting. With four and a half stars on yelp, the winery is highly recommended by its patrons. Their hours are 11:00 am – 9:00 pm Tuesday and Wednesday, 11:00 am – 10:00 pm Thursday to Saturday, and 11:00 am – 8:00 pm Sunday.
Tidewater Winery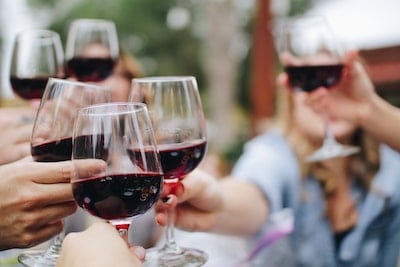 At Tidewater Winery, you can experience fabulous wines in a historic setting. Their winery and event venue is located in beautiful Drumright, Oklahoma.
The building, originally built by John D. Rockefeller to serve as a school for employees of the Tidewater Oil Company (Tydol) in the 1920s, is on the National Register of Historic Places.
Whether you're planning a tour of Oklahoma wineries or your wedding or your next event, Tidewater Winery offers you a romantic, beautiful venue in a quaint, historic setting.
Tidewater Winery offers a variety of facilities to host your next event. They have the event space, perfect as a wedding venue. Its elegant hardwood floors and state-of-the-art amenities make it an excellent choice for hosting your event.
Another space the vineyard offers is the deck that oversees the vineyard providing an outdoor space with full access to the building. It's a perfect space to entertain after an event and can even be its own venue for smaller events. The vineyard and gazebo are the perfect venues for an outdoor event. If you're looking for a romantic venue with rural charm, the vineyard is perfect for you. They are open Friday from 12:00 pm to 6:00 pm and Saturday from 12:00 pm to 6:00 pm.
Pecan Creek Winery
Created with wine enthusiasts and casual drinkers in mind, Pecan Creek Winery provides a tasting room experience that is laidback, yet sophisticated, fun, yet educational. They feature more than a dozen spectacular wines produced from only the highest quality grapes and other fruits. Enjoy your favorite Pecan Creek Wine on the patio while relaxing with friends.
Take a stroll through the 4-acre vineyard which features estate grapes of Chambourcin, Vignoles and Cabernet Sauvignon.
Event spaces are available to handle 20-150 guests and RV parking. They are open Thursday and Friday 5:00 – 8:00 pm and Saturday and Sunday 2:00 – 6:00 pm.
StableRidge Vineyards
Well-loved by its community and patrons, StableRidge Vineyards is a quaint winery and souvenir shop. The winery is a former Catholic church and is a historic stop on Route 66 you won't want to miss. They are open Sunday through Friday from 12:00 pm to 5:00 pm and Saturday from 12:00 pm to 6:00 pm.
Sparks Vineyard and Winery
Part of the Oklahoma wine trail, Sparks Vineyard and Winery is a historic point on the journey. With its quaint and spacious tasting room, it provides a homey feeling that people feel comfortable visiting. Before you arrive at the vineyard you will pass by many scenic miles of county roads on rolling hills and rustic terrains. But that's all part of the wine journey, Sparks Winery is sure of it!
Other Wineries in Oklahoma
If you are looking for more of an adventure, several other wineries in Oklahoma are worth the journey.
Blue River Valley Winery
With 19 different handcrafted wines to pair with delicious sausage or cheese, Blue River Valley Winery is an excellent place to bring your loved one to taste wine and enjoy a meal. It is described as "excellent" by its customers and has people coming back for more. With a rustic feel, the winery makes anyone feel at home. Make sure you stop by Blue River Valley Winery on your next trip to taste delicious wine and experience wonderful hospitality. They are open Tuesday to Thursday, 11 am – 6 pm and Friday and Saturday, 11 am – 8 pm, closed Sundays and Mondays.
Canadian River Vineyard and Winery
Canadian River Vineyards and Winery is located at Highway 77 and Slaughterville Rd. just south of Norman, OK, and is home to a winery and several acres of beautiful vineyards planted in 2000.  They are proud of their Oklahoma-grown grapes and would love to take you on a tour and help you experience the process of growing vines and making wines, "Oklahoma Vine to Wine." Their venue is the perfect setting for weddings, parties, movies in the vineyard, game nights, bonfires, meetings, or quiet moments on the deck enjoying Oklahoma-grown wine.
Every fall they host their Annual Grape Stomp Festival. This event is complete with food trucks, vendors, wine tastings, live music, giveaways, and fun for the whole family. Visit Canadian River Vineyard today to enjoy delicious wines and a delightful gift shop. Friendly staff and owners waiting to "Uncork and Enjoy" during your visit. They are open from 12:00 pm – 5:00 pm Friday to Monday.
Thank you for visiting Discover Tulsa! Find more upcoming Tulsa events here.