Looking for Places to Volunteer in Tulsa? Look No Further!
If 2020 has taught us one thing, it's that life is brief and our actions make an impact on the world at large. Not only have we had time to ponder what we're doing to make the world a better place, but we've also seen Tulsa move through a pandemic and the following economic downturn that left many in hard places financially and emotionally.
We are incredibly proud of Tulsa for coming together and helping our communities. Not only does the city have great food trucks and all sorts of entertainment, but it also has a beating heart to help everyone in our city! If you are looking for opportunities for you or your family to volunteer here in Tulsa, there so many places to help out.  Here are just a few of the amazing organizations where you can volunteer in Tulsa. 
Tulsa Dream Center
The Tulsa Dream Center is a non-profit organization that serves as the primary North Tulsa food hub and a safe space for kids in North Tulsa to hang out after school. They've provided 6,650,577 meals in Tulsa and host a variety of outreach opportunities, from providing childcare on Saturdays to grocery giveaways three times away. If you would like to volunteer or donate call (918) 430-9984 or email info@tulsadreamcenter.org.
IronGate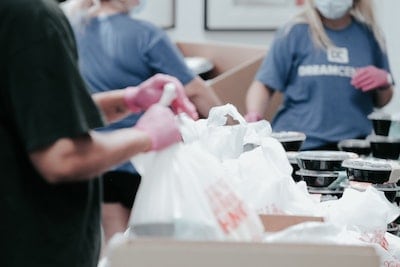 Iron Gate is a soup kitchen and grocery pantry located in downtown Tulsa. Those without a home can visit for a few hours every day to receive meals and talk with the friendly, inviting staff there. Feeding the hungry is more than mere numbers to those at IronGate who provide hot, nutritious meals to those who would go without if not for the organization and volunteers.
IronGate relies on the people of Tulsa's generosity to feed the hungry and homeless of Tulsa every day. You can donate your time or your money at Irongate to provide a hot meal or a fresh bag of groceries to someone struggling with food insecurity.
If you're interested in donating financially, for every $25 you donate they can provide 7 hearty meals. $100 is enough to provide 90 kid's packs for hungry children and $500 would provide groceries to 24 families struggling to feed their children. Although IronGate's in-house volunteering is on pause due to COVID, you can still check out their other volunteer opportunities here.
Big Brother Big Sister
Big Brother Big Sister is the largest mentoring network in the nation that pairs kids with mentors to create meaningful and lasting positive relationships. To volunteer your time as a mentor you must be over 18, commit to one year of service, and other personal requirements, including a background check. Big Brother Big Sister offers opportunities to mentor through a community, a school, or as a couple (a great opportunity if you're looking for a volunteer opportunity together).
Catholic Charities
Catholic Charities offers a ton of volunteer opportunities, especially geared toward helping refugees in Tulsa. And no, you don't have to be Catholic to volunteer. Catholic Charities is the federally designated refugee organization in the city of Tulsa. They aid refugees from Burma, Vietnam, and other places to make the daunting transition from one culture to another.
Catholic Charities offers food pantry services, clothing, babysitting, apartment kits for refugee families, and a refugee welcoming committee that you can get involved with. We love this opportunity because it reaches out to a population that's mostly overlooked and underserved. Be sure to visit their volunteer page and fill out the Volunteer Interest Form.
Tulsa SPCA
If you love animals, the Tulsa SPCA could be a great place to volunteer your time! This organization has saved animals in Tulsa for over 100 years and connected them to loving Tulsa forever homes. Your family can support the adoption and rehabilitation of cats, dogs, and other furry friends by volunteer time or by donations. (The SPCA often posts on their Facebook or Instagram if they have an outstanding case that needs donations, as well.) Currently, they are not taking additional volunteers due to COVID, but hopefully, that will change soon so be on the lookout.
And who knows, you may even meet your new best friend! Tulsa has plenty of dog-friendly activities to give your new pet a great life.
Meals on Wheels Metro Tulsa
According to the Meals on Wheels website, 1 in 6 seniors struggle with hunger daily. That's a pretty staggering number, and Meals on Wheels has a goal to help this demographic and bring them both food and companionship. Meals on Wheels delivers meals to seniors who are living in their homes alone.
Volunteers do more than deliver, they enter every home, check that recipients are healthy and happy and in safe and operational living conditions. They spend quality time with our recipients – giving them company and peace of mind. Meals on Wheels also has special COVID-19 volunteering that you can check out.
Tulsa Food Bank
Tulsa's Donald W. Reynolds Distribution Center opened in June of 2006 and can store up to three million pounds of food at any one time. The warehouse is outfitted with state-of-the-art coolers and freezers with 288 freezer pallet spaces and 288 refrigerator pallet spaces. All of this is in the effort to fight food insecurity in Tulsa.
The local Food Bank uses this space for their program and Food Bank direct initiatives, which include emergency food pantries, soup kitchens, emergency shelters, child feeding programs, senior feeding programs, and veteran's initiatives. The Tulsa Food Bank provides hundreds of thousands of meals each week to people struggling with hunger and helps raise public awareness about hunger and our role in alleviating food insecurity. It's an awesome organization with a ton of volunteer opportunities. If you're looking to volunteer or bring a group to volunteer, you can check out this page. 
John 3:16 Mission
"Reclaiming Lives; Restoring Hope", is the tagline of this non-profit that provides food and shelter to those without homes in Tulsa. We love this organization because it reaches out to our fellow Tulsan's in need, provides various recovery programs and job prep programs, and also has a family and youth center. The following is a list of areas that you can serve in:
Shelter Ministry

Men's Ministry

Women's Ministry

Family Ministry

Children's Ministry

Youth Ministry

Distribution Center & Maintenance Crew
For more info on volunteering with John 3:16 Mission, you can email the volunteer coordinator at volunteer@john316mission.org or call 918-587-1186.
The Demand Project 
The Demand Project believes in educating, equipping, and empowering the community on how to stay safe against child predators who seek to harm children. They direct efforts, resources, and energy toward the eradication of sexual exploitation. This is done with an emphasis on the sexual exploitation of children. From victims of trafficking, forced prostitution, to online enticement and child pornography. The Demand makes it their mission to end all sex crimes by targeting the DEMAND side of sexual exploitation (Demand = Predator).
They focus on prosecuting those who would harm children, rescuing those that are being prosecuted, and restoring survivors to physical and emotional health. If you're interested in finding out more about The Demand Project, check out their webpage here.
In Conclusion 
We love that Tulsa has so many opportunities to get involved with helping your community. Our beautiful city is full of people in need. Now is a great time to reach out and help others. If you have kids, it can be a fun and valuable experience to actively teach them social responsibility together with you! Don't just think about helping people, go out and do it. We believe that every single person is a part of the solution in Tulsa! 
Looking for more to do in Tulsa? Check out a few upcoming Tulsa events here.