Sometimes you don't always have the time or resources to make yourself meals. Whether you are trying to plan for your week in advance or you struggle with finding daily meals to make for yourself, there's a solution for you! Meal prepping is an excellent way for you to save time and money! There are many advantages to preparing your meals beforehand.
Instead of wasting time trying to figure out what you want to cook or if you're going to order takeout, meal prepping can assure you that you'll always have a meal ready for you. You'll also have fewer dishes to do, saving you even more time. Meal prepping can also help you to save money in the long run. By buying healthy ingredients in bulk and freezing food later, you can spend less money on eating out.
Meal prepping also allows you to manage your portion sizes better. Often, people overeat and consume more calories than recommended without even realizing it. However, when you prepare your food, you can easily control your portions and the ingredients you consume! This can aid you in reaching your weight goals if you're looking to manage your weight better.
Tulsa's Best Meal Prep Services
Meal prepping can also help you gain confidence in your kitchen. By learning new guided recipes, you can quickly learn more about how to prepare different dishes. This can improve your relationship with food. You'll learn about the nutrition in food and what sort of energy and nutrients your food gives you.
Still, even knowing all of the benefits of meal prepping doesn't mean that you have extra time to commit to meal preparation. That's where these excellent meal prep services come in handy! Here are 8 great meal prep services in Tulsa:
1. IONutrition
IONutrition believes that you deserve to be healthy! They believe fresh organic foods is the best way to achieve optimal health! Fresh fruits, organic vegetables, and wild meat are safe and healthy because they don't have harmful substances and compounds. Using their services, you don't have to compromise your busy lifestyle because they know how to serve their customers following their lifestyle and demand. They proudly offer inexpensive, affordable options starting at only $6.50 per plate.
Since 2010, they've served millions of packed healthy food to people across different states and cities. Their meals include non-toxic foods, do not contain free radicals, don't contain fat or sugar, dairy-free and gluten-free, and are affordable! These meals can be delivered weekly straight to your door. They're committed to serving you with all their best!
2. MealPrep Tulsa
MealPrep Tulsa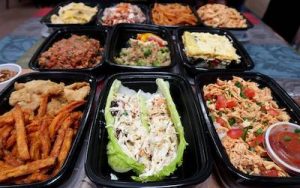 handcrafts fresh meals that are verified by nutrition experts. These meals create a fantastic environment for your body to burn fat, reduce inflammation, and build muscle without the damaging effects of calorie restrictions. They feature paleo, keto, vegan, balanced, and other food preferences. Only sustainable, high-quality ingredients are used in their meals. They shop, cook, and package healthy, delicious meals, so you don't have to!
MealPrep Tusa offers freshly-made, delicious deals starting at $5! First, select your meals from their A La Carte menu or save money with weekly subscriptions! Subscriptions do not require a contract. Second, pick out a meal that caters to your dietary needs. Third, choose to pick it up from one of their locations or have it delivered straight to your door.
3. Fresh n' Lean
Fresh n' Lean is offering 15% off all orders to support families during these uncertain times. They offer food fast––not fast food. Their meals are organic, fresh, and ready-to-eat. Fresh n' Lean is certified organic audited, FSMA compliant, and offers free nationwide delivery that you can cancel anytime. Their foods are USDA Organic, non-GMO, gluten-free, and ready-to-eat! Delivery is always fast and free. They feature protein+, keto, paleo, vegan, low-carb vegan, and bulk food preferences.
Your prepared meals arrive fresh in an insulated box. Unpack them and put them in the fridge. Then, heat up when you're hungry! Meals are quickly ready in three minutes. They cater to your diet and offer breakfast, lunch, dinner, and in-between snacks. Every week, they provide pre-made meals delivered to your door.
4. Healthy Palate To Go
Healthy Palate To Go is dedicated to making your life easier! This locally-owned company's goal is to deliver delicious, nutritious meals and snacks to you. They prepare food right here in Tulsa with the freshest ingredients available! They put in a great deal of time when preparing their menu selections, special ordering many of their ingredients. Health Palate To Go does not use high fructose corn syrup, MSG, or other additives. They proactively research products, trends, and healthy options to keep their menu nutritious, engaging, and delicious!
First, Healthy Palate To Go plans the menu and set meals for the week. Second, you choose the plan that fits your needs, or you can order from their A La Carte page on their website. Third, they shop, chop, cook, and package your meals. Finally, they deliver your fresh, delicious meals right to your door!
5. MealPro
MealPro was founded with the desire to serve others! They help make healthy eating easy. They want to inspire others to become the best, healthiest versions of themselves. MealPro doesn't have a fixed menu. You always pick the meals you like from their various, rotating menu. They offer well-portioned meals. Depending on your preference or diet, you can decide if you want extra protein, veggies, no carbs, or other customizations.
Tasty meals are made with fresh produce and are affordable at under $10. Meals are pre-cooked and delivered. You can buy once or subscribe. If you subscribe, you earn reward points for every purchase.
6. Prep'd Healthy Eating On The Go
Prep'd Healthy Eating On The Go meals are fresh and never frozen. Made by professional chefs and bakers in Oklahoma, meals are made in a commercial kitchen. You don't have to have a subscription, membership, or minimum purchase to order from them! They offer delivery and no-contact delivery. Their meal categories include breakfast, lunch & dinner, food by the pound, Keto, and sides and snacks.
Prep'd is health-focused with all their professionally-prepared meals created with healthy living as their focus. They offer various macro balanced meals and keto options, ensuring they're compliant with all health codes and food safety requirements. They do offer a variety of meal bundles and subscriptions for those interested.
7. Mae'd Meal Prep & Custom Bake Shop
Mae'd Meal Prep & Custom Bake Shop is locally owned and operated by Kalee Kallam in Tulsa. She's had educational culinary training and used an opportunity to open a "pop-up" restaurant in the Kitchen 66 Takeover Cafe at Mother Road Market. She created a brunch menu, DaYolk, offered at Mother Road Market.
When ordering, select your meal option. You can choose from their signature meals or customize them to match your specific meal plan. Orders are available for delivery on Monday evenings, Tuesdays, and Fridays. They'll text you within an hour of your drop off time on the day of your delivery. If you need a specific delivery time, let them know, and they'll do their best to accommodate you.
8. Evolve
At Evolve Paleo Chef, they strive to provide your body with the most wholesome and delicious foods that resemble the diet followed during the Paleolithic era. Their foods are based on three principles: no grain, no dairy, and no refined sugars. They want to provide you with the best home delivery service in Tulsa!
First, pick a meal plan or A La Carte plan. There aren't any contracts or minimums. You can select to pick it up or have it delivered. Choose your meals to sit back and enjoy your healthy food! They're located off Harvard Ave.
Tulsa is proud to offer so many unique options for our residents. From delicious Tulsa food trucks to delectable local bakeries, and several meal prep services, you are sure to find just what you are craving.
Thank you for reading Discover Tulsa! Be sure to check out these upcoming Tulsa events.