Dentistry for You is The Best Sand Springs Dentist
Dentistry for You serves Sand Springs's community with personalized and comprehensive dental care. Their expertise is in beautifying smiles, maintaining your dental health, and helping you have a comfortable dentist appointment. The team at Dentistry for You wants to ensure every patient feels relax and comfortable.
From the latest technology to the friendly staff, the Dentistry For You team can't wait to take care of you and your dental needs. Dentistry for You is there to guide you through your dental health journey. Look no farther for a Sand Springs dentist near me.
What Sets Dentistry for You Apart?
The Dentistry for You team of dental professionals are always certified and up-to-date on the latest dental care. They use only the latest technology to ensure every patient has the most updated dental care.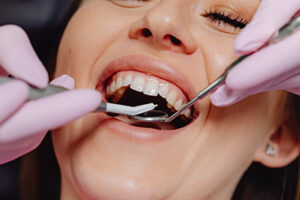 From the moment you step into their Sand Springs dental office their top priority is listening to and understanding your needs and concerns.
They believe that patients are family, and your dental problems are their priorities.
Dentistry for You Services
Here is a list of the services that Dentistry for You provides to the Sand Springs area:
Sand Springs Family Dentistry
Sand Springs Same-Day Emergency Dental Care
Sand Springs Invisible Braces
Sand Springs Metal-Free Dentistry
Sand Springs Root Canals
Sand Springs Gum Disease
Sand Springs Extractions
Sand Springs Implants
Sand Springs Full or Partial Dentures
Sand Springs Porcelain Bridges
Sand Springs Sedation Dentistry
Sand Springs Gum Contouring
Sand Springs Oral Surgery
Sand Springs Bone Grafting
Sand Springs Oral Appliances
Sand Springs Dental Cleaner
Sand Springs Dental Crown
Sand Springs Cosmetic Dentistry
Contact Information for Dentistry for You
If you are in need of a Sand Springs Dentist near me, here is their contact information.
Phone Number
(918) 245-0224
Address
325 Washington Ave.
Sand Springs, OK 74063
Website
DentistryForYouSandSprings.com
Hours
Monday: 8AM – 12PM & 1PM – 5PM
Tuesday: 8AM – 12PM & 1PM – 5PM
Wednesday: 8AM – 12PM & 1PM – 5PM
Thursday: 8AM – 12PM & 1PM – 5PM
Friday: Closed
Saturday: Closed
Sunday: Closed
Dentistry for You is the best Sand Springs dentist with compassionate caring dental professionals. If you're searching for a Sand Springs dentist near me, then look no further. We highly recommend Dentistry for You for all your Sand Springs dentist needs.
Thank you for reading! You can learn more about Dentistry for You by reading their Google Reviews.