Looking for the place to start your next business? Look no further. Tulsa, Oklahoma is one of the best places to start a business due to its diverse ecosystem, widely available resources, and great funding options for entrepreneurs.
Why Choose Tulsa?
The low costs of living in Tulsa make business operating costs incredibly manageable for entrepreneurs. Oklahoma, when it comes to low business costs, is ranked 5th out of the 50 states.
Tulsa is a city that supports its businesses. In Tulsa, you'll find plenty of financial support opportunities and business networking groups that can quickly increase the exposure of your new business endeavor.
Tulsa has many educational institutions such as The University of Tulsa, Oral Roberts University, and Tulsa Community College, that provide a constant stream of talent for businesses.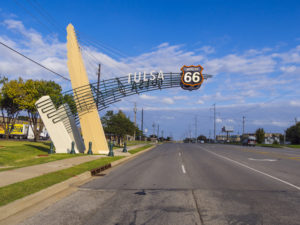 The city's reputation as an oil and gas hub has opened up a plethora of opportunities for businesses to spring up. The growth of multiple major industries in Tulsa has helped pave the way for startups.
Tulsa has many incentives meant to encourage small business owners in the city. The Chamber of Commerce runs The Forge, an accelerator and entrepreneurial hub for startups, and has partnered with local banks to enable the provision of affordable loans to small businesses. Businesses that have 90 employees or less also qualify for a cash-back incentive of up to 5% for the first seven years if they are based in Oklahoma.
Startups can also receive free business counseling at Oklahoma Small Business Development Centers spread across various locations in the state. Other organizations that offer support to small businesses include 1 Million Cups Tulsa, BNI Oklahoma, TEDC Creative Capital, and The Mine among others.
How to Start a Business in Tulsa
Deciding on what business interest to pursue is always very difficult. You have to find a balance between your interests and abilities. After settling on which business idea to pursue, here is a step by step guide to starting a business in Tulsa;
STEP 1: Have a Business Plan
You will need careful planning if you want to see your business succeed. It is important to think carefully how you will handle product or service development, sales & marketing, onboarding of partners and employees, and financial planning among other things. While not a requirement, especially if it's a sole proprietorship, it is advisable to have your business plan clearly written out.
STEP 2: Register Your Business
You can register your business as a sole proprietorship, limited liability company, or a corporation. If you opt for a sole proprietorship, you will be held responsible for any losses the business makes. Registering as a limited liability company or a corporation helps improve the credibility of the business in the public eye and protects the owner from personal liability.
STEP 3: Register for Taxes
Most businesses are required to have a Tax ID Number in order to be in operation. You will also need to register for Withholding Tax and Unemployment Insurance Tax in Oklahoma for your employees. If the business will be selling physical products, you will need to factor in sales tax. It is advisable to hire the services of a tax lawyer to advise you on tax regulations.
 You can find the Oklahoma business incentives and tax guides on this link.
STEP 4: Open Business Banking and Credit Accounts
It is important to have bank and credit accounts specifically dedicated to your business and separate from your personal account. A business bank account can help protect your personal assets and make it easier to file taxes and account for funds generated by the business. A credit card dedicated to the business helps in separating business expenses from personal ones. It also helps build the business's credit history and rating.
Some of the best banks for businesses in Tulsa are CIT Bank, Arvest Bank, RCB Bank, Bancfirst Bank, and BOK Financial Bank.
STEP 5: Set Up an Accounting System
You will need to constantly track the performance of your business so you can file annual returns. An accounting system will make this work much easier and faster.
STEP 6: Obtain the Necessary Permits and Licenses
Businesses in Tulsa will have to comply with state and federal regulations in order to operate. You will want to familiarize yourself with the various regulations concerning the type of business you are running. The requirements vary widely from business to business. In some cases, such as the restaurant industry, you will need multiple permits and licenses. There are professional firms that can help you obtain these without any hitches.
STEP 7: Get Insurance for Your Business
Getting business insurance will help you to manage business risks and focus on growth and expansion. The most common types of insurance for businesses include general liability insurance, worker compensation insurance, and professional liability insurance. Oklahoma requires any business with more than one employee to have workers compensation insurance.
Popular Business Ideas in Tulsa
There are various business ideas worth exploring if you want to set up shop in Tulsa. Here are some of the most popular business ideas for entrepreneurs headed to the midwest:
Waste Recycling Business
Just like any other city, Tulsa has a lot of opportunities for waste management businesses. Specializing in waste management for recyclable items such as old furniture and damaged electronics could give you an edge over your competitors.
Software Instructor
The advancement in the field of technology has opened up many opportunities in the industry. New software has eased a lot of processes for business, but they come with pages of unending manuals that no one has the time to read through. You could start a software training business and offer practical demonstrations and support to businesses.
Food Truck Business
The growth of the city of Tulsa has attracted many people who are in search of jobs, making it an ideal place for food businesses looking for heavily populated pedestrian areas.
Salons
Unisex salons that offer beauty services to both genders are becoming quite popular and would be a hit in Tulsa. If resources are available, you can also include pedicure, manicure, and massages.
Freelancing
Freelancing is quickly becoming a viable job opportunity to pay the bills. Businesses undertake various projects for which they don't want to hire permanent staff they will be stuck with after the project is completed. Therefore, they opt for freelancers. There are a lot of freelancing opportunities in photography, business consulting, web design, and data entry.
 A few other popular business ideas include convenience stores, bagel shops, veterinary practices, vape shops, and real estate businesses.
Looking for more info on Tulsa? Check out our article on the top unique things to do in Tulsa.