TCC Children's Summer Theatre Presents Auditions for The SpongeBob Musical & Theater Camp 2023 for Curious George And The Golden Meatball
Auditions for the Tulsa Community College's Children's Summer Theatre production of The SpongeBob Musical will be held on June 10 and 11th from 1-4 PM and callbacks and new auditioners on June 17th from 1-4 PM at the Pace Studio Theatre at TCC Southeast Campus.
Auditioners can arrive anytime between 1-4 pm on any day. Casting ages 6-17 years of age. Everyone must sing and dance. Audition requirements – 16-32 bars of a Disney song preferably with piano sheet music in a binder– an accompanist will be provided. No acapella. Actors will also be asked to read from the script. For a perusal script please contact mark.frank@tulsacc.edu. No phone calls, please.
The SpongeBob Musical is based on the series by Stephen Hillenberg. Book by Marshall Kyle Jarrow. Directed by Mark Frank. Vocal Coach and accompanist Suzi Gregory. Choreography by Lexie Sweeny. Production Dates July 27, 28, 29 at 8 PM, July 30th, 2 PM. Rehearsals begin June 20, 2023, and run Monday-Friday 1-5 PM. Some Saturdays for Choreography.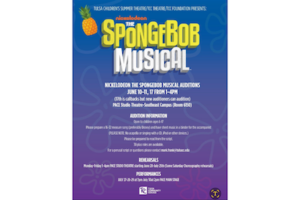 TCC Tulsa Children's Summer Theatre Camp 2023 – Curious George And the Magic Meatball
You can still be part of TCC Theatre Camp 2023 Curious George And the Magic Meatball. A few spots are open. Be in the production and free Curious George t-shirt for only $50 for a two-week theatre camp! The camp dates are June 5-17 and the performances are June 16th and June 17th at 7 PM in Room 6150 at the PACE Studio Theatre – TCC Southeast Campus.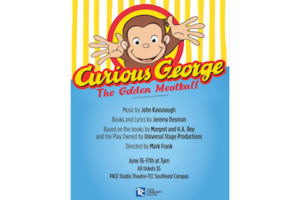 For more information about these theater productions, EMAIL: mark.frank@tulsacc.edu