Shopping, Succulents, and Spirits at The Succulent Shop
Have you ever found yourself wishing for a fun way to spend some time with friends? One of the latest additions to Broken Arrow, The Succulent Shop is a sip-n-shop plant boutique that sells a wide variety of house plants and artisan gifts made by both local and national businesses. Keep reading to learn more about their unique services and events! 
What Sets The Succulent Shop Apart?
While plant shops seem to be popping up on every corner, The Succulent Shop sets themselves apart from their competitors. The Succulent Shop is not only a plant boutique but also an experience, complete with a full bar! 
Customers can sip on rosé while shopping for the perfect plant, gift, or piece of decor. Not into plants? The Succulent Shop features a unique collection of both gifts and home decor made by local artisans. Perhaps the most unique aspect of The Succulent Shop, however, is their create-your-treasure experience.
Don't mind a little dirt? Find a plant and pot you love, then head upstairs to our loft where plant coaches guide you in creating your own succulent masterpiece. With the help of the fun-loving plant coaches at The Succulent Shop, you will quickly fall in love with the process of both designing and caring for your succulent creations.
Last but not least, for customers who love the beautiful, bright aesthetic of their space, they rent out the upstairs loft or patio for private parties and events with access to our full bar downstairs. Their space is perfect for birthday parties, bachelorette parties, bridal showers, and much more.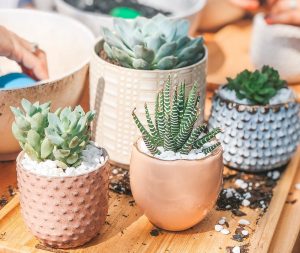 The Succulent Shop is on a mission to:
bring life + beauty into your home through their plants and products

bring creativity + community into your life through their workshops

bring fun + joy into your parties when you rent their space
We are so excited to welcome this beautiful plant boutique to our Tulsa community!
The Succulent Shop's Services
The Succulent Shop is quickly becoming a Broken Arrow destination for many reasons. Here are just a few of the many services that they provide:
Boutique Plant Shop

Artisan Gifts

Plant Workshops

Event Venue Rental

Build-You-Own Succulent Kits
You can learn more about the workshops, products, and services offered at The Succulent Shop here.
Contact Information for The Succulent Shop 
To learn more about The Succulent Shop, or to find information on their upcoming events, use the details listed below.
The Succulent Shop
319 S Main St
Broken Arrow, OK 74012
(918) 200-2827
info@thesucculentshopba.com
Whether you have a green thumb or you are notorious for killing every houseplant you own, the plant experts at The Succulent Shop will provide you with the tools and training you need to successfully care for your new succulent creations.
The Succulent Shop has a special offer just for Discover Tulsa readers! Mention this article to receive 15% off your next in-store purchase. The Succulent Shop is open Wednesday through Saturday from 10 AM-7 PM and Sunday from 11 AM-5 PM. 
Thank you for reading Discover Tulsa! You can learn more about other great Tulsa businesses here.