Top 5 Local Tulsa Pancake Places
It's Sunday morning, and Tulsa's streets are congested with brunchers trying to beat the breakfast crowd. Tulsans love breakfast food, and it certainly shows in the many local breakfast and brunch spots. Restaurants, from tiny dives to those with chandeliered ceilings, are packed to the brim on the weekend mornings. Cups of coffee and orange juice overflow at most tables and the smell of syrup is thick.
Most brunchers are seeking out the usual brunch lineup- eggs, bacon, and fluffy pancakes. Brunch in Tulsa is practically a sport; it's so well-loved here. And Tulsa, in return, is chock full of wonderful breakfast places, especially if you're after a stack of delectable and syrup-covered pancakes. Are you looking for classic pancakes? Or even pancakes made with buckwheat flour instead? There's a spot for that!
Tulsa has a long history of supporting its local businesses and entrepreneurs, and brunch is no different. From pancakes to mimosas, there are so many locally-owned restaurant options in Tulsa so that you're not just getting a good meal, you're supporting your neighbors. But where, you may be asking, can you find the best stack of pancakes in Tulsa? Please keep reading to find out our top 5 local favorite pancake places in Tulsa.
1. Dilly Diner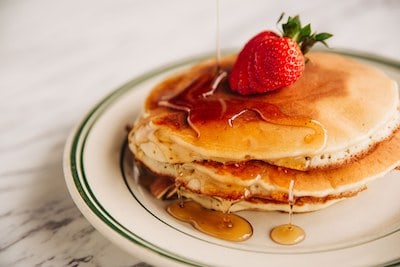 Located in the heart of Tulsa's Blue Dome district, Dilly Diner offers all-day breakfast and late-night dining. It's the perfect spot for when the pancake and eggs craving hits around 9PM. Not only is Dilly known for its all-day breakfast, but an adorably high-class dinner feel. The diner is spacious, hosts neutral colors, and shows a selection of their baked goods at the front.
It's a bit of an old diner-meets-modern-brunch place inside, but the food is really where Dilly Diner shines. Its menu features drinks, sandwiches, an array of breakfast items, and much more, so just about anyone can find something to love here. But let's get down to the real subject- pancakes.
Dilly Diner's fluffy pancakes and waffles are renowned around the downtown Tulsa scene. The menu varies from massive cinnamon rolls to griddle cakes (with hazelnut spread and chocolate chips). If pancakes aren't as much your thing, you can also shoot for the chicken and waffles, a beautiful monstrosity with deep-fried chicken and honey butter topping a Belgian waffle. At Dilly Dinner, there are almost too many great breakfast options. 
2. Blue Moon Cafe 
A favorite of Tulsa locals, this little tucked-away cafe looks like it should be somewhere in Europe. The walls are coated with artwork, and the diner's beauty is made up of tiny details. Especially when it comes to Blue Moon Cafe's fantastic breakfast options.
The pancake offerings are classic: 3 buttermilk pancakes with butter and syrup. Blue Moon's specialty, however, is homemade baked goods. Your pancakes aren't a generic variety- they're Blue Moon's homemade recipe, fluffy and delicious. While you're there, you can grab a cup of Blue Moon's excellent drip coffee or their kombucha, which runs on tap. In temperate weather, you can even sit on the lovely patio with your pup. Blue Moon is located on Brookside, so once you're finished with your pancakes, you can burn some calories with a stroll around the cute strip of boutiques and local stores. 
3. Tally's Good Food Café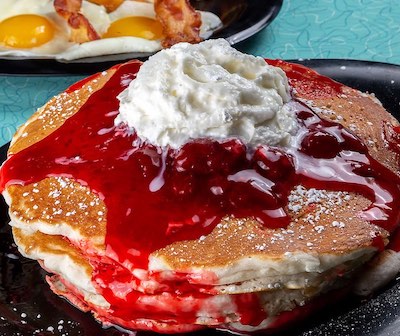 Walking into Tally's Good Food Café is like being transported back in time to an old-time diner. Pictures of Elvis Presley and Marilyn Monroe set Tally's classic appeal tone, topped off with a Jukebox. But it's best known as "Tulsa's Best Breakfast," known for insanely fluffy pancakes and other mouth-watering and classic American dishes.
Tally's has an excellent reputation when it comes to service and fantastic meals. Pancakes are big, fluffy, traditional, and covered in powdered sugar. Add a topping of syrup, and you have one of the best stacks of pancakes in Tulsa. Tally's fun and bright environment are especially great if you have kiddos. It's a very family-friendly environment and a great place for breakfast (or dinner) with the whole family. And if pancakes don't hit your fancy, Tally's offers a huge menu full of delicious burgers, waffles and chicken, and so much more.
4. Bramble Breakfast and Bar
Bramble Breakfast and Bar is considered the fancier side of breakfast in Tulsa. With locations downtown and on the Jenks Riverwalk, Bramble is a locally sourced, Tulsa favorite. Bramble is a great special-occasion restaurant featuring the thickest slices of bacon imaginable and a menu full of unusual, delectable breakfast foods.
And if that special occasion is just Sunday, then even better. Bramble offers several options when it comes to pancakes, and you'll probably want to try them all. There really is a pancake for any tastebud there, from buttermilk pancakes, lemon curd pancakes, jalapeno pancakes, to bourbon pancakes. While you're at it, Bramble's coffee, a cocktail, or even some gluten-free biscuits and gravy. 
5. BBD II Diner 
With a homey environment, BBD II Diner is an attractive option for a quick breakfast stop. Or stay awhile, nursing your coffee and chatting with the beautiful staff of servers. BBD II is located in South Tulsa and serves breakfast all day. They serve both classic buttermilk pancakes and buckwheat pancakes. We especially love the amazing buckwheat pancakes topped with maple syrup and butter. BBDII is an excellent option if you're looking for a homey and chill environment to settle in and relax during your meal. 
More Great Pancakes in Tulsa
If you've tried the other five recommendations but are still looking for one of the best pancakes in Tulsa, you can try one of these joints. They also have a host of breakfast items, as well as some variety on their menus. 
Black Bear Diner 
Black Bear Diner delivers delicious food in an amicable environment. The diner offers an extensive list of classic breakfast items, including famous sweet cream pancakes. If you're even hungrier, you can get "The Volcano," a full meal with sweet cream pancakes, sausage links, slices of smoked bacon, and eggs. Are you hungry yet? 
Neighborhood JAM
Walking into Neighborhood JAM, you might think you've been transported to Portland or Seattle. One of the most relaxed vibes in town, this hot-spot breakfast place offers a long list of breakfast dishes. You can find just about any brunch item your heart desires in this pleasant brunch spot. Located near 61st and Sheridan, Neighborhood JAM is surrounded by cool restaurants and shops, as well as a Starbucks (in case you need a post-brunch iced coffee).
Waterfront Grill 
Tulsa's Waterfront Grill is famous for its quality seafood and a prime view of the Arkansas River. You might not know about Waterfront's brunch, served on Saturdays and Sundays only from 10 AM to 2 PM. Brunch includes a "build your bloody mary bar" and a host of menu items for a classy and yummy brunch. From Shrimp and grits to buttermilk pancakes, you can be sure to receive excellent service and some of the most outstanding meals. 
If you didn't believe us before about Tulsa's world-class and unique spots for coffee and pancakes, then you probably do now! From Brookside's quaint streets to Downtown's glam diners, there are tons of options for finding a good stack of pancakes in Tulsa.
There are plenty of local breakfast and brunch restaurants in Tulsa. From laid-back patios to lovely riverside views, there are so many options for your morning brunch! Tulsa's variety of locally-owned restaurants, diners, and coffee shops are a huge part of the local culture and what keeps bringing more and more people to our city. 
Thank you for visiting Discover Tulsa! Learn about upcoming Tulsa events here.