Plan a Great Date Night at Admiral Twin Drive-In
Take a step back in time at Admiral Movie Drive-In. Enjoy a double feature movie showing from the comfort of your car or bring along a blanket and lawn chairs if you prefer to watch in the open air. Drive-in movie theaters are a unique part of history that are a rare commodity today. We are so lucky to call Admiral Twin Drive-In one of Tulsa's favorite date night destinations! 
What Sets Admiral Twin Drive-In Apart?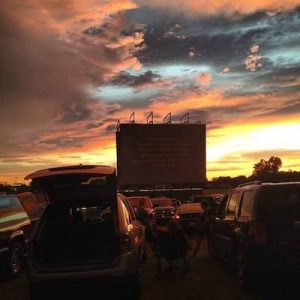 Whether you are planning a date night with that special someone or looking to have an evening the whole family will enjoy, Admiral Twin Drive-In is the place to be! Traditional movie theaters certainly have their place. However, nothing compares to the nostalgia that is felt when you are enjoying one of your favorite films on the big screen while taking in the fresh air of summer! 
At Admiral Twin Drive-In, a movie is not just a movie, it is an experience. The team at the Admiral Twin Drive-In is passionate about providing memorable experiences for Tulsa locals and visitors of all ages. With delicious concessions and a wide variety of movies on their schedule, there is sure to be something for everyone. 
It is important to note that you must have an FM radio to enjoy the audio of the movie you are watching. Because your car battery may die during the film, the team encourages visitors to bring a boom box or standalone FM radio. However, if you run into a hiccup during your date night, they do offer complimentary jumpstarts! to
With great admission prices and fun for the whole family, Admiral Twin Drive-In is one Tulsa destination you won't want to miss. Although Admiral Twin Drive-In is currently closed for the winter season, you can find the latest information on their re-opening below!
Admiral Twin Drive-In's Services
Admiral Twin Drive-In offers many amenities and services to make your next evening on the town a great success. Some of their services include the following:
Drive-In Movie Theater

Concession Stand

Double Feature Movie Show Times

Affordable Movie Admission
Contact Information for Admiral Twin Drive-In
To learn more about Admiral Twin Drive-In, or enjoy a unique date night, use the details listed below.
Admiral Twin Drive-In
7355 E Easton Street
Tulsa, OK 74115
(918) 878-8099
information@selectcinemas.com
Hours of Operation
Admiral Twin Drive-In is currently closed for the winter season with plans to reopen in the spring of 2021. During open season, they operate with the hours below although hours may be extended during the summer season:
Monday – Thursday: Closed
Friday – Sunday: 6PM to 2AM
Admiral Twin Drive-In occasionally offers special events during both the regular season and the offseason. You can find a current schedule of their upcoming events on their website or Facebook page. Once the warm weather returns to Tulsa, make plans to spend the evening at Admiral Twin Drive-In. From new releases to old family classics, and everything in between, you are sure to make memories that are not soon forgotten.
Thank you for reading! You can learn more about other great Tulsa businesses here.