Salt & Soul Market Makes it Easy to Support Local Businesses
With the recent changes to the way we do business, we have all been working hard to solve our latest business challenges. Salt & Soul Local Market is the product of innovation, filling a large gap in the Tulsa local business marketplace. 
Founders Nichole and Kimber Pittman believe that a community is strengthened when its members seek to support local businesses. However, many times, this is simply an inconvenience. This is the unique challenge that Salt & Soul Local Market will solve for Tulsa residents. 
A centralized online marketplace features a variety of local vendors, each promoting their unique products. Salt & Soul will provide easy access to locally made items. Because of this, Tulsa natives will be able to find the products they are looking for while supporting the local economy.
What Sets Salt & Soul Local Market Apart?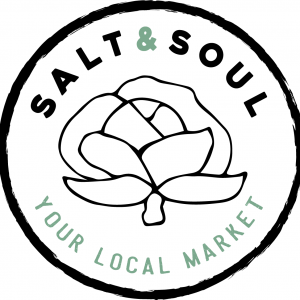 Salt & Soul Market is a unique concept. One that is built with the intent of helping local business owners thrive, no matter the current circumstances they are facing. By offering a customized online shop to each local vendor, Salt & Soul hopes to partner with businesses across Oklahoma. 
As a local vendor with Salt & Soul, you will be able to design your store's online page to suit your unique needs. Additionally, you will have the ability to communicate directly with your customers. This allows you to maintain the relationships you have worked so hard to build with your loyal patrons. 
Salt & Soul is seeking to eliminate the stress that many local vendors face when setting up a website and marketing their business. This allows you to focus on the aspects of your business that you truly enjoy.
Salt & Soul's Services
Salt & Soul is a local market that operates solely from its online platform. Included in the list below are just a few of the opportunities they offer for local business owners in Tulsa:
Online Marketplace for Local Vendors

Customizable Online Shop

Online Marketing Services

Platform Designed for Small Business Owners
Salt & Soul Market is currently accepting local vendors and would love to discuss how your small business could benefit from this unique opportunity. You can learn more about becoming a vendor through Salt & Soul Market by using the contact information listed below. 
Contact Information for Salt & Soul Local Market
Use the information listed below to learn more about Salt & Soul Market, or to register as one of their local vendors.
Salt & Soul is an online market featuring local vendors both in and around Tulsa.
Email Address
saltandsoulmarket@gmail.com
Website
Salt & Soul Local Market is excited to provide an easy way for Tulsa locals to support the businesses in their community as well as across Oklahoma. By offering a unique collection of local vendors, individuals will be able to browse the convenient online marketplace to find just the product they are looking for. You can learn even more about Salt & Soul Local Market by visiting their Facebook page here
Learn more about other great Tulsa businesses here.