McWilliams Marketing | Huntsville Web Design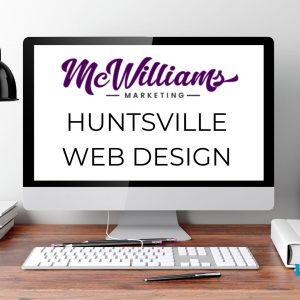 In this day and age where internet is more of a necessity than a luxury, having a website is vital for the success of your business. A website helps to establish an online presence for your business by attracting potential customers and getting your brand in front of the right people. If you're a small business in Alabama, McWilliams Marketing provides Huntsville web design.
McWilliams Marketing is owned and operated by Amy McWilliams, who has years of experience working with small businesses to design websites that will effectively represent their brands to potential customers. Besides web design, she is also skilled in many areas of online marketing, making McWilliams Marketing a one-stop-shop for all your digital media needs.
What Sets McWilliams Marketing Apart
McWilliams Media stands apart from other web design companies because of their wide range of online marketing services. You can have the best website out there, but if you don't know how to optimize it to show up on Google search pages, it won't do you any good.
At McWilliams Marketing, their team will help you come up with a comprehensive online marketing plan so that you're visible to your customers and potential leads. No matter what marketing you need, it will all point back to your website.
Services
There are many important aspects of online marketing, from a clean and efficient website to effective search engine optimization and precise pay-per-click searches. You can trust McWilliams Marketing for all of your online marketing needs. Here is a list of their services here:
Web Design
SEO
Digital Advertising
Graphic Design
Social Media
If you want to learn more about any of these online marketing services, contact McWilliams Marketing today!
Business Information
McWilliams Marketing
100 Jefferson St N Suite 249, Huntsville, AL 35801
(256)212-0057
Hours
Monday: 9 AM – 4:30 PM
Tuesday: 9 AM – 4:30 PM
Wednesday: 9 AM – 4:30 PM
Thursday: 9 AM – 4:30 PM
Friday: 9 AM – 4:30 PM
Saturday: CLOSED
Sunday: CLOSED
It's been proven that a small business with an online presence gets more leads and makes more sales than a business that relies on other means of advertising, like billboards and radio advertisements. If you want to hear what other people are saying about McWilliams Marketing, you can read their Google reviews here.
If you want to know more about Tulsa businesses, click here.